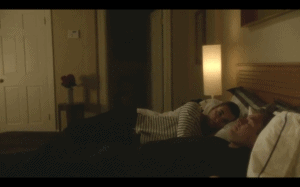 What a cliffhanger NCIS delivered to us tonight! To be completely honest I sat in front of my screen for a good few minutes after "Berlin" finished, torn between being stunned by the crash and feeling a great amount of admiration for the fact that after ten years this show still keeps me on the edge of my seat. However before I get too far ahead of myself let's go back to the beginning.
"Berlin" was always going to be an intense emotional episode as it returned to the storyline revolving around the deaths of Eli David and Jackie Vance. The first element I liked about this episode was that it immediately addressed Tony's (Michael Weatherly) hurt at being left out of Ziva (Cote De Pablo) and McGee's (Sean Murray) previous investigations into Ilan Bodner's (Oded Fehr) whereabouts. Tony – being Tony – got over the issue relatively quickly but I was glad it wasn't glossed over. I think it allowed for the trust that Tony and Ziva usually maintain to be re-established before they continued on their Berlin mission.
As a TIVA fan it was great to see the couple finally interacting on a deeper level. The way in which Tony distracts Ziva by dancing when she fears she has been made by their suspect is beautifully acted by both Weatherly and De Pablo. The chemistry between these two characters has certainly not lost any of its intensity when it comes to moments like these. However Tony still humorously exudes jealousy every time a handsome male from Ziva's past enters the scene.
The introduction of the new Mossad Director Orli Elbaz (Marina Sirtis) immediately added a new element of mystery. Just as NCIS could never entirely trust the motivations of Director David, Elbaz brings with her a new set of priorities which are weighted firmly in pursuing the benefits of Mossad first and foremost. Similar to her predecessor, Elbaz makes quick work of complicating the search for Bodner.
David's somewhat dubious abilities as a parent/leader were in clear contrast to the unquestionable integrity exhibited by Gibbs (Mark Harmon) and Elbaz now serves to fill the role left by David's death. Throughout the episode Gibbs continues to search for truth, whilst simultaneously supporting his agents and juggling interdepartmental sensitivities.
I wasn't terribly keen on the introduction of Yaniv Bodner (Iddo Goldberg) as the brother of Ilan. The "it's his brother" storyline was quite unexpected and, without any previous suggestion of this character, lacked the credibility that normally holds the NCIS narrative together. In many ways it felt like a fairly crudely executed plot twist (even Tony asked who Yaniv is), but as there is obviously a lot more to unravel when it comes to the Bodner/David connection – and there are a few episodes left to season 10 – I'm hoping that this character's introduction will be explained further.
It's obvious that Ziva also has a personal connection to Elbaz which is revealed to be the role the elder woman played in the break-up of Ziva's parents' marriage. However Cote de Pablo does an extraordinary job of conveying the emotions of a daughter trying to avenge the death of a father, who so often disappointed her on both a personal and professional level.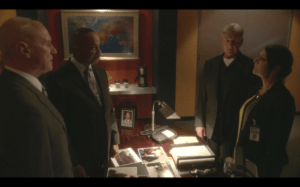 In their supporting roles this week, Abby (Pauley Perette), McGee (Sean Murray) and Ducky (David McCullum) all assist in helping to solve the international mystery. I particularly liked McCullum's performance of an irate Ducky. He is appalled that they would transport their deceased agent in the trunk of a car as opposed to a more dignified manner, but this treatment does serve as an early clue to the true role of the rogue agent and in turn helps Gibbs to unravel the coverup orchestrated by Elbaz.
While Homeland Security Chief Tom Morrow (Alan Dale) and NCIS Director Leon Vance (Rocky Carroll) stand together against Mossad, Dale's performance of Morrow continues to cast doubt in my mind as to how much this alliance can be truly trusted. However that could in part be the fact that Alan Dale almost always plays shifty characters that one can never be quite sure of.
Finally, the cliffhanger was brilliant! I did not see it coming until Tony and Ziva started slowly moving through the traffic light and we catch a glimpse of the green SUV seen earlier by Gibbs. I'm just so glad this was not the season finale and we only have to wait a week to see what happens next. Having said that, I think we're in for a bumpy ride in these last few episodes!