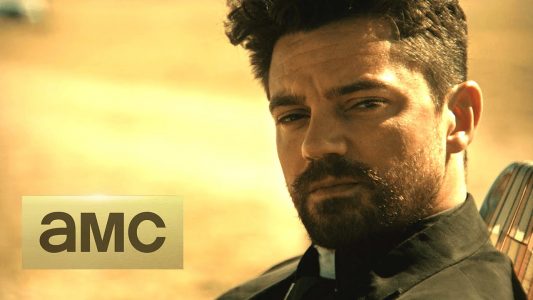 Preacher, the newest series to hit AMC, will premiere on Sunday, May 22 at 10 p.m. ET. Preacher is based on a DC/Vertigo comic series of the same name by Garth Ennis and Steve Dillion. The series revolves around main character Jesse Custer (Dominic Cooper), a preacher from a small Texas town who experiences an event with an entity that provides him with an unexpected skill. Coupled with this new power, Custer meets up with his ex-girlfriend Tulip (Ruth Negga) and an Irish Vampire named Cassidy (Joseph Gilgun), as they all go off on a quest to find God.
If you're looking for a way to watch the premiere of Preacher online, there are a number of ways to do it whether you have cable or not. Here are some of the best options.
AMC.com
If you're a cable subscriber, you can watch Preacher and most other AMC shows through the AMC website or the mobile site on a phone or tablet. You just put in your cable info, and you'll be good to go. Otherwise, new episodes become available shortly after they air on the network.
Sling TV
A common option for cord cutters is Sling TV. AMC is one of the 20 channels you receive for $20 a month. You can also get channels such as FOX, FX, TNT, and more, depending on which package you choose. You get to watch right along with the cable viewers, as the service is live streaming. If you miss an episode there is also an on-demand library, so you can catch up after it airs. You can watch Sling TV on a variety of devices ranging from your computer to most Smart TVs.
Playstation Vue
Another live streaming option that will let you watch Preacher and other AMC shows is Playstation Vue. It costs a little more for this service, around $30 a month, but you also get more channels. You can watch on your Playstation 3 or 4, or on other devices like Chromecast or Amazon Fire TV. Unfortunately, mobile use is restricted with Vue so you're stuck at home if you're using this method.
Video On Demand Options
If you can manage to wait a day, there are a number of on-demand services that will let you buy episodes of Preacher. There are some positives and negatives to buying individual episodes. On the plus side, episodes are only a few bucks and you can buy a season pass, which ensures that every new episode is delivered into your library the day after they air. You own the episodes, so they are yours for life, and you can watch them as much as you want. The only real downside is that the price of buying each show separately adds up in the end. That said, some shows are worth buying, and if you buy a season pass and later cancel it, you still get to keep the episodes you purchased at the discounted rate.
Some of the best on demand services for video include Amazon Instant Video, Vudu, and iTunes. Each service allows you to watch your episodes on most major devices, you get your episodes next day, and they are fairly inexpensive. HD options are available on all services.
So there you have it. Preacher airs on May 22, and as you can see, there are so many different ways to watch this (and other AMC shows) online or on your favorite device — at home or on the go. From Sling TV to an Amazon Season Pass purchase, online viewing is a piece of cake thanks to these great services!