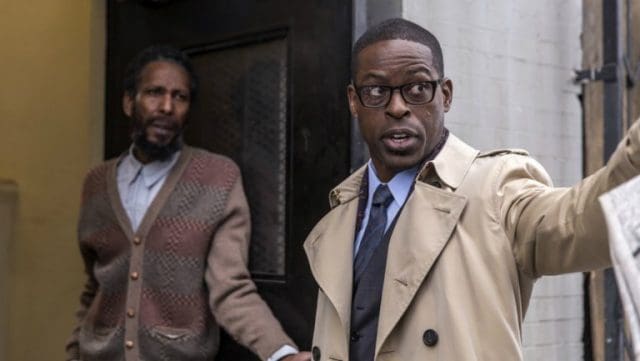 Sterling K. Brown is an actor who has had a few major roles, however, Emmy Award winner gave him the most recognition. The People v. OJ Simson: American Crime Story was one of the biggest hits of the summer. It won a variety of awards, and Brown won the Primetime Emmy Award for Outstanding Supporting Actor in a Limited Series or Movie. Now Sterling stars on the hit show This is Us and he could very well be in the Emmy conversation yet again.
If you don't know much about Sterling K. Brown or if you don't think that you know enough about him, continue reading.
Sterling's Early Life
Sterling Kelby Brown was born on April 5, 1976, in St. Louis, Missouri. He has two brothers and two sisters. When he was younger, everyone called in by his middle name, Kelby. His father died when he was 10 years old. When he turned 16, he asked that everyone start calling him Sterling to honor his father.
Sterling's Education
Sterling grew up in Olivette, Missouri, where he attended The St. Louis Day Country Day School. After graduating from high school, he attended Stanford University where he not only studied acting, he also met his wife, fellow actress Ryan Michelle Bathe there. In 1998, he graduated with a degree in acting. After graduation, he attended New York University's Tisch School of Arts. It was there that he earned his Master of Fine Arts.
His Successful Career
After college, Sterling began taking roles in regional theater. Soon after, he broke out into both television and film. A few of his film roles include Brown Sugar, The Trust Man, Stay, Righteous Kill, Our Idiot Brother, Whiskey Tango Foxtrot, Marshall, and Spaceman. He took on a variety of short roles and leading roles on television shows including Third Watch, ER, NYPD Blue, JAG, Boston Legal, Supernatural, Alias, Army Wives, Without a Trace, Eli Stone, Medium, Castle, NCIS, and This is Us. Also, as mentioned above, he played Christopher Darden on The People v. OJ Simpson: American Crime Story.
His Love Life
Sterling met his wife, Ryan Michelle Bathe in college where they lived in the same college dorm. The two met in June 2007. The even starred in a university play together. The couple didn't have a fairytale romance, and they broke up several times. There was even a three year period where they didn't speak. After Ryan moved to Los Angeles, they got back together and they tried long distance. Soon, they moved in together and they lived happily ever after.
He Worked With His Wife For a While and Loved It
When Sterling was starring on Lifetime's Army Wives as Dr. Roland Burton, a psychiatrist and the only man of an all-female group of friends, he worked with his wife. She started on the show later in the series as a counselor at a day camp and a lesbian, named Charlie. Sterling's and Ryan's characters had several scenes together and they loved going to work together every day. According to Sterling, a family that works together stays together. They enjoyed working together so much, that they are doing it again in the new series, This is Us.
Children
Sterling K Brown has two children, the first was born in 2012.
His Role as Christopher Darden
According to Sterling, he and Sarah Paulson who played Marcia Clark on The People v. OJ Simpson worked together day after day researching their characters. Sarah read Marcia Clark's book several times, cover to cover. Sterling read Chris Darden's book and they both referenced Toobin's book often. They watched footage on YouTube and poured through public records. While neither wanted to mimic the person they were playing, they wanted a full understanding. Although he had never met Sarah Paulson, the two had chemistry immediately during their very first screen test. Sterling believes that part of what made the two so believable is their on-screen chemistry.
What He Learned After Starring in The People vs OJ Simpson
According to Sterling, he believed that OJ was innocent and when the verdict came in and OJ was set free, Sterling rejoiced. Many of his friends did as well, while some looked at him like he was crazy. After starring in The People v. OJ Simpson and learning more about the evidence presented and the evidence that was no admissible, he changed his mind. He now sees that these two people died in the most brutal fashion possible and he no longer rejoices the verdict.
He Never Gave Up His Love of Working In the Theater
Although he has won awards and had many roles on both television and in film, the still enjoys performing in the theater. In 2014, he performed onstage at New York's Public Theater, in Father Comes Home From the Wars, which is a play inspired by Suzan-Lori Parks' Odyssey. He played the role of Hero. He told Esquire Magazine that he loves the theater so much that he will always try to take on a role every few years. He loves the rush that he gets when the show first opens and he is in front of a live audience. According to Sterling, acting on television and in the movies is exciting, but the rush is nothing compared to the rush he gets in the theater.
His First Emmy Award
As mentioned above, Sterling Brown won a Primetime Emmy Award for her performance in The People v. OJ Simpson: An American Crime Story. When he went to the stage to make his acceptance speech, he joked a bit, and he also shed a few tears, especially when he was thanking his late father. He also mentioned his community, his mother, his Stanford University family, his wife, and fellow actors. According to Sterling, he wasn't expecting the win, however, it one of the greatest surprises of his life.
Sterling K. Brown has had a great career so far. He was very successful in a variety of television shows and movies, but he really makes his mark when he starred in The People v. OJ Simpson. Not only did he earn an Emmy Award for his performance, it has opened doors for more roles. While he does love acting, he says that it comes second to the love that he has for his family.