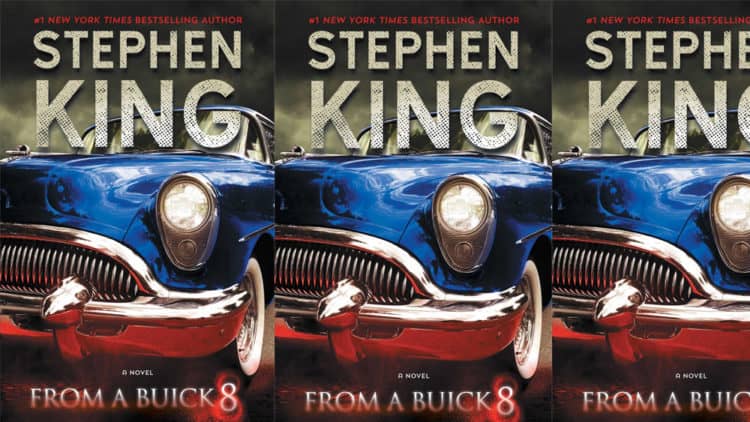 It's amazing after watching several adaptations of Stephen King's books flop so horribly on TV that now things are moving forward at a good clip and each new story that comes out has been doing so much better. Let's agree that Dreamcatcher and The Dark Tower were massive flops, shall we? From a Buick 8 however is a rather creepy story that a lot of people might not know that much about and to be fair it's one that should be able to take a lot of people by surprise since despite the fact that it's a King story, it's still one that's bound to make you say WTF when you read it. Hopefully the movie, which is being produced by Thomas Jane, will be the same way since as Ryan Scott of MovieWeb states, Thomas Jane is pretty knowledgeable when it comes to Stephen King's stories, as he's starred in three adaptations at this point. Dreamcatcher was one of them, and while the book was kind of a decent read that was a little better than the movie, the movie itself was just horrid since it had decent effects but also featured a story line that was enough to leave a person sitting there afterwards thinking 'what the hell did I just watch?'. The other movies that Jane starred in though, The Mist and 1922, were actually pretty well done as they both stuck more or less to the story and didn't deviate so much that it would alienate the readers or those that had never touched the books.
Stephen King is all about writing on the metaphysical nature of any and all worlds that exist beyond our own, and his ability to gift the reader a sense of the unknown and the macabre is great enough that one almost has to think that the nightmares this guy has would be enough to melt the brain within the skull of a truly logical person. His ideas are that out there and that horrific to be sure, but somehow they always managed to become grounded as he continues along. From a Buick 8, as mentioned by Dave McNary of Variety, is the kind of story that you have to continue reading since if you stop, thinking that you might have read enough to know how it's going to go, you might go mad thinking that there might be more to it. That's one of his tricks though, and how he hooks a lot of people into reading more since he knows how to set the hook and then yank at the appropriate moment.
It's not for certain if Jane is going to star in this movie or not but given what he knows of King's stories at this point there's no doubt that he's going to find someone to direct that will bring the story to life in a way that it deserves and in a manner that people will respond to. Given the fact that this is one of King's lesser-known stories, at least to those that don't read him often, it seems fair to say that it might need a bit of a boost and a good amount of hype to really get people interested. With some folks all you have to do is speak Stephen King's name and they're interested, but others still remember some of the flops that have been put out with his name on them and a lot of people realize that his endings can sometimes leave you wanting more but not finding it, as with IT: Chapter Two.
The way King crafts a story is masterful in a way but the manner in which he ends them sometimes seems a bit lazy, and I won't quit saying this because there are others that believe the same thing. He's a great writer, one of the greatest of our time undoubtedly, but there are those moments when even Stephen King tends to falter just a bit and slaps a hastily-written ending on an otherwise epic story. As an author it's very simple to say that a story drains you, it takes time, effort, and a constant mental vigilance that is hard to maintain now and again because in order to keep the story contained and yet free to wander where it may (yeah I know that sounds silly but go with it) one usually has to forego the effort of turning off their brain since there's just too much that will be missed. But with King it feels as though he builds everything up to a crescendo and then just runs out of gas and tries his best to finish it off with what little he has in the tank, sputtering to the very end. There are those books he's written that have great endings and some that have satisfying endings, but now and again his endings just don't pan out that well. Hopefully that won't be the case here.