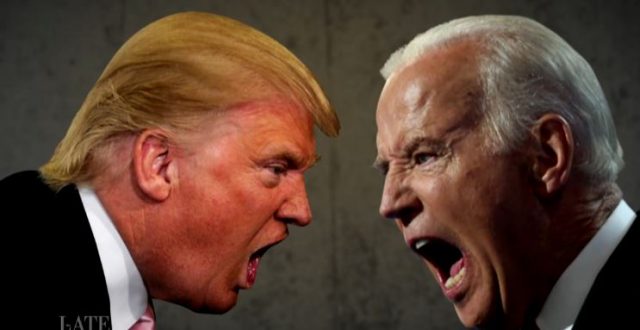 We're less than two weeks away from the 2016 election, so Stephen Colbert spent most of his monologue last night on The Late Show discussing how Donald Trump's allies are doing anything and everything to defend the GOP nominee. Colbert showed clips of Rudy Giuliani insisting that Trump isn't a racist and Newt Gingrich lashing out at Meghan Kelly for suggesting that Trump may be a sexual predator, with both men seemingly blaming the media for their constant attacks on Trump.
But it's not just the media or voters that are fed up with Donald Trump. Vice President Joe Biden demonstrated his anger towards Trump in a speech he gave the other night, where he said that he wouldn't like to debate Trump as much as he would like to take him behind the gym so that he could fight him. Trump, of course, followed that up with remarks of his own, saying that he would "love that" and calling Biden "Mr. Tough Guy."
Even though an actual fist fight between the two men is very unlikely, Stephen Colbert isn't giving up on his hopes that it will happen. In fact, he created a full-fledged fight promo (seriously, it's like something from the UFC) for the epic clash between Donald Trump and Joe Biden and said the he would host the battle between the two men right there, live on The Late Show.
"It's the match-up you've been dying to see," says the announcer in the promo. "The GOP nominee versus the person you wished was the Democratic nominee."
Watch Stephen Colbert pitch the live fight between Donald Trump and Joe Biden in the hilarious video below:
[Photo via YouTube]