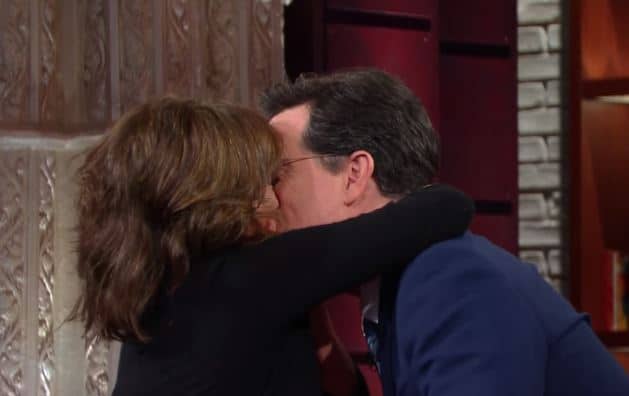 Stephen Colbert has had quite an interesting time over the past couple of nights as host of The Late Show. On Tuesday night, when Helen Mirren was a guest on the show, the Academy Award-winning actress greeted Colbert by kissing him, claiming that she had wanted to do that for about 15 years. Then, last night on The Late Show, Sally Field walked out and also planted a kiss on Colbert's lips.
"I figured Helen did it," Field say. "Why can't I?"
"You won't get an argument from me," Colbert told her, before revealing that he had a crush on her since he was a child.
Understandably, it was hard for Colbert to move past the kiss. Even when the two of them actually go into discussing Field's new film, Hello My Name Is Doris, he brought up her kissing New Girl star Max Greenfield, who plays her love interest in the movie.
"I've been kissing guys on the screen for the last 53 years of my life," she said. "What's the big deal?"
"Give me some of the best kisses," Colbert said. "What are some of the best kisses?"
"Well, I'm still trying to get over Paul Newman," she responded. "Tonight could have been it, though. I might have actually gotten over it."
Watch Stephen Colbert's interview with Sally Field in the video below:
[Photo via YouTube]