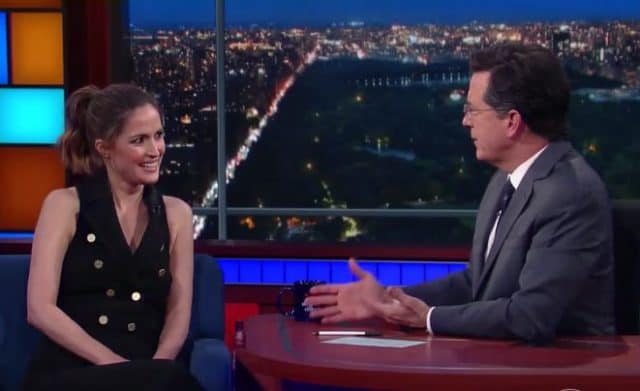 Neighbors 2: Sorority Rising star Rose Byrne stopped by The Late Show With Stephen Colbert last night to promote the new film, which hits theaters today, and while the two of them discussed the movie, a good portion of their conversation was spent on Byrne's home country of Australia. Since Colbert had never met Byrne before and had only seen her work in shows like Damages or movies like Bridemaids, where she's donning an American accent, he didn't even realize that she was Australian. Plus, when he asked her about being from Australia, she sounded almost hesitant to answer.
"I am," Byrne told Colbert. "I'm from, um, I'm from Australia. Sydney, Australia."
After the awkward way Byrne answered the question, both she and Colbert couldn't help from cracking up.
"It sounds like I caught you in a lie," Colbert said, laughing.
"That did sound like a lie," Byrne said, still laughing, too. "I don"t know why I was acting like I was lying cause it's true. It's really true. This is a real accent."
Colbert then brought up how fascinated Americans are with Australia and Australians, especially the Americans who have never been to the country before, like himself. He suggested that people are so interested in it because it seems like America, only more dangerous.
However, that wasn't the case for Byrne, who calls herself a "city girl." She compared herself to someone who grew up in New York City before calling all the ideas that people have about animals trying to kill you in Australia and Australians "riding kangaroos to work" absolute BS.
For Byrne, though, there was one dangerous animal she had to be wary of, and as she explains to Colbert in the video below, it was found in one of the most unusual and disconcerting of places. Check out the rest of Stephen Colbert's conversation with Rose Byrne below to find out what animal (perhaps an insect) always kept her on her toes when she was growing up.
[Photo via YouTube]