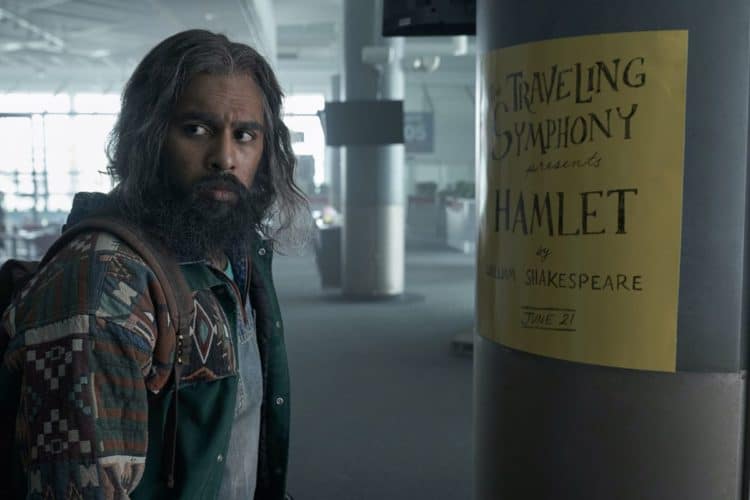 Station Eleven Season 1, Episode 10, "Unbroken Circle" is the finale that you would never expect from an apocalypse series but then again Station Eleven isn't your average end-of-the-world show. The episode starts at year zero of the pandemic picking up on Miranda Carroll's story that was temporarily abandoned five episodes again. Miranda calls her old friend Clark and the two exchange their fates. Unfortunately, this isn't Miranda's first time facing death. The spaceman also known as Dr. Eleven in Station Eleven was born from her depiction of Hurricane Hugo that she composed as a little girl on top of the very counter that saved her life when a live wire fell into her family's flooded home. Miranda admits to Clark that she never made it out of Malaysia and that she's sealed herself into her hotel room. Clark let's her know that he has just landed at Severn City with Elizabeth and Tyler. While on the phone with Clark, Miranda suffers a coughing spell. It's at this moment that she realizes that she has been infected. Miranda urges Clark to take good care of Elizabeth and Tyler before bidding her final farewell.
Before Miranda succumbs to the flu, she learns that a plane from Malaysia has just landed in Chicago. She quickly goes through a series of obstacles while on her last leg to make contact with the pilot. Is it a coincidence that the pilot's name happens to be Hugo? Probably not, but Miranda uses her personal story to convince the pilot not to let the sick passengers off that plane. "They don't deserve to die like caged animals," she says agreeing with him but the people in the airport are on the "countertops" she says in relation to her story of survival. Hugo makes the tough decision to trap the passengers in the plane to save the lives of those inside the airport. Miranda's monologue is powerful. However, moments later she dies. Now that the Traveling Symphony is out of quarantine at the airport, Kirsten agrees to do one show for the residents at the airport but she sticks to her guns about directing. Kirsten isn't too fond of Elizabeth and it's mainly because she feels that they were held against their will and treated like captives Kirsten isn't one to hold back especially when it comes to her family, the Traveling Symphony.
Hamlet is the play of choice for this performance and Alex is mildly annoyed when she finds out that she has been demoted to Laertes. Kirsten has decided that Tyler will play Hamlet. Tyler aka The Prophet is only excited about his part in the play because he gets to say mean things to Elizabeth under the guise of art. Clark gives Kirsten hell over the cast that she has selected for this production of Hamlet. However, he quickly changed his tune when Kirsten shows him her copy of Station Eleven and reveals who she is. When Clark realizes that Kirsten was the little girl that Arthur was mentoring. Understandably shocked he doesn't question her directorial decisions anymore. The play turns out pretty well. At one point, we're almost sure that Tyler is going to kill Clark when he veers from the script and holds up a knife. It's the same knife that killed Frank that Kirsten gave to Alex who in turn gave it to Tyler out of a peculiar sense of devotion. Tyler holds up the knife as if he's going to stab him but he changes his mind and throws it onto the floor of the makeshift stage. Maybe there is something good in The Prophet.
Elizabeth and Tyler talk after the show. Elizabeth tells Tyler that she would have left with him all of those years ago if he had just asked her. Despite the hard front, Tyler puts up, he misses his mother and allows her to pull him into a warm embrace. Elizabeth decides to leave the comfort of the home she's built at the airport to live with Tyler and his conglomerate of children in the wilderness. Jeevan or shall we say "Dr.Chaudhuary" has been called to the airport to care for Sarah whose condition had worsened in the previous episode. Dr. Chaudhuary holds Sarah's hand as she finally passes away. It's pretty ironic how Sarah passes just the first caretaker after the pandemic pops back up. Jeevan and Kirsten's reunion is a waterworks session. Even though it's twenty years later and they recognize each other instantly. Jeevan and Kirsten cling tightly to each other it's as if a load has been lifted off their chest. Kirsten thanks Jeevan for walking her home all these years ago. Kirsten promises to visit next year when the Traveling Symphony makes its rounds.
Tell us what's wrong with this post? How could we improve it? :)
Let us improve this post!