The Official Stargate Website airs webisodes called SGU-Kino, which I reported on earlier last week. Well, I have decided to recap all of the first ten episodes as Volume 1 and the next seven as Volume 2 for the fans of the show since there has been such a good turnout on the sight for the regular recaps.
So here are the first ten recaps of SGU-Kino:
Webisode 1 – Get Outta Here…
The Kino spies on Col. Young as he writes something in a notepad. Col. Young feels it's presence and says, "I say you could use that thing to watch me" before standing up and shutting it off. Not much, but it's a start.
Webisode 2 – Not The Com Lab
Eli gives a tour of the ship and comes across a door that he says is leads to the Com Lab. He mentions that a lot of people still don't know how to get around the ship, but that he has a great sense of direction. When Eli opens the door, he realizes that it's not the Com Lab, but actually the infirmary. Eli then ponders how to get back to his starting point.
So much for a sense of direction… But another thing I want to note is that the infirmary had a lot of cases that looked like they were modern and had clasps on them. Did the survivors of the Icarus Base manage to get that much stuff through the gate? Or were the Ancients more super advanced than I thought?
Webisode 3 – No Idea
Eli is still touring and he comes across a room he has never seen nor has any idea what it does. He explores it, completely forgetting about the tour.
Webisode 4 – The Stargate Room
Eli's still touring and come across the Stargate Room. As he marvels at the Stargate, Eli tells the Kino that Dr. Rush feels that the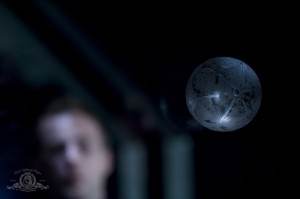 Stargate on the Destiny is like the prototype of the other Stargates, due to it's age. That statement brought up a lot of questions that nearly sent my brain in self-destruct mode. What do you guys think?
Webisode 5 – Eli's Room
Eli ends his tour in his room, which is the size of a freaking closet. He claims that room shortages are due to so many parts of the ship being locked and that Rush wants everyone to focus on repairs, while Col. Young wants everyone to concentrate on getting home. Eli says that he agrees with Young, mostly. Hmm… Is this where Eli begins his teeter totter on the fence between Rush and Young? Eli ends the clip by saying that he has to be up the next day (how do they tell time?) for calisthenics with Greer. The horror… of Eli doing exercises.
Webisode 6 – "Don't Encourage Him"
The Kino flies into the mess hall and TJ tells Greer and Scott to not encourage Eli's shenanigans since the Col. caught Eli spying on Scott's girlfriend. Scott asks, "Who Chloe?" Um, no dumbass, Vanessa. Eli declares his innocence, but Col. Young put out a warning to all females to look out for the Kino. Eli again says that it was in fact Riley who was the culprit, but Greer grabs the Kino and warns Eli that if he finds out that the Kino has been spying on any of the females on the ship, then he will use it to spy on Eli "from the inside". HA! But it was Riley, if I am not mistaken.
Webisode 7 – Corridor Conversation
This just showed a conversation between Scott and Chloe, but we can't hear them and they leave from frame. Wasted opportunity or wasted film?
Webisode 8 – Marked Hatch
This webisode feature Eli trying to figure out if one of the marked hatches is safe enough to enter or not, because he doesn't know if they fixed it yet. Hmm…
Webisode 9 – "Not Supposed To Be In Here"
Eli enters the one useable shuttle, saying that the other one is "toast". He then whispers that he isn't supposed to be in there, because it's military personnel only. Eli then thinks about this tidbit and leaves the shuttle.
Webisode 10 – "Nobody Cares"
Eli interviews Chloe, who feels that nobody cares about her and wouldn't want to know the color of her eyes or her height in heels if someone finds the Kino with their info on it. Eli states that he feels like people should know them, especially Chloe, who Eli feels will have a school named after her one day and her stats "will line the halls of the gym". When Chloe starts whining, Eli tells her that he can't leave her when she starts talking about how nobody likes her. Chloe then makes it known that she is going to sleep and Eli says that this is only part two of a forty-seven part interview. HA!
Well that's Vol. 1, folks! Volume Two will be done soon. What do you think? You can view them all here. Keep in mind that the clips are numbered, but they are NOT in order!