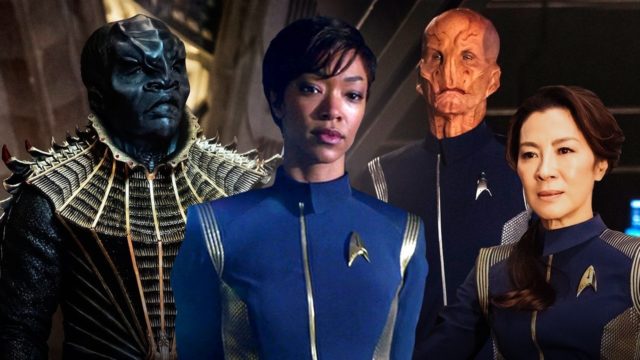 No one thought that the long-enduring franchise would be getting a reboot at all; and when it was announced, it wasn't easily met with enthusiasm from the die-hard Star Trek community. This was almost immediately upturned as soon as the series actually started in 2017. Star Trek Discovery took the prequel stance 10 years before the original team of Kirk, Spock, and the rest of the Enterprise even got together. This new group of explorers has given us a fresh perspective on Star Trek, and we believe that many of the actors are doing an excellent job. If Stark Trek were to end at any point, these are the cast members we think will have the best post series careers.
Sonequa Martin-Green
We know from this show that Martin-Green has the capacity to lead an entire cast. She hasn't been around that long, yet she's already made quite a name for herself. Apart from Discovery, Martin-Green had a huge role in one of the biggest shows on TV. She actually played the role of Sasha Williams in The Walking Dead. Martin-Green spent five years on that show, and she did incredibly well. She was also in The Good Wife for about 3 years. We think that Discovery will propel her to a film role. Only time will tell.
Shazad Latif
Latif plays Ash Tyler and Voq on Star Trek: Discovery, and we're very impressed with what this relatively new actor has done so far. He's got a unique look that will allow him to play so many different types of roles in the future, as he has already done in a couple of his previous projects. Latif played Dr. Henry Jekyll in the Penny Dreadful series back in 2016. His most notable films include The Second Best Exotic Marigold Hotel and his most recent work, The Commuter.
Mary Wiseman
Another relative newbie is making good progress for her career in Star Trek: Discovery. Wiseman has only 8 acting credits to her name, Discovery being her biggest gig. Before that, she had a recurring role in Longmire from 2016 to 2017 and a few other guest roles. Wiseman plays Sylvia Tilly, a crewmember that served in the engineering department of the USS Discovery. Tilly came out of her shell in the show just as Wiseman is doing so in her career. She's already got another project this year, and we believe that she'll just keep on building up when she's done with Star Trek or when Star Trek is done with her.
Emily Coutts
There's something about Coutts that's so striking. This Canadian actress is another unknown in the American market, but she'd been doing thing in Canadian television before she broke through with Star Trek. She plays Keyla Detmer, the cyborg-looking human who has cranial and ocular implants. She handles her role really well in the show, and this show will likely propel her career to more jobs in the future.
Doug Jones
For some reason, we weren't sure if Jones should make this list given that he's already got a successful career. However, we realized that he really doesn't seem to be slowing down at any point. He was doing The Shape of Water the same time he started Star Trek, and we believe that Star Trek is just another avenue to propel his success even further. He's already got so many projects lined up for the rest of the year and next year; we can't wait to see what other characters this unique actor will play.