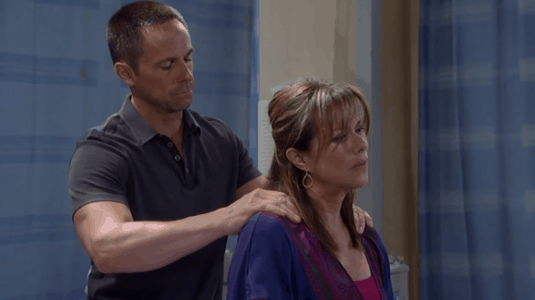 If you're thankful that the week is over, you definitely aren't the only one. The people of Port Charles are probably feeling the same way after having to deal with some very serious drama over the last several episodes. Unfortunately, next week on General Hospital will probably only be worse for some of the show's characters. Just when some people thought things couldn't possibly get any worse for them, they will – and spoilers indicate that there will be quite a few surprises in store.
In the coming episodes, Julian and Alexis will tie the knot. Although weddings are typically joyous occasions, this one will prove to be anything but. After all, there's nothing like a good gathering to get trouble brewing in Port Charles, and this wedding is sure to have some people talking. Apparently, there will be an unexpected guest at the wedding who will turn heads instantly. Although it's not yet clear who the person will be, it is clear that not only were they unexpected, but they were uninvited. Based on the fact that Julian may be on the brink of getting caught for his illegal activity, things could end very badly for him. What could be worse than getting arrested on the day of your wedding? Not much, but that just may be what ends up happening to Julian, and there won't be a single thing he can do about it.
Elsewhere, Jake's temper issue is finally getting some of the attention it needs from his mother. Sure, Liz has been putting Jake in therapy, but she hasn't really been able to understand the severity of what he's capable of. Liz is going to let Franco in on a little secret: Jake has confessed to accidentally killing someone. Of course; however, he didn't actually kill Sam, he just thinks he did. Still, the news will be shocking to both Liz and Franco. Seriously, imagine what it must be like for a parent to have to try to digest this kind of information. Sure, most parents love their kids regardless of what they do, but having to face the fact that your child could be a killer is hard for anyone.
On top of that, the weight of the situation between Jake and Sam will start to take its toll on Liz. She's going to have to tell Jake why she and Jason really decided to end their relationship, and this could shift Jake's anger. As of now, he still wants his parents together, and he has made it very clear that he will do whatever it takes. Little does he know, his actions are doing nothing more but pushing Sam further into Jason's arms. Jason is going to stay by Sam's side throughout her recovery, and this old flame may be rekindled once and for all. At least until Jason uncovers some more of his forgotten memories. Once he remembers everything, who knows how things will pan out.
Spoilers also reveal that Lulu will also be dealing with some things on her end. Over the last month or so, she has really been all over the place, and her personal life is still struggling. Nathan and Maxie are going to try to put Lulu and Dante back together, but there's a very good chance that he won't be interested. After all, he's kind of had a thing for Valerie, and he and Lulu's relationship is probably damaged beyond repair. If Lulu and Dante can't make it work, it'll probably be her karma for her terrible revenge plot against Valerie. Perhaps, this will be the time that she finally learns her lesson.
With February Sweeps underway, General Hospital is going to be bringing some very entertaining plot twists and storylines to the coming episodes.
Tune into General Hospital Monday through Friday on ABC at 2pM EST.
https://www.youtube.com/watch?v=WXvx8_tEdDg
image via enstarz.com