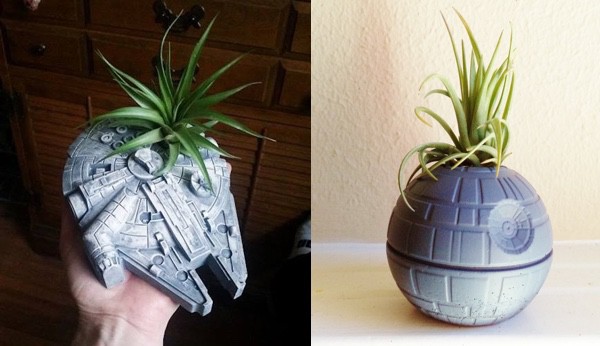 As a parent one of the biggest blessings I've received this month is my 4-year-old son's new obsession with Stars Wars. I'm pretty sure he's watched Revenge of the Sith at least 25 times and he's still watching it at least once a day. While watching this film might be getting a little old, it's still 100 times better than seeing the same episode of Bubble Guppies or Team Oomizoomi over and over again. Honestly, it's really hard to complain.
Speaking of Star Wars, I just came across these gems today. If you're a green thumb and love planting, you might want to spice up your garden with some Star Wars molded planters. It's full out family fun and great for the environment too! Yippie!
According to Fashionably Geek
Etsy seller RedwoodStoneworks appears to be making good use of the many Star Wars-themed silicone molds on the market by using them to produce delightful little planters made out of plaster. Options include the Death Star, the Millennium Falcon (a hanging version is available) and BB-8.
Check out more designs below.