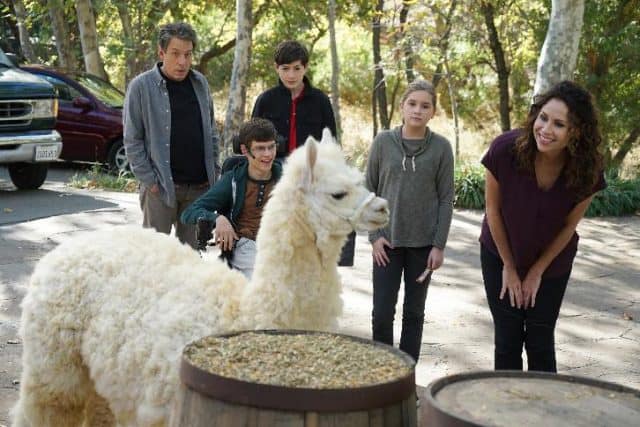 This week's episode of Speechless proves that the "Unplanned Moments" in life can be the most meaningful.
In this week's episode of Speechless, the DiMeo's set off on their annual family road trip, in which they have no Itinerary and no idea where they will end up. Ray however secretly plans the vacation knowing that whatever he suggest the family will do the exact opposite.
Meanwhile, Jimmy and JJ make a little extra money by selling things they brought with them but end up selling things that both Dylan and Mya actually need. When they get to the Inn Ray confesses that the trip has actually been planned the whole time.
The next morning Mya is upset and says that they are leaving and going back to the original plan of having no Itinerary and seeing where they end up. Things however, suddenly change when Ray gets appendicitis and has to go to the hospital. (I really love the interaction between Ray and the rest of the family in these moments because it shows that they love Ray just as much as they love JJ.)
When Ray comes out of surgery Mya gives him things off of his Itinerary, like a rubber band ball, because he wanted to have the biggest one in the state, her grandfather's gold pocket watch, because he wanted to pan for gold and a pillow with tassels that was a "lion" because he wanted to go the zoo. ( I thought this was a really sweet scene.)
The secondary storyline in this episode and in my opinion the filler of the episode is Kenneth at school without JJ. ( Which makes absolutely no sense because he is only an Aide for JJ so he does not need to be there. At least in my case, my aide did not take notes for me when I was gone, I got caught up when I got back.) Even though the storyline does not make a lot of sense it was a good catalyst to build the friendship and maybe even romantic interest between Kenneth and the principal. ( It will be interesting to see where the storyline goes.)
Overall this episode was pretty good. The family road trip was excellent but the storyline with Kenneth, I felt it was really unnecessary.
Speechless Season 1 Episode 11 R-O--ROAD T-R--TRIP
Summary
The DiMeo's take a family road trip. while Kenneth goes to school without JJ. in this weeks mediocre episode of Speechless.