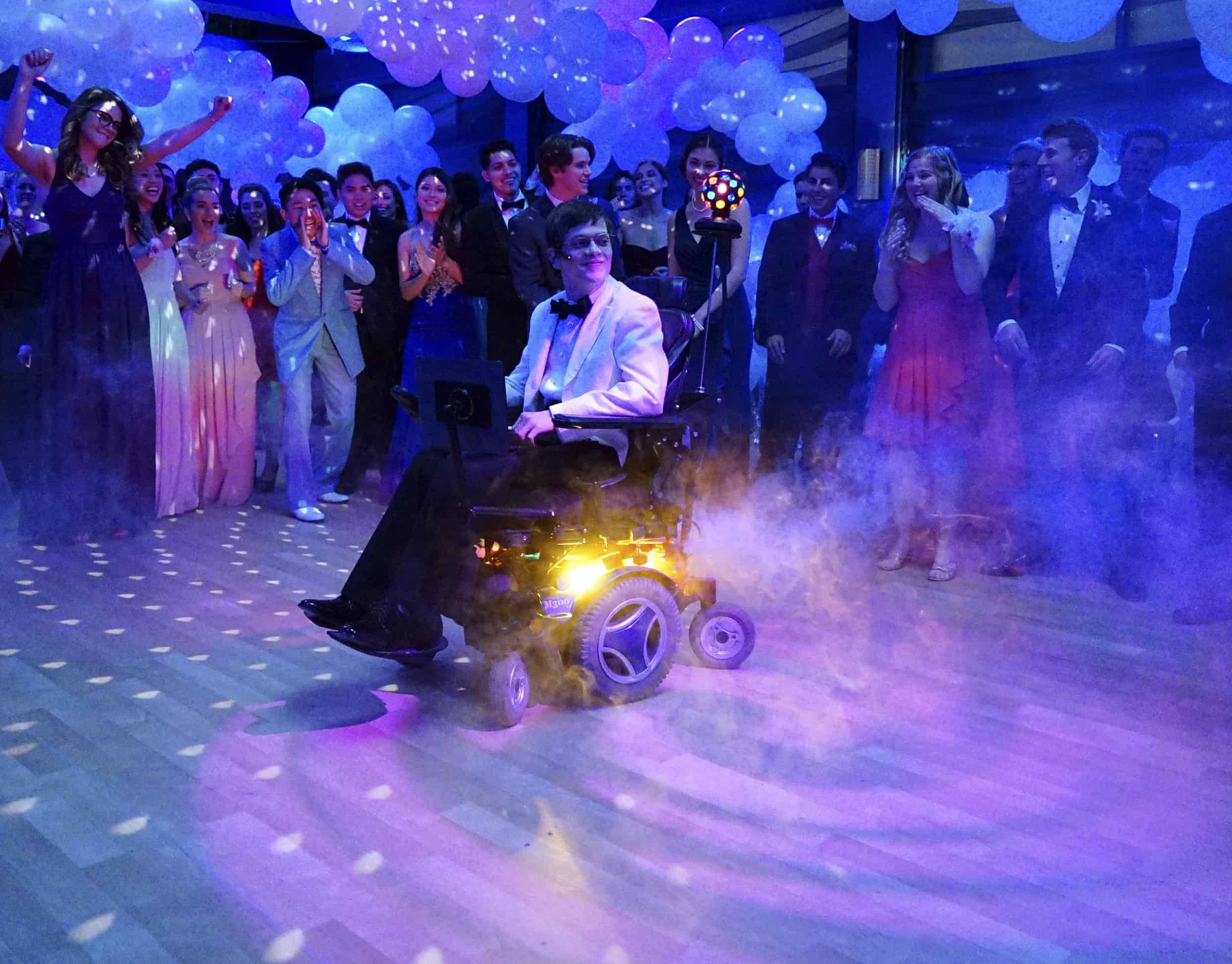 On this Week's Episode of Speechless: Ray, Dylan and JJ go to the Prom and Mya and Jimmy have a fight night.

This Week's Episode of Speechless opens with Ray and JJ preparing to go to prom. When Jimmy tells JJ that he added "party mode" to his wheelchair, JJ says that he doesn't want it because he gets too much attention at things like this and he just wants to blend in. When Jimmy asks JJ if he is sure he doesn't want Kenneth to go with him, Kenneth says he won't need him because he will be too busy making out under the bleachers.
Meanwhile, Dylan shows off her drink mixing skills as she prepares to go to prom as a bartender ( which is a weird storyline). When they arrive at Prom a girl named Riley Mullins introduces herself to Ray and they go off together. JJ goes to blend in and Dylan goes behind the Bar.
When JJ gets bumped into by a classmate his other classmates realize he is there and start taking selfies with him. They start chanting his name which JJ ignores and Riley takes Ray under the bleachers to make out with him.

Back at the DiMeo house Mya and Jimmy have a fight night, where they fight about all the things they have saved up on pieces of paper to fight about when the kids aren't around. Kenneth decides to judge who is right and who is wrong in each of their fights.

Back at Prom, JJ makes friends with a group of kids who are off by themselves. When he realizes none of them are having a good time either, he suggested that they get out of there.
Meanwhile, Ray's plans to make out with Riley don't go so well when she uses the R word. ( I really appreciate the show addressing this issue.) Ray goes to talk to Dylan and tells her what Riley said. Dylan tells Ray that he knows what she said is wrong and he can't just let it go.

Back at the DiMeo house Kenneth continues to Judge Mya and Jimmy's fights. While at prom JJ walks around the school with his friends and Ray talks to Riley underneath the bleachers. When Ray tells her that what she said bothered him, Riley says that it's not her fault that people get upset by anything. To which Ray says he thinks it's wrong because his family thinks it's wrong.

JJ and his friends go hang out in the Teacher's Lounge but when Caroline plays music and starts dancing the other guys get upset with her and she leaves realizing that the guys are jerks. JJ leaves and goes to look for Caroline.
At the DiMeo house Mya and Jimmy run out of things to fight about, so Kenneth and Jimmy switch places but when Mya says Kenneth eats too much of their food he gets upset and leaves.

In the process of looking for Caroline, JJ runs into Dylan and Ray who tell him what Riley said. Even though he is upset by it he tells Ray to kiss her because he will have his whole life to educate people but this is his one chance to kiss a girl. Dylan tells him that even though JJ said it was ok he has to ask himself if it's ok.

Kenneth comes back because he forgot his phone. He tells Mya and Jimmy that he doesn't know where they stand and that he is invested in being JJ's aide. He cares about their family and he wants to know if they feel the same way, but says forget it and leaves

When Ray goes to kiss Riley he hears voices in his head of Dylan, his mom and himself telling him not to do it. (I really like this scene because it shows Ray forming his own opinion and not based off of what anyone else thinks, but off of what he knows is right.) He can't go through with it and Riley goes off with one of the guys JJ left behind earlier in the episode ( I'm glad, Ray can do better than Riley).

JJ finds Caroline and ask her to go to prom with him. She feels like everyone is staring at her so JJ turns on party mode on his chair so that everyone can stare at him and she can enjoy herself.
Jimmy and Mya surprise Kenneth by letting off the fireworks. Jimmy has wanted to let off for fifteen years and Mya is giving him the ring she doesn't want. When Kenneth is unemotional about it Mya and Jimmy become upset which is when Kenneth finally feels like hs's a part of the family.

At the very end of the episode Ray gets hit with tomatoes by guys wearing Reagan mask (Which was so unnecessary).
Overall, I think this episode did a good job of showing that what we say matters. Words aren't just words, they mean something, and standing up for what is right matters too.
Speechless Season 1 Episode 21 Review: "P-R--PROM
Summary
On this week's good episode of Speechless Ray,JJ and Dylan go to Prom. while Mya and Jimmy have fight night.