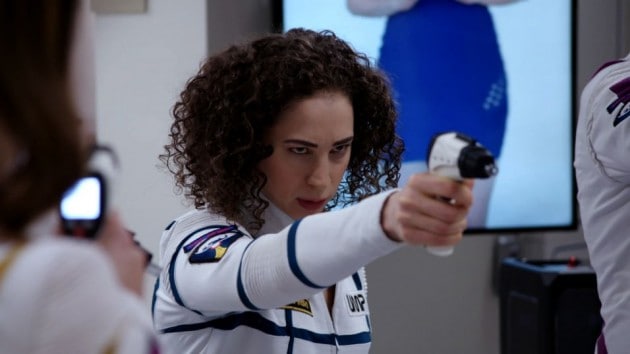 Initially, a show like Other Space seems limited: limited by its single location, its budget, the 'network' it airs on, or the simple fact its first season only consists of eight half-hour episodes. And after an impressive pilot that took an high concept premise and turned it into low-key hangout comedy, it appeared Other Space was operating on a very small scale, and was very comfortable with that. "Getting To Know You" certainly doesn't do anything to disrupt these rhythms and preconceptions; however, as it begins to build out its central cast of characters, the episode begins to reveal a show much larger and more ambitious than even its pilot suggested.
A lot of this comes from the character of Kent Woolworth. Established in the pilot as a weirdo, "Getting To Know You" reveals that Kent was really just created by his parents (his mother is the president of their world) for the purpose of organ harvesting, for a brother who ended up dying in an accident with his coke dealer. Like A.R.T. (who is really a rich businessman who took an idea way too far), Kent is the budget package for a human being, two rejects who found solace in the isolation of space, living in close quarters with people who couldn't judge them for their shameful secrets. The search for an alien hiding among the crew is a genius catalyst for this story, which immediately transforms Kent's character from an oddity to an emotional center – and more importantly, humanizes him to the rest of the crew, who are each dealing with their deepest anxieties, faced with the uncertainty of their future, and even the loyalties of the people they're marooned in an alternate universe with.
And whatever is in that alternate universe is curious: the alien in the shape of Dave Franco was seeking out specific knowledge about the crew and the ship, adding new intrigue to the overarching story of what actually happened to bring them into this other space (and of course, what will happen, now that they're stuck there). I'd argue the show doesn't really need this extra layer of story, but it works so well in accordance with the character material the show's aiming for in "Getting To Know You," enhancing what is brought out by the crew's search for alien evil. We really learn a lot about the entire crew in the span of twenty minutes: Tina's insecurities, Karen's cold approach to life, Natasha's desire for free will (which Stewart wants to hear nothing about) – and the highlight, Michael's attempts to appease everyone, even to the alien as it's about to get blasted into deep space.
The balancing act between presenting naive characters and idiots is difficult. Making them easier to empathize with goes a long way to building a relationship between show and audience, and "Getting To Know You" does an even better job than the pilot – which has to spend the first half establishing the show's premise – of conveying to viewers what kind of show Other Space wants to be. It creates a dynamic between the absurd science fiction of its story (I love the little recurring bit about the food replicator, a terrific solution to the fudge-exclusive food supply problem) and the beating heart at the center of Other Space's chest, grounded in the stories of emotional maturity, in very Community-esque fashion, a mastery of its craft not seen often in shows so young. Like the space its protagonists are trapped in, there's unlimited potential in Other Space's small scale comedy.
[Photo via Yahoo Screen]