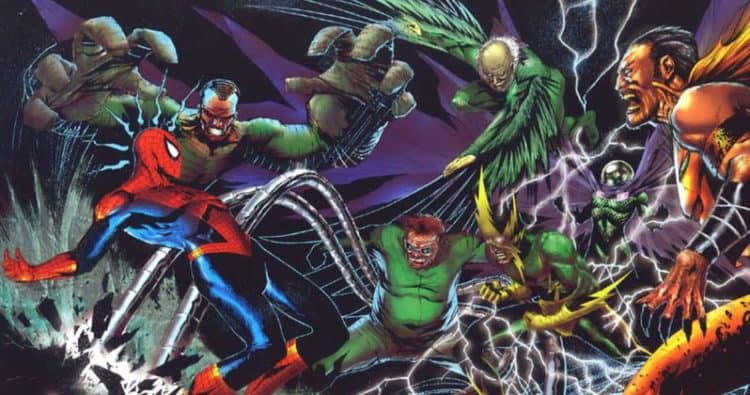 It feels as though a possible Sinister Six movie is moving closer and closer to being likely since Sony is looking to bring Kraven into the mix and every other villain that's been a part of the original six has been featured at least once in the past. Doctor Octopus, Electro, Vulture, Sandman, and Mysterio have all had their turn on the big screen, and Kraven will be headed that way eventually, so it's fair to think that despite lines such as 'we could have done this three years ago' (speaking of Kraven) Sony is looking to make a big push forward with the Sinister Six and their bid to take Spider-Man to the limit. In the comics, these guys have all done serious damage over the years and they've all challenged Spidey in a big way, but together they're hard to beat since they have a volatile mix of power, brains, and other various skills that can definitely prove to be too much for just one hero.
Hopefully waiting so long to create the villains that were needed for the plan doesn't end up backfiring, but there is a question as to how Sony will present the villains since Doc Ock drowned and Mysterio was apparently killed in the MCU. Given that Spider-Man is still a Sony property it's likely that they'll come up with some way to make it work for the fans, but one has to imagine that plenty of folks will be watching this closely and showing great interest in how it might come together. Plus, two of these villains were featured with Tobey Maguire's version of Spider-Man, while one was shown with Andrew Garfield, and the other two were with Tom Holland. Sony has a lot of work to do in order to bring this together and in terms of telling the story so that it will make sense, it's easy to think that many eagle-eyed fans will be doing what they can to try and keep Sony honest.
The passage of time does allow some people to forget the idea that some of these characters did make an appearance, and at least one of them did walk away, kind of, when the final battle was over and done with. Sandman was turned into a reluctant criminal that didn't want to fight so much as he wanted to find a cure for his ailing daughter. Doc Ock's appearance is going to need some seriously delicate handling, and bringing Mysterio back is bound to be interesting but at the same time, it's also bound to leave a lot of fans wondering what the endgame was for Mysterio, since outing Peter Parker as Spider-Man, and his 'killer' was genius. But what else was there? It's hard to say since each villain presents their own unique challenges and the Sinister Six, despite being deadly, are all very different people that want to do things in different ways since they all have a bone to pick with Spider-Man.
In the comics, these six individuals were absolutely vicious and didn't show any quarter, so hopefully in the movie, whenever it does come, we'll be seeing some truly knockdown, drag-out fight scenes that will put Spider-Man in real danger. It might even be that the hero will need backup in this type of movie, meaning that another hero could come along and help him out. It's ambitious, to say the least, and a humongous hope among the fans that this will happen, but until it does Sony is likely going to stick with the explanation that they have a plan and will be moving forward when the time is right.
It's easy to mock that by saying that if they only made movies when the time was right then the Spider-Man and Venom stories should have been told a while ago when the MCU was still firing up. Getting in on the superhero craze over a decade ago might have been extremely wise, since it could have been highly redemptive after the last Spider-Man movie and might have even made the move to have Spider-Man face Venom come along a little sooner, and Carnage might already be out as well. In all fairness, waiting for a script to be ready and to be perfect is a bit ridiculous, but it's also a pretty smart move since walking into production and doing things when they're not the best they could isn't that intelligent. But then again, writing out a script and working it around isn't that hard to be quite honest. It's daunting when there's a deadline to be certain, but overall, just sitting down to write, and getting paid mass amounts of money for it, basically half of many people's annual salaries or more, should be great motivation. It'll be here, one day.