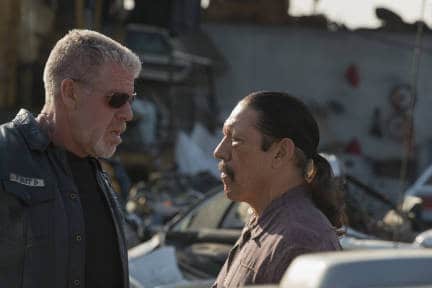 Before I dive into this one, I've got to give you a warning that there's going to be some pretty hefty spoilers. My reviews normally contain spoilers anyway, since most of the time it's safe to assume that people reading these are either watching Sons of Anarchy or are reading to find out what happened if they missed it. But the stuff that went down tonight was huge–events so big that its worth going out of the way to give a proper spoiler warning. So continue at your own risk.
As the previous paragraph pretty much says, this week's episode was a big one. Lots of payoff for some plot lines that have been building all season–and all series. Were the big payoff scenes worth it?
The first third of the episode was all about leading up to the big heist–breaking Clay out of the prison transport that has been alluded to for the past several episodes. Connor goes through the plan with the Sons. In retrospect, the scene almost seems a little too long or in-depth–like in a heist movie, the only reason to go over the plan in-depth is to show how wrong it goes when it goes wrong. Here, though, the plan ended up being a success. There were some injuries and a dead sheriff, but no major complications.
Of course, after the briefing, we're treated to one of the show's trademark delicious montages. Everyone getting ready, getting into their trucks, Clay getting put into the armored truck while police load up with weapons. It does a fantastic job setting the stage, emotionally–getting ready for some bad things to go down. There's been an incredible amount of anticipation for this heist built up over the last few episodes, but the montage here doesn't seem excessive at all. I loved it.
But then the heist goes down, and it's more or less smooth. Bobby gets shot, Juice runs over a sheriff. Clay's surprise at seeing Jax was satisfying. But still, the "assault" on the prison van didn't seem quite worth all the hype from the previous episodes and all the tension that has been building all season.
And while at first it seemed a little disappointing–it was what happened after the assault that made everything worthwhile. We didn't get the highway shootout that we were expecting, but the aftermath was more than enough to bring the heavy.
Jax finally kills Galen. He also kills Clay, as per an offscreen unanimous vote. Clay's death was a long time coming, and it's handled with appropriate gravitas. I can't say that it was surprising, but it worked better because we could see that it was coming. Now, with Clay and Galen dead, Jax makes a deal with Connor that will hopefully put an end to the conflict with the Irish. We'll see.
As for Tara… Tara, Tara, Tara… Looks like she's finally going to turn them over. After her breakdown last week, when it seemed like she had nowhere to go, DA Patterson gives her a new out. One that was provided by Jax and the club after all that went down. With the Irish conflict (apparently) tied up, Tara's deal with the DA seems like its going to be the driving force for the final episodes of the season. Can't wait to see how it goes down.
Overall, another strong episode. Some elements seemed missing at first, but the events at the hangar delivered on the promise of something big that has been building for a while. As always with this show, there is a lot going on, and it's a rush to see things come together.
What did you think of the episode? So much went down, and I could have written something three times as long–but I'm trying to keep it brief. Share your thoughts in the comments.
Worth Mentioning
Chucky had some screentime, and for once it wasn't just him being goofy. He notes that things are only going to be getting worse. I love the reminder that these side characters are affected by all the big stuff going down–kind of like Margaret in the previous episode.
"Come on Tiggy, you love pink."
Unser told Gemma that he's in love with her. It's something that everybody has known for a long time, but there's going to be a shift in that relationship now that its out there.
"Where are the Irish?" "In Ireland."
Last week, I gushed about how I wanted Nero to propose to Gemma. Seems like that's never going to happen after their exchange tonight: "I've seen what happens to your husbands." If Nero leaves the show I will be very unhappy.
What's going on with Happy and the Chinese?
Image CR: Prashant Gupta/FX