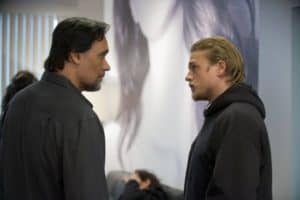 What a way for Jax to begin his rule. Damien Pope determined to exact revenge against the SOA and as a result Jax, Chibs, and Tig on their way to jail, where Pope's inside men will no doubt make quick work of the trio. Meanwhile, it seems some of the Sons new members, or Pegleg Pete at least, are working against the Charming Samcro. And that's just where we pick up from last week's episode. Here's what you can expect from tonight's Sons of Anarchy, "Authority Vested".
New Alliances Get a Little Twisty
Did you notice that when Nero got Gemma's call last week that he was hanging out in the hood? Of course you have to make a bit of a stretch to believe that, but I think after this week's episode you'll see that you can take the Nero out of the hood, but you can't take the hood out of Nero. Nero seems to be having some kind of retired-gangster mid-life crisis, and extending a helping hand to Jax and crew might have actually been seen as an opportunity for Nero to backdoor into the gang life he once loved. With "Authority Vested" you will get to see the first indication that Nero can be a big help to the SOA, as well as a big danger to himself and all around him.
I Did Not See That Coming
Sometimes things that you expect to happen 'eventually' can happen sooner than you are prepared for, and that is definitely true for one aspect of Sons of Anarchy. I don't want to spoil the substance of it, but once you see it you will understand.
Unser Back on the Case
Having been directly impacted by the break-ins, Unser decided to play private detective and begin investigating the case himself. What I love most about this is Unser's interaction with Eli Roosevelt. Despite the fact that Unser is now neck deep with the Sons to a degree, Unser makes a case to Roosevelt that he had never 'sold his soul' to the SOA, nor had he abandoned his duty to Charming. Does Roosevelt buy his case? Will Roosevelt even understand that keeping Charming safe and secure requires a balance with the Sons of Anarchy that he might find distasteful? Better yet, when will he learn he doesn't have a choice?
The Big Picture
Obviously I don't want to spoil anything for you concerning the overarching plot, but suffice to say that there is a lot of advancement in the CIA, Pope, and Clay subplots this week. Maybe even a bit more than you might expect. On the Thee Little Bears scale, I'd judge it as not too fast, not too slow, but just right. Definitely testimony to the fact that the Sons of Anarchy crew haven't lost an ounce of passion for their story, and are determined to continue pushing through plateaus. "Authority Vested" continues to bash expectations in the tradition of last week's premiere, but I still have a feeling the best is yet to come.
Note to Sutter and Crew: More Bachman this season? Please?