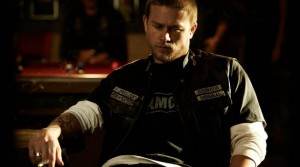 You would think after the big death in last week's episode that this week would finally give us the epic showdown that's been brewing not only between Jax and Clay but between the whole of the entire club. Not so, as the Lobo Sonora problem remains at the forefront this week when it turns out that Laroy, the leader of the Niners, has joined forces with the Lobos in order to try and gain a foothold on selling cocaine in the area. Yeah, start a war with a Mexican cartel and see how long your head remains attached to the rest of your body. But this scenario, in addition to the ongoing Juice problem, gave Jax a few chances to truly shine in a leadership position in a way that Clay no longer can.
This week's episode could be considered something of a turning point for the character of Jax Teller. So many times we've witnessed his character as the gun-wielding figure in black, the solider for the Sons who's willing to do whatever it takes to protect his club. But this week, Jax took the initiative, since no one else really would, to stand up and try to prevent unnecessary violence or drastic action being taken. It was really his time to shine as the potential future leader of SAMCRO. Though he claims to want out, I just don't see that getting to happen even when the cartel situation is cleared up (which took a surprising turn with the Lobo scenario as one would have assumed that it would have been more like a Sons v. Galindo turn of events not something that allowed the Galindo cartel to continue to work with the club).
Bobby himself took notice of Jax's true leadership potential–stepping in to prevent Galindo cartel member Luis from creating a firing squad against the Niners after an ambush occurred–it takes a lot of balls to be able to do that. Jax also took the Juice situation into his own hands when Chibs came to him to not only explain Juice's problems, but to step in and take responsibility for him in this fragile state. I was glad to see Jax give Juice another chance, but it's hard to see it ending well ultimately as his still being in the club means he's still of value to the Feds for their growing RICO case.
Which is the great irony of the season, the Sons are working so hard to stay alive against the present threat of what the drug business has gotten them into, and meanwhile arguably the largest threat yet to the organization is working behind the scenes to bring them down with the club none the wiser. They're fighting to stay alive, but in the end will likely end up serving real (we're talking years not months) prison time–a fitting bookend to the premiere if the finale shows members of the club thrown back behind bars again. It was a great moment of desperation to watch Juice react to the extent of what the Feds are building up against his brothers in the club and when he flipped out on Roosevelt. All while puppet-master Potter watched in relative safety nearby. I loved his completely indifferent reaction to Juice's attempt at self-harm as well, hey what did it matter to him when he could just go to his plan B and start pushing Otto again? Ultimately though, Potter worked his manipulative magic on Juice by offering him a deal of sorts, assuring him only a few members of the sons would pay for their crimes, but that the club could continue to exist. I can only hope Juice got that agreement signed off in writing because there's no doubt in my mind that Potter happily will renege on his word when he gets what he wants.
Speaking of deceit, now there's yet another secret to be added to Clay and Gemma's shared collection as she stumbled upon Piney's body out in the cabin. She even used her womanly wiles to convince Unser to help keep it under wraps the best he can in terms of it not coming back on the club or Clay. Oh Gemma, there is blinded by love and then there is having your eyes gouged out by it–which do you think you fall under now? I was fairly disappointed with much of the way Gemma chose to handle the situation, but she'll eventually learn that even she can't control Clay as we watched him make what could turn out to be the biggest phonecall in the show's history. In fact I couldn't be the only one cuing up the exact moment when Clay reached into his pocket and got that phone out as soon as Gemma left. It's truly getting to the point where the only thing that's going to stop Clay's destructive actions will be a bullet between the eyes, (or another form of brutal end which this show has no issue with dishing out) but from who?
Hopefully all of this will lead to the proper game-changer that has yet to occur for this series. Jax coldly confronting Clay was certainly a step in the right direction and judging from next week's promo it looks like Jax and Tara's trip to Oregon, (my home state which every TV character in the world can't seem to pronounce quite right) has some real action going down. This episode served as another chance to move some pieces around on the board, but with only a handful left this season, I hope we start to see some consequences for Clay at least. Though I do have a somewhat jaded personal theory that nothing will change except for Jax 'getting out' temporarily only to be pulled back in next season–isn't that the way of these things? But hey show, prove me wrong.