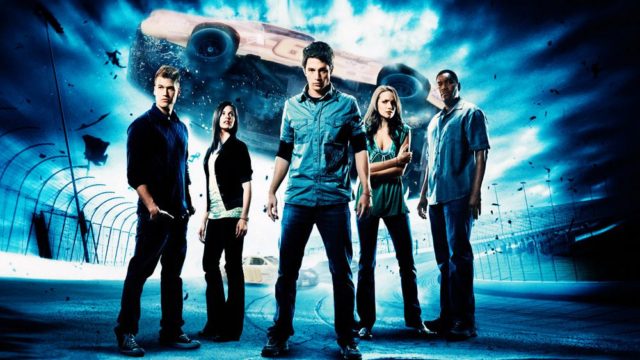 Someone's got a dark sense of humor to pair the Wii music with Final Destination and just up the intensity by a factor of ten. Okay, yeah, I get it. Out of all these scenes in any of the Final Destination movies this one is somehow the hardest to watch. The blood, guts, and excessive gore that these films have to offer use to be as commonplace in my mind as anything, but there's something about a person getting folded up like a pretzel that just, yeah, is kind of disturbing. Death is whimsical it would seem and doesn't care so much about getting people right then and there. It knows how to play the long game and one way or another it's going to have its due. But to put the Wii music in as background music? Huh boy, someone was having way too much fun with this one.
Seriously, some of these deaths are just gruesome. As a younger man I could sit through these all day, and if I really tried I probably could now as well. But the act of telling yourself that it's not real and then watching it again and again is still a bit different. The wet snap of bone, the ripping of flesh, and the sounds that are produced by the people that are in charge of making certain that everything sounds authentic is enough to make one's stomach churn. To be honest though it means they're doing a good job. Death and mayhem in movies has been a great business for a long time and people seem to enjoy it when they go to the theater and can watch death picking off people one after another. So many things bother me with these movies however that I have to shake my head.
Maybe I'm just hyper-aware of things but there are so many missed cues in these movies, particularly in this scene when it comes to things going unnoticed. It's almost as though death's touch comes with the effect of making everyone in the room forget about the dangers that can be posed by even most mundane things. Of course a lot of people don't think about them but when a person is on a balance beam you'd think that they would notice something in their path. Their focus might be on good form but they are still looking at the beam in many instances and should be able to spot a black screw on a lighter surface.
Also, have you ever heard a screw being stripped from its moorings? It makes a horrendous squeal that's hard to miss. But of course there's practice going on below, the fan is on, and so on and so forth. Then the electrical wiring. No one looks down? No one sees the puddle of water on the mat that's dripping on an exposed wire? This gymnastic program must be bargain basement indeed if they have to practice in an area that leaks and they can't afford proper extension cords or keep up on the maintenance of their tools. Okay so maybe I'm being a little picky here, but for a sport that demands perfection it seems like they'd take extra precautions so that nothing upset the precious balance that has to occur within each session.
Plus, using the Wii music just seems to indicate that something rather whimsical is about to happen. Death doth have a sense of humor.
https://www.youtube.com/watch?v=doaVXHJMjpQ