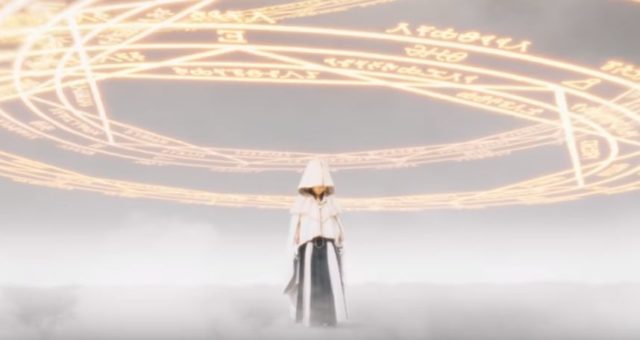 This music video for the live-action movie Full Metal Alchemist looks absolutely awesome. I'll admit I don't know enough about the movie but I can say that it looks like it might be worth a look. If the effects in the movie are anything like that within the music video then it should be pretty cool. The effort put into the music video is impressive enough at this point that it looks well worth the time spent to watch it already. The only thing that seems confusing is that the tempo and the feel of the music doesn't really match the action that's going on. In fact it's just downright cheerful for a video that looks as though chaos is being used as a backdrop and a living metal suit of armor is being forced to defend itself against some very rough-looking beasts that are intent on ripping it apart.
Just looking at the concepts for the movie it looks like a veritable smorgasbord of special effects and powerful acting styles. While I'm not a big fan of the genre this still looks like something that's worth the effort and could be insanely good if it came with subtitles, which I'm sure it would if and when released in the US. It'd be nice to understand the language and read it so as to negate the need for such things, but unfortunately I'm not much of a polyglot and understand English and bad English like a lot of folks.
Full Metal Alchemist could be a great movie though if it really takes off internationally. It might be that the creators aren't attempting such a thing but that seems like it might not be true since this and many other stories have been making their way around the world at a steady pace already. It's interesting at times to take in the different media from other cultures just to see what they have to offer and how their line of thinking might be different than what a person is used to. Obviously the differences have a lot to do with how those cultures view their own legends and then adapt their stories in response to the myths that their people have believed in for so long. There's a lot of overlap between cultures if you really look at each story closely but each culture always finds a way to make the story their own.
For instance the big metal suit that seems to operate all on its own would be likened to a golem, a creature that's come from a few different cultures and is essentially a mindless automaton that does the bidding of whomever created it. This armored character obviously has a mind of their own but the vague parallel is still there. As for the rest of the cast I'm sure there are legends and myths from around the world that could be used to correlate their existence and grant an explanation of why they are the way they are.
It would still be, and is, a unique story.
Tell us what's wrong with this post? How could we improve it? :)
Let us improve this post!