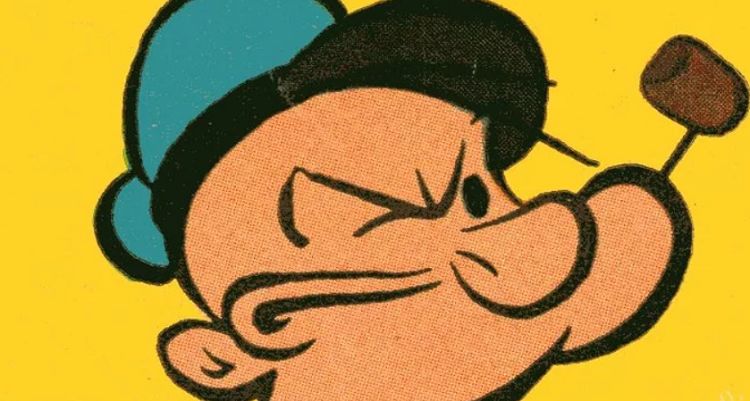 It's coming up on close to a century since the squinty-eyed, spinach-eating sailor that so many of us remember from our youth will be turning a century old, and while Popeye isn't exactly the media icon he used to be, he's still remembered fondly by many people. There are a few things about him though that a lot of people might not remember or know and some of them are pretty interesting. To start with, he wasn't even a major character in the first newspaper cartoon he was placed in since Olive Oyl, her brother Castor and her boyfriend Ham Hands were the first to make it into this strip. But it wasn't too long after that when Popeye's potential was seen and he became a part of the group, while Castor and Ham Hands were kicked to the curb. Bluto would round out the main trio eventually, but after a while it was uncertain whether Bluto belonged to the people that continued with Popeye or not, so Brutus came into the picture, and at one point it was established that Bluto and Brutus were brothers, meaning that they would both torment Popeye.
Popeyes also shot in 3D long before anyone had even heard of CGI, as the animators found a way to alter the camera angles by working with the animation cell and the background it was set upon. There are plenty of odd facts that are there to be discovered about Popeye and the show that a lot of people might be surprised by, such as the fact that Sweetwater was actually built for the movie and didn't exist until that point, at least not in that form. The fact that people can vacation in Sweetwater at this point is kind of interesting as well, but sadly it's not going to deliver the same experience that people saw in the movie. But keeping with the movie, apparently the enlarged forearms that Robin Williams wore were kind of a health hazard since they looked fine for the movie, kind of, since they were still freaky, but they fit so tightly around his arms and wrists that they cut off his circulation. At various points during filming, he had to take a break and slip out of them in order to get the feeling back in his limbs and fingers.
Another fact about the movie is that it was nearly ruined thanks to the fact that the producer, Robert Evans, tried to bring a suitcase full of illegal drugs onto the set for who knows how many people. The bag was lost in transit and he had to scramble to get it back, but it's fortunate that it didn't make it to the set since there's no telling what might have happened. The Popeye movie wasn't exactly the most iconic movie in the world but also could have been halted indefinitely if drugs were found on the scene. But amid all the other facts that have come up throughout the years having to do with Popeye, there appear to be a lot more positive than negative. One interesting fact is that now and then the voice actress for Olive, Mae Questel, had to voice Popeye as well. It likely didn't sound that convincing, but with a bit of editing and help, things came out just fine. If you don't remember who Mae Questel is, try to think of Aunt Bethany from National Lampoon's Christmas Vacation, then you'll know who she was. She was also the voice of Betty Boop, which is entirely believable if you remember her voice.
Jack Kirby from Marvel comics even got in on the act and drew a Popeye-like character in a few comics, someone who would sit in the background with Popeye's customary scowl and squinty eye. The character has been used in a lot of different ways and it sounds as though there are plans to bring him, Olive, and Bluto back at some point, but one can imagine that they won't manage to gain the same level of popularity they enjoyed in the past. Time has moved on and this is one of the few animated shows that might not be able to move on with it.
The story of Popeye is still a lot of fun since it's something that a lot of us remember from when we were young, but to say that the story hasn't aged well is kind of an understatement. In a way it would be like trying to bring Steamboat Willie back to compete with today's cartoons, it might be possible for the sake of nostalgia, and possibly as a limited series, but otherwise it wouldn't work quite as well as people think. But it would be nice to see an attempt if only to see whether it would or wouldn't be effective.