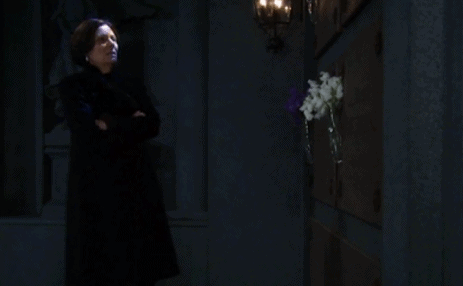 The Bold and the Beautiful
Caroline gave birth this week with Ridge by her side. While they are a strong couple, we all know how well relationships work out when they are based on a lie. There is no bigger ticking bomb than giving birth to your husband's grandchild. Though Thomas was definitely a screw-up until recently, there is definitely a debate to be had about whether or not Ridge is justified in choosing his wife over his son. Some will say that Ridge is doing his duty as a husband by protecting his wife and her son from an unfit father. Others will say Ridge is proving to be an awful father yet again. Whichever side of the debate you fall on, I think we can all agree this is not going to end well.
The birth of Caroline's son caused a lot of people to reflect. While Katie used the occasion as a legitimate excuse to drink, others were much more thoughtful. Steffy may finally be realizing that something is wrong since Liam didn't come home for Caroline, thought she still deserves to be shaken for moving on so quickly with Wyatt. I know that this is a soap, but seriously, what wacky mentality do these people have which makes them be able to make huge life decisions so quickly without concrete facts or closure?
Performer of the Week:
If you haven't heard, here's a newsflash: childbirth is hard. Actresses aren't scripted to scream during birth scenes for no reason. A mother herself, Linsey Godfrey brought a new beauty to the experience she portrayed. It was an interesting decision for Caroline to have a home birth since it isn't often done on television. The scenes weren't overly graphic, traumatic, or untruthfully whimsical. It was an honest and beautiful portrayal of the miracle of life.
Days of Our Lives:
The Wedding of the Season is upon us, and it's threatened to be marred by a psychopath. It's like John said, everyone thought that they were safe once Stefano was dead, and they were wrong. In addition to Ben making a beeline straight for Chad, Abigail, and Thomas, Marlena and Arianna have been kidnapped. It seems the danger only escalated after Stefano died. If you really think about it, Stefano hasn't really been wreaking much havoc as much in the last couple of years. The Phoenix may not be rising from the ashes, but it seems whole new monsters have risen to take his place. The biggest cliffhanger question is whether or not John's father, who is apparently alive, is one of them.
Miracle of miracles, Summer is in fact Maggie's daughter. How on earth this is possible we will hopefully figure out soon. Summer may have wanted to ease into telling Maggie the truth, but I can't say I completely disagree with Theresa's point of view on the subject. Summer should either be truthful with Maggie immediately, or go home. She may be overwhelmed but postponing such an important conversation won't make it any less confusing.
The teen scene is probably my favorite to view right now. None of them are going through small things in their individual lives, yet they are handling themselves better than some of the adults around them. Okay yes, technically Joey did commit murder, but is anyone really sorry that Ava is dead? Claire, Joey, Theo and Ciara are all in so much pain and they are doing their best to rally together. Unfortunately it looks like it's too late for Chase. The teens were handling things well, but they are teenagers after all, so they make mistakes. I'm pretty sure kidnapping is still illegal. They were looking out for their friend though, and Ciara finally got the chance to confront her attacker. All of the kids' parents are doing their best to be there for their kids, as it should be. I honestly don't know what Belle is doing these days, she really has no excuse. If the writers are intentionally trying to make her unlikeable, it's working.
Performer of the Week:
By no means am I an informed or licensed expert on the subject, but I would imagine that most rape survivors will tell you that it's not just the act itself that is heinous, it's the powerlessness you're left with. Rape is a crime that can push the strongest woman, or man, to feel completely helpless and powerless. In order to heal an important step is to take back some of that power. That is exactly what Ciara did during her intense confrontation with Chase. Vivian Jovanni has been subtle in her portrayal of Ciara's struggle as of late, but this week she let loose all of the emotions she has been suppressing. Her friends were right that Ciara needed the opportunity to get some power back in her world.
General Hospital:
After committing Morgan, Sonny and Carly had to have a difficult conversation about how they move forward. They will move forward together obviously, because as Carly says, there is no point in being apart when they will always get back together. Because of their history, because of their children, because of their mutual love, respect, and understanding for each other, leading separate lives is ridiculous at this point.
The writers are doing an impressive job these days of forcing everyone to have honest conversations, even ones they don't like and are uncomfortable. Despite being divorced, Dante and Lulu are finding their way back to each other by being completely open and honest about how they feel and what they want. Even though they are both liars by nature, Nikolas and Hayden's relationship has actually turned a corner where they are at least honest with each other about how they feel and what they want. Anna chooses to be honest with Sonny about looking for Carlos, not only because she needs his help, but because she trusts him more than she trusts Paul.
The Quartermaines have been through hell in the last decade, so much so that they are almost all gone. It's not only eerie to see so many names in the Quartermaine crypt, it's really very sad. The idea of Tracy joining them is almost too cruel. While Jason will never take up the mantle of carrying the Quartermaine family legacy, learning more about his history as Jason Q and his early years with Carly after the accident will start a fire under his protective nature. Just like Sam, Carly, and his children are his family, so are the Quartermaines. He'll do his best to do right by all of them. Lila would be proud.
Performer of the Week:
One of the scariest things you have to face in this life is our mortality. None of us has as much time as we think we do, and if your last name is Quartermaine you would be wise to not waste time. Tough as nails and stubborn as an ox, Tracy Quartermaine has out lived her parents, her brother, and other beloved family members. Jane Elliot's performance this week was touching as she brought honesty to Tracy's fear. It's not often that Tracy lets anyone see her afraid, but when faced with the real possibility of dying, there's no time to waste being proud. It was a rare moment when you really see how much Tracy is her mother's daughter.
The Young and the Restless:
You can't keep Victor Newman down, but by God everybody is going to give it their best shot. Victor thinks he'll skate on the charges as he always does, but his judge on speed dial Judge Moxley refused to play ball this time. Rather than compromising herself yet again for the will of the Newmans, she instead decideed to come clean to the world about her long ago affair with Victor. Just like that, Victor's ace in the hole is kaput. His only supporter is Summer, and for the life of me I just want to shake her for how quickly she has forgiven what Victor did to her mother.
What Victor says is true. The more people attack him, the harder he pushes back. He's never before looked at Victoria with such contempt, though trying to pit Adam against her is nothing new. Victor's open threat to Phyllis shocked even me. It's what pushed Michael into doing the one thing he swore he never would. Compromising his ethics and his oath to the law is something Michael would only do in extreme circumstances, and these are certainly that. Michael put on a very compelling performance in front of Victor, but make no mistake, he's out for Victor's head.
As soon as Victor is on the verge of going to prison, Billy and Phyllis make their move. Luca wasted no time in getting the word out about Jabot acquiring the Passkey Program, and Jack is infuriated that he knew nothing about it. Victoria is also in disbelief that Billy would lie to her yet again. She is justified in kicking Billy to the curb for lying to her yet again. Even Jack is justified in his frustration with Billy and Phyllis. Victoria fell in love with the nice guy, Jack fell in love with the fiery but fair redhead, but neither one of them signed up for their spouses' never-ending obsession with revenge.
Hilary is acting very much like the conniving woman she was when she first came to Genoa City. She feels perfectly entitled to boss people around, including Dr. Neville. At least he becomes more and more likeable everyday. His protectiveness over Ashley, his interactions with Max, his refusal to bow down to Hilary's demands, are all making him a very endearing character.
I'm not entirely sure Abby shouldn't be apprehensive of Max. This little kid knows exactly what he's doing in trying to alienate Abby. Sage could stand to be a little more apprehensive in her pursuit of this adoption. She deserves to be happy, but sometimes being cautiously optimistic works too if it protects you from more heartbreak.
Performer of the Week:
Probably have to go with Peter Bergman on this one. There was a time where Jack Abbott was obsessed with taking down Victor Newman. Nearly losing his life because of this feud finally woke Jack up to the truth, that it is an endless and pointless fight. Now he is doing his best to steer his family in the right direction, despite their continued insistence on revenge. Every word he said, especially when it was the harsh truth, was filled with genuine love and worry. Unfortunately some people don't find facing the truth all that powerful, mostly because it's inconvenient.
What was your favorite moment on this week's Soaps?