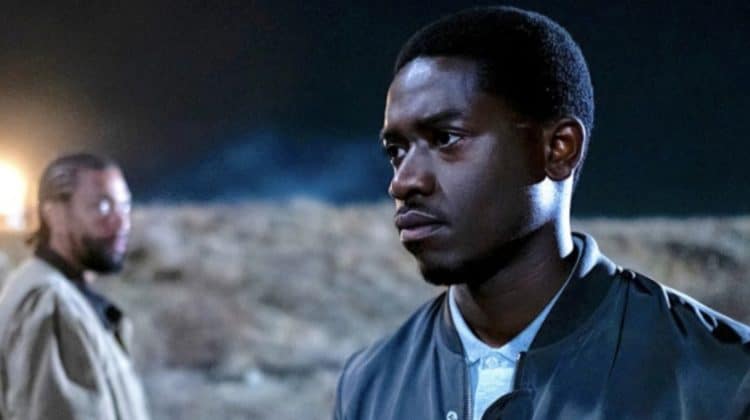 Snowfall Season 4 ended with a bang. Franklin's father exposed the identity of the CIA cocaine supplier that Franklin was doing business with which led his close inner circle to question his leadership. In Snowfall Season 5 Episode 1 we enter a new phase in Franklin's questionable leadership. Our guy is nothing like the drug dealing newbie he used to be. Franklin has leaned into his role as a kingpin. With more at risk to lose, Franklin is willing to do anything to "protect the family" and he doesn't hesitate to take a life if need be. The first episode begins in the door room of Len Bias. Bias was a famous college basketball player in the eighties that has been drafted by the Boston Celtics in 1986. Legend has it that Bias played along with the great Michael Jordan. Unfortunately, Len Bias died from cardiac arrhythmia due to a cocaine overdose in his dorm room. This incident inspired Ronald Reagan's war on drugs.
Rather than center the entire episode around the tragic death of the Celtic draft which garnered nationwide attention, the cracks in Franklin's drug empire are slowly being exposed. Just when Franklin decides to increase his product supply and purchase 300 kilos a week in order to remain competitive, President Regan signed the Anti Drug Abuse Act of 1986 which called for life in prison for anyone caught selling drugs led to someone's death. Franklin is spooked because laws like this notoriously target African American men. Franklin has entrusted Rob Vlope to sell his drugs in the white suburban areas in Los Angeles which is a great idea since Rob blends in these white neighborhoods. Expanding beyond the inner city has drastically increased his earnings. But all that comes to a halt when Vlope's close friend murders a white partygoer over a cocaine-fueled dispute. His friend manages to get away and is now on the run. Franklin hears about the incident almost instantly on the news and immediately goes into damage control mode.
As Franklin's empire grows bigger, it's nearly impossible for him to control who gets their hand on his product and what they will do it. Franklin escorted by his former rival turned bodyguard Peaches takes a ride out to the burbs to have a talk with Rob about the shooting. He wants to know how much the shifter knew about their operation. When they arrive, Franklin finds Rob in pretty bad shape. It's obvious that he's on the rock. As long as he's addicted to it, Franklin deems him untrustworthy. He makes Rob pack a bag and come with him. Franklin drops Rob off at Wanda's who happens to be living in his old house. Wanda has been maintaining her sobriety and she currently works at a shady sex chat line business that she despises but sticks with to pay the bills. Having gone through withdrawal she's the perfect person to coach him through the tough process.
Detective Buckley visits Jerome and Louie's club. Although he's on their payroll, the detective is getting pressure from higher ups at his job to bring them something. Buckley brings up Len Bias's overdose and asks Louie if they know who may have sold him the product. If it's one thing we know about Louie is that she's loyal. Franklin prepares to tie up loose ends in an effort to protect his empire and family. The first order of business is to find Rob's friend and put him down. Franklin makes it clear that once they get back, he's going to enroll Rob into a fancy rehab. He has no choice but to get clean if they are going to trust him. With Rob's help. Peaches and Franklin are able to track down his friend Thad. When they arrive at the safe house, Thad is spooked when he sees Peaches with his gun drawn and aims his rifle at him. Franklin's able to talk him down and Thad asks Franklin if his CIA friend can get him a new identity revealing that he knew a lot more about their operation than Rob let.
Once Thad is disarmed, Franklin forces Rob to take the kill shot. Rob's no killer but he realizes it's his life or Thad's and he ends his friend's life. The trio buries Thad somewhere in the desert. Rob hits his last free base and admires the comet that he's been talking about all night that's only visible to the eye once every 75 years. As he looks on in awe, Franklin creeps behind him and puts a bullet in his head. The truth is that Rob just couldn't be trusted. His loyalty was to the pipe and not to Franklin.