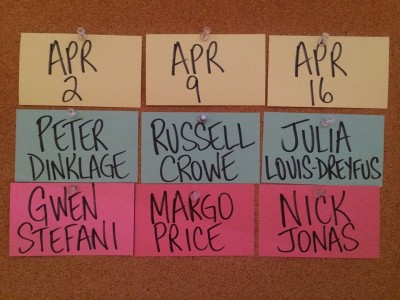 Saturday Night Live is back this week with first time host Peter Dinklage of Game of Thrones fame and musical guest Gwen Stefani. Today they announced the rest of the April lineup with the April 9th show being hosted by Russell Crowe and April 16th welcomes Julia Louis-Dreyfus back to Studio 8H. Musical guests for the 9th and 16th are rising country star Margo Price and the ex-Jonas Brother, Nick, marking his first solo performance on SNL.
No stranger to the show, this week's host Peter Dinklage has appeared on Weekend Update as Drunk Uncle's brother-in-law Peter Drunklage back in 2013. Since Bobby Moynihan is still a cast member and it has been a while since we've seen Drunk Uncle, we can hope to see both of them back behind the Update desk! For a refresher, watch that clip I'm talking about here:
In the promos for the new episode, Cecily Strong joins Dinklage overlooking Rockefeller Plaza which they mistake as being a giant screen of Batman V. Superman. He also teases that "summer is coming" which is an obvious nod at the "winter is coming" tag from Game of Thrones.
Perhaps the best of all the cuts is Cecily breaking out into No Doubt's "Don't Speak" after talking about Gwen Stefani.
Be sure to catch all new episodes of SNL in April. This marks Russell Crowe's hosting debut, and Julia Louis-Dreyfus' third time as host.