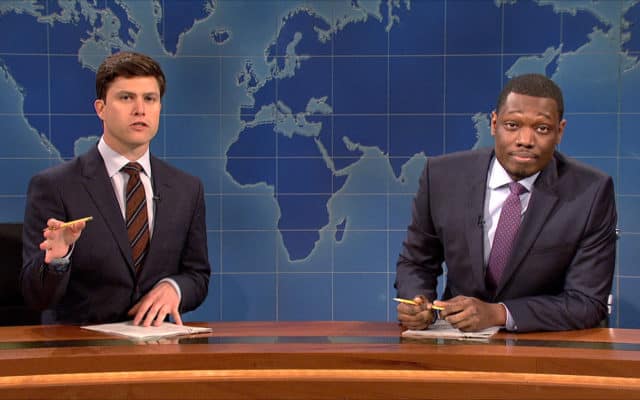 The premier on Thursday, August 10, of Saturday Night Live Weekend Update Summer Edition comprised of a heavily mixed line up including Colin Jost and Micheal Che. Also, this episode was peppered by guest appearances from various big and upcoming names in the entertainment industry. The show has enjoyed a significant resurgence in ratings and cultural relevancy, especially with Jost and Che who are highly entertaining. In fact, Jost and Che were the leading acts in the show, and the two partners had lots of entertaining content for their viewers. The dynamic duo both wore pristine suits, and their immense professional chemistry could be seen with every single remark they made on the 30-minute premiere.
SNL has been on a historic run of late, and they have resurrected their high-quality content into the `summer edition` of their flagship show known as `Weekend Update`. The show hosted by Jost and Che, amassed excellent ratings, earning it accolades such as the highest rated new or returning comedy show in well over nine years.
The half hour show that premiered at 9 pm averaged a rating of 1.7 when ranked among the 18-50 demographics, only slightly short of reality heavyweight the Big Brother. In other words, no returning or novel summer comedy show on the top television networks has been able to surpass the 1.5 average since early 2009. However, SNL has surpassed this average and average 6.5 million viewers during the entire show.
Broadly speaking, these excellent ratings are a notable improvement for the previous strategies used by NBC to air their flagship political comedy show. The four-episode run of this particular show will end as the viewers prepare for the 43rd episode this fall.
This particular premiere of the Saturday Night Live had the advantage of a slew of Trump-inspired material to entertain viewers with and a host guest appearances as well. The cast members included Leslie Jones, Alex Moffat, Mikey Day and Bill Hader among many others.
Bill Hader's Sport was perhaps one of the most entertaining bits of the show. In fact, his performance was good enough to entertain the viewers and by far one of the best guest appearances ever in the SNL series.
Although this Saturday Night Live Premier episode was mainly focused on Colin Jost and Micheal Che, the show did well to leverage the entertainment capabilities of Alex Moffat and Mike Day, who made an excellent impression of Erik and Don JR. Mike Day and Alex Moffat did well to demonstrate representations of these characters, whereby both were missing all teeth this summer. The main premise here was mainly based on the fact the Eris was confused, and Junior was a conniving individual. In particular, there was some level of genius especially when Moffat demonstrated an entranced reaction when he was given fidget spinner to take his attention from Junior`s legal challenges.
Later on, in the half hour show, Kenan Thomson also reprised a very good impression of NBA dad Lavar Ball, who was trying to slam dunk with no success. Leslie Jones, who is also known for leading hosting the BET hip hop awards, also played her flirtatious self, while complaining about summer exercising and working out muscles in the gym.
Tell us what's wrong with this post? How could we improve it? :)
Let us improve this post!