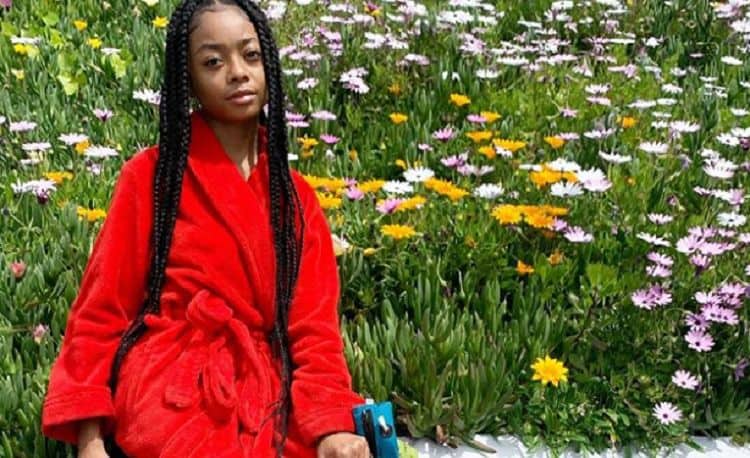 Skie Jackson is one of many that are likely going to be part of the future if they can continue to handle the pressures that come along as they grow up. As a Disney actor she's among those that have a lot of expectations put on them largely because they started young and have grown into the business, thereby accepting the changes and the pressures that come with it. But in all honesty she's been doing quite well as she's had to adjust over the years to the growing fame and popularity her characters have taken on and has managed to become her own person thus far as she continues to navigate, with help, through the acting industry. One thing that is definitely helping is that she has a direction she'd like to go in and she's being guided in that direction by those that care about her and want to see her succeed.
Here are a few things you might not have known about her.
10. She has over three million followers on social media.
Skai is, simply put, popular in a way that eclipses a lot of other actors since she's still young enough to have a bright future ahead of her and has already blown up on the social media scene when it comes to how many people want to know what's going on in her professional life.
9. She was in commercials as a child.
Skai started out very young and was in Band-Aid commercials as a small child. Her parents were definitely going to push her to go as far as she wanted and yet it wasn't quite enough as she decided later on that she wanted something else.
8. She was in Bunk'd.
The spinoff show to Disney's Jesse, which Skai also starred in, became a popular program for some time as kids locked onto the characters and fully enjoyed the time spent with them as they engaged in one bit of hilarity after another.
7. She was in G.I. Joe: Retaliation.
You don't get to see much of her since the film is geared primarily around the adults but Roadblock, Dwayne Johnson's character, does in fact have daughters in the film and they do make a brief appearance at one point.
6. She's had a few voice roles.
Skai has managed to shift her interest to a few voice roles here and there during her career at this point and it might prove to be advantageous since any actor would likely admit that one needs to have a wide array of skills in order to remain competitive in the industry.
5. She's 16 years old.
Right now Skai has a lifetime of experience and she can just now drive if she really wanted to. It's amazing to think of how much more she'll do in her life since she's basically still starting out when it comes to her life experience. There's a lot more yet to come.
4. She's been bullied online.
Unfortunately she hasn't been immune to cyber-bullying as she has been called out for numerous things from her complexion to her hair, subjects that cyber trolls tend to target in an attempt to make people feel less than adequate. It's a very cowardly thing to do, but so far Skai has been raised to look beyond such comments and rise above them.
3. She decided she wanted to act at age 4.
Most kids are simply playing and having fun being a kid when they're 4 years old, but Skai had a jump on things since she'd already been a model and she wanted to do much more than just stand there and let people take pictures of her. She might not have had a bigger idea of what she wanted but it seems that she had her mind set on acting instead of just posing.
2. She had a brief feud with Azealia Banks.
It seems Banks was picking on a member of One Direction when Skai came to his rescue, but Banks' vitriol quickly turned on Skai instead. So without much hesitation Skai decided to take the high road and let Banks know just how she felt while at the same time not bothering to slam her for anything she'd said.
1. She has a comic book character based on her.
Riri Williams, the next person to take on the mantle of Iron Man, was based on Skai it would seem from her hairstyle down to her figure. It's definitely time for women to start taking on some other roles in fiction and a superhero would be a very good start. Along with being a genius it would be a good fit for a young woman to take up the role and bring a bit of new interest to it.
Skai seems to have a good head on her shoulders and is doing great at this time.
Tell us what's wrong with this post? How could we improve it? :)
Let us improve this post!