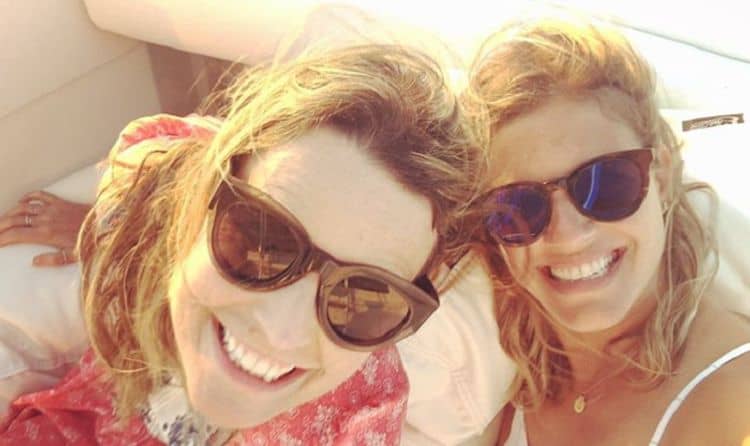 Some know her as Siri Pinter others as Siri Daly, and while now the name "Siri" is now associated with technology, the blogger got hers from being named after a Scandinavian woman. She has recently come to the limelight after it was revealed she would be a mother again come spring. Most of us know her for being Carson Daly's wife, yet there is a lot more to her than being his spouse, as revealed by these facts.
1. Why she started a food blog
After giving birth to her son, Siri produced segments on late-night television. However, having gotten used to a creative outlet through writing, she realized that she needed to find one at home too. Therefore she started keeping track of what the family ate every night to enable her to remember what they liked and what they did not. That everyday tracking resulted in the food blog, and today she is also a renowned author who wants her recipes to tell a story too.
2. She had an impromptu wedding
The time came when Carson was done dating actresses; he realized he wanted a nice Midwestern girl and not a celebrity. However, even after finding love in Siri, they were not in a hurry to get married. Carson explained that the idea of marriage was not as important as building a long-lasting and healthy relationship. After laying that foundation for a decade, Carson and Siri got married on December 23, 2015, in a private and surprise wedding. Of course, since it was days before Christmas, their mothers were visiting and had no idea that the wedding would take place.
3. She has always wanted a big family
Siri has always dreamed of having a big family, and it seems that Carson shares that with her because he said they are not done having children. The couple shared the addition of a new member to the family through a picture on Instagram in which all the children have a hand each on Siri's belly. She said that her son would have to help around with the baby since he is the eldest. Carson declared that family means the most to him, especially after losing his parents to cancer.
4. How she makes her children eat vegetables
Anyone with children will tell you how hard it is to convince them they need to eat broccoli and carrots for them to be healthy. Most children do not like the taste of vegetables, but Siri has found a way to ensure her kids get their vitamins and minerals. In her interview with Parade, Siri said that the trick is to keep trying. She, therefore, encourages mothers to prepare meals with their picky eaters. Also, she mixes vegetables in meatballs and roasts them so that they are crunchy enough to be enjoyed.
5. She is a self-taught cook
For someone to host food shows, write a blog, and even have a cookbook to her name, you would think she went to culinary school. However, Siri only utilizes her passion for cooking and love for food to show that anyone can be a master in the kitchen; the trick is to have fun. Therefore she discloses that despite being a renowned food blogger most of the time, she is experimenting with food. Her belief in having fun in the kitchen is what led her to have "Siriously Delicious" as the title of her blog.
6. She and Carson thought their relationship was an office romance
Siri and Carson met when she was working on "Last Call" as a writer's assistant. They did not think much of it and brushed it off as office romance hence kept the relationship a secret. However, they found out they were in love, and by then, Carson was looking for someone serious. He admitted that he dodged a bullet by not marrying Tara Reid; he said that while he was interested in his career, she was after shooting movies and partying.
7. She pretended to have her own cook show as a child
With her cook shows, Siri is living her childhood plays. She comes from a family that loves to cook, and therefore, they enjoyed preparing meals together. Her inherited passion for food ensured that she also learned how to cook. As a child, she would force her siblings to record her as she baked cookies since, in her mind, she was hosting her own food show. Still, despite the immense pleasure she enjoyed from the kitchen, she never once dreamed of pursuing cooking as a career in adulthood.
8. Her first job
The mother of three recalls her first job was when she was in high school. She was employed in her neighbor's gift shop, which sold beanie babies, and Siri says mothers back then could not get enough of them. However, her first professional job was quite glamorous. She worked as a production assistant for "Frasier," and among the things she enjoyed were the meals from high-end restaurants. Moreover, the entire crew was taken to Hawaii on vacation as a parting gift.
9. She wanted to be a rockstar
Siri admits that most people are not aware that she can sing. It started back in her childhood days when she was so obsessed with singing that she was sure she would grow up to become a rock star. Therefore to further practice her skills, she engaged herself in choirs and musicals even in college when she traveled for singing and dancing competitions. Her circle knows that she can sing and even urge her to try her luck in "The Voice." However, since her husband is the producer of the show, Siri thinks there would be a conflict of interest. Besides, she does not think her musical talent is worth showing off on television according to it's drool worthy.
10. Working with her husband helps her relax
Being with your husband both day and night can be too much for couples but not in the Daly household. Now that she gets to work on the "Today" show, which her husband hosts, she could not be more relaxed in the working environment. She revealed that they are an ideal team, and being with each other makes it feel like they are cooking in their kitchen at home.