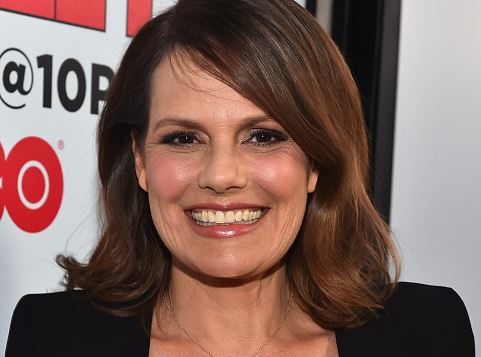 This Sunday, April 12, HBO's Silicon Valley, which was easily one of the best new shows to debut on TV last year, returns for its highly anticipated second season, and after watching the first three episodes of Season 2, I can confirm that the series is just as crude, compelling, and hilarious as it was in Season 1. One of the new characters in Silicon Valley Season 2 that helps bring those laughs is Laurie Bream, the managing partner at Raviga Capital, who takes over for Peter Gregory (played by the late, great Christopher Evan Welch). Earlier this week, I got the chance to speak with Laurie's portrayer, Suzanne Cryer, who previewed her character's role in Season 2, teased some very funny moments to come, and addressed the one major issue that some critics had with Silicon Valley last season: its lack of female characters.
TVOvermind: Tell us a little bit about your character, Laurie Bream, and how she fits into Silicon Valley in Season 2.
Suzanne Cryer: For me, it's an exciting opportunity, and for the show, it offers a different kind of character. Laurie Bream is a very unusual person. Everyone on the show is idiosyncratic and interesting and different. Laurie's an authority figure, but I don't think she was necessarily suited for that position in many ways. She was chosen more for her portfolio performance rather than her social abilities, and that is going to cause problems throughout the season and the future.
I'm working with Amanda [Crew], who plays Monica, and Amanda's just great–she's tremendous. The character of Monica, one of things that's so endearing about her is that she grounds the show, because she's obviously a very bright character, but she's also aesthetic and the audience's way into the show, a little bit. Then she's being forced to interact with these guys that are really complicated, and now she's being forced to interact with me, but my character just really doesn't understand Monica. My character just has an enormous amount of difficulty functioning with other human beings. And so it makes it really complicated for the guys and for Monica, because they're forced to deal with me, and yet I'm not good at human interaction. To say Laurie's an odd duck would be an understatement…which is great as a woman, because she's really different than most women on television.
You touched on Laurie's relationship with Monica. What are her interactions like with the guys? Are they similar at all, or are they different?
Laurie Bream has no emotional life at all. She operates completely cerebrally. I still think it's a great role for a woman, and it's interesting dynamic for Monica and the rest of the boys, because she refuses to look at this company as being made of human beings. She only looks at them as a set of numbers, and as a set of numbers, they don't always function very well, so she's not very sympathetic. She's not interested really in who these guys are or who Monica is.
While Silicon Valley received much critical acclaim last year, it was also criticized for its lack of female representation, since there was only one really prominent female character in Amanda Crew's Monica. Do you feel like your character's presence on the show kind of balances things out more and addresses that issue?
It's unfair and a little bit silly to be criticizing [executive producers] Alec [Berg] and Mike [Judge], because the way they're doing social commentary is by holding a mirror to Silicon Valley. They're certainly not creating a crystal ball. It wouldn't be social commentary if they filled board rooms with women–it's preposterous. In fact, the most cutting and hilarious representation of that world is to show it for what it is and to show the social ineptitude and the results from it…I think they're ahead of the curve by putting on a female CEO at a venture capital firm…Having Laurie become the dominant voice of such an important venture capital firm is actually fairly progressive for them. It's great–it's all over the news right now, with people talking about gender balance in Silicon Valley, and this idea that this is a cycle that perpetuates itself….Now that there are a couple new venture capital firms in Silicon Valley that are dominated by women, it's going to shift the whole situation, and it's exciting. But they are not focusing on Laurie as a woman definitely. They made it quite clear that she was chosen not because of her of gender but probably in spite of it. Ironically, if she fails at this job, which I certainly hope she doesn't, it's because she seems to lack many of the qualities that we typically associate with women, making them effective mediators with other humans.
But I do think that [Mike and Alec] are cutting edge, because they're shining a light on [this issue]. If there's a criticism to be leveled, it should be leveled at the industry itself, not at Alec and Mike. I think you will feel, with three women in major roles, it will seem like that are a lot more women in Silicon Valley, perhaps more than there actually really are when you walk into a typical scenario there. [Laughs]
Mike and Alec seem incredibly in touch with what's actually going on in the real Silicon Valley right now.
Yeah, they really are! They're so bright and unassuming and funny and just relaxed. Alec and Mike are two of the nicest guys I've ever worked with on a show. They're really cool, and then they produce these scripts, and you're like "Oh my God!" I read them, and I can't believe how smart these scripts are.
You've done a lot of work on both broadcast network series, such as Two Guys, a Girl, and a Pizza Place and Frasier and Seinfeld, and also major cable series, most recently Shameless. Do you think cable allows for more creativity on series, particularly comedy, or is it just a matter of "good writing is good writing"?
That's a really complicated question. What cable is able to do–it's kind of cracked open the nut, and sort of everything exploded with cable. But I also feel a little bit the way I do about my children's school assignments. When kids are given total freedom, it sometimes becomes paralyzing for people. And sometimes when you give rule, people do really beautiful, creative work. When you're given rules, you find ways to work within them. And no one is going to dispute the fact that Friends is one of the greatest series ever. It's not Silicon Valley, it's not trying to be Silicon Valley, and yet there's something endlessly enjoyable about watching it.
So I do feel as much as there is a need and a joy in the Shamlesses and the Silicon Valleys and all of the wonderful, extraordinarily creative work that's being done on non-mainstream networks, I also think that there is a need and a space and a joy for network television. I mean, I'm working on a series right now that I'm filming for NBC, and it's more traditional–there's no two ways about it. But the world of Two and Half of Men and How I Met Your Mother isn't gone. There's still an audience for that, and I think it's something that you can watch with your family…I think there's still a space for a lot of America that works really hard and goes home, and sometimes on the weekend, they want to get dinner and watch Shameless, but I think sometimes they also want to see How I Met Your Mother…I think that there's always going to be great work done, and it's going to keep reinventing itself.
Is there a particular scene or storyline that you're really excited for fans to get a chance to see this season on Silicon Valley?
Does it need to be about me, or can I say something else?
It doesn't have to involve your character if you don't want it to.
The stuff that Chris Diamantopoulos is doing this year. Chris Diamantopoulos has an arc this season–I mean, he is such a schmuck, his character, and people are going to love it, people are going to go crazy for it. The guys are thrust into yet another–things never go right for these guys, anytime something goes right a million other things go wrong–and one of the things that goes very wrong this season is Chris Diamantopoulos, and it's just really, really fun to watch.
For me, it's more of a slow-burn with Laurie. Laurie's ultimately going to cause–her deficiencies as a human being, they're going to cause some problems down the line.
Silicon Valley Season 2 premieres on Sunday, April 12, at 10 p.m. on HBO.
Photo by Alberto E. Rodriguez/Getty Images