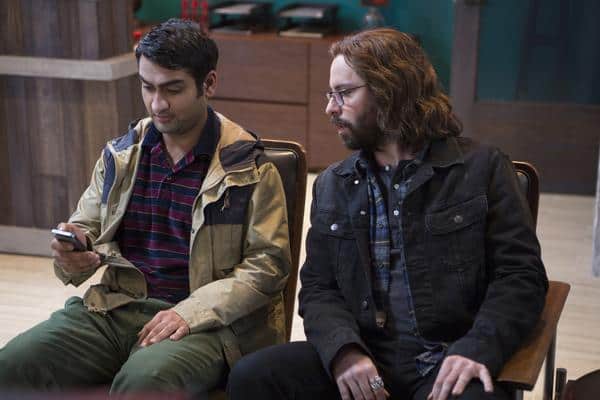 As I've stated countless times before, Silicon Valley, aside from being a biting satire, is really an underdog story about the Pied Piper group.  However, in addition to that, the show is also a more personal and specific journey for Richard and how he grows and develops as a CEO. He's always wanted to do things differently and not be like Gavin Belson, but in "Adult Content," when his back is pushed up against the wall and he's about to lose everything he's worked so hard to build, he won't let any type of ethics get in his way. Richard proves to everyone that he has the drive and tenacity to truly lead this company.
But he doesn't do it alone. What makes "Adult Content" such a terrific episode of Silicon Valley is that it not only forces Richard to step up and take a stance against both End Frame and Russ, but also illustrates why Gilfoyle is such an integral member of team and how much he truly cares about Pied Piper.
Gilfoyle, to me anyway, has always been one of Silicon Valley's weakest characters; this isn't a knock against Martin Starr's very funny performance, but the character's general aloofness and ambivalence towards everything has made him a little difficult connect with, even if he is usually responsible for delivering some of the series' best one-liners. Here, though, Gilfoyle is the key to saving Pied Piper after he swipes End Frame's username and password (which were left out in the open during Pied Piper's meeting with them) and hacks into their network, allowing Richard to know the exact details of their rival's deal with Intersite so that he can cause a competition between two companies.
On the surface, this is all sweet revenge for Pied Piper: it gives them a chance to gloat at the end of the episode as End Frame walks into its meeting to discover that it hasn't locked down the deal with Intersite. However, more importantly, this story continues Richard's ongoing evolution while fleshing out Gilfyole's character a little more. "Adult Content" reinforces the idea of just how much all of these guys care about this company and how they are willing to do almost anything to ensure it succeeds.
And it's that same dedication and hard work that's missing from Gavin Belson's team at Hooli. The company remains a threat, of course, but Silicon Valley is showing us that this battle isn't as hopeless as Richard may have thought back at the beginning of this season. It's not simply how much money you have or how well you can talk to people but how committed you are to the work you're doing and the people with whom you are doing it. And right now, no one's more determined than Pied Piper.
Other thoughts:
– It doesn't have much to do with the main story of the episode, but the side plot involving Dinesh, Karen, and Erlich is fantastic, especially how the whole thing with WiFi passwords came back into play.
– Still loving Chris Diamantopoulos' work as Russ, and even if he and Pied Piper end up parting ways soon, I hope that we still see more of him before the season ends.
– Gavin Belson continues to top himself in every episode with another ridiculous statement or pitch. This week, it's him literally putting up "Failure=Success" as one of his PowerPoint slides during his presentation to the Hooli board.
What did everyone else think about this week's Silicon Valley?
[Photo via HBO]