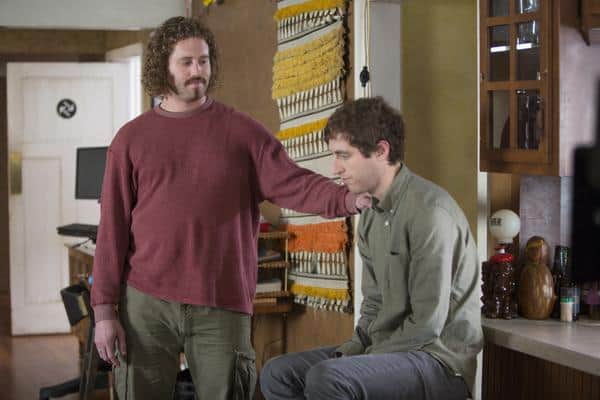 "Server Space" is an interesting episode of Silicon Valley. It doesn't really do anything to push this season's main story forward. There's no sign of Russ or Monica or Laurie, and the biggest thing to happen plot-wise is that Richard chooses to remain at Erlich's house instead of buying new offices so that Pied Piper can use the money for new servers that Gilfoyle will build them.
However, even though "Server Space" lacks any type of forward plot momentum when it comes to this season's overall arc, it does tell a wickedly funny short story over its 20-plus minutes, as Richard begins to feel the pressure of leading the company more and more, and the guys' wheelchair bound neighbor, Noah, consistently shows up, looking for anything he can use to get them into trouble. Nothing about either of the episode's main stories is particularly deep or enlightening; they don't give us any new insight into Richard as a person (although they're could be something said for that lingering shot on a clearly sad-looking Erlich early on in the episode, after Pied Piper has completely moved out of his house). However, what they do is provide the laughs, and just like any other comedy on TV, if Silicon Valley can produce funny episodes week in and week out, it's doing its job.
What's really terrific about "Server Space," though, is how each development builds on itself. Richard is already having trouble sleeping due to the amount of stress he's dealing with, which is causing him to have night sweats, and then he inadvertently makes matters for himself even worse when he commissions Gilfoyle to build the servers, which forces to Jared (who was, unbeknownst to everyone in the house, sleeping in Erlich's garage) to end up sleeping in his room with him. And that would be completely fine, if Jared didn't speak in German while he was sleeping. Jared calling out German phrases in his sleep is just one of many totally funny and outrageous moments in this week's Silicon Valley, along with Gavin Belson not getting the best first impression of Dr. Bannerchek's monkey,and Jian Yang admitting that the people who always hang out in Erlich's house are just "friends of friends." Plus, there's Erlich's throwaway line from one of the episode's first scenes about how ferrets are illegal in California, which ends up coming back into play in a major why by episode's end, as he and Richard use that knowledge as leverage against Noah to stop him from complaining (and to also make him let Jared use his guest house for very low rent).
However, despite the fact that the main season's story is put on pause, we do still get some solid moments in "Server Space" that shed some light on how things are going. Richard's night sweats are a nice reminder of the stress he's facing thanks to Russ Hanneman, without actually having Russ in the episode, while his and Elrich's continued arguing (which also took place in last week's episode) hints that Silicon Valley could be going somewhere interesting with the pair's friendship by the end of Season 2. And then there's also the events taking place at Hooli, as Gavin Belson promotes Big Head (who he still calls Bag Head) to CEO of Hooli XYZ after the situation with Bannerchek's money, and also promises that Nucleus will be ready to stream video ahead of its launch date, something that his employees (who are more than 15 weeks behind schedule) couldn't be less prepared for. That last reveal works particularly well, as it illustrates that as overwhelmed and under prepared as Richard feels, Belson is in a similar spot, even if he doesn't realize it, making the competition between the two companies a little less David versus Goliath and somewhat more realistic.
So while "Server Space" won't be remembered as the most important or interesting episode of Silicon Valley's second season, it still serves as another entertaining half hour of one of TV's best comedies. Sometimes on shows, it's good to take a little bit of a break from the main plot and have some fun with your characters, and when those asides are as well-done as "Server Space," they're incredibly welcome.
Other thoughts:
– Andy Daly returns in "Server Space" as Richard's doctor, and he's terrific, just as he always is.
– There was some interesting interaction between Gilfoyle and Carla in this episode. I wonder if the two of them will enjoy an actual friendship, or if they will also competitive, like Gilfoyle is with Dinesh.
– By randomly speaking German (which he swears he doesn't know how to speak) in his sleep, Jared continues to be the very best part of this season.
– Erlich believes he could throw Richard across his front yard. I really hope that actually happens in an upcoming episode.
What did everyone else think of this week's episode of Silicon Valley?
[Photo via HBO]