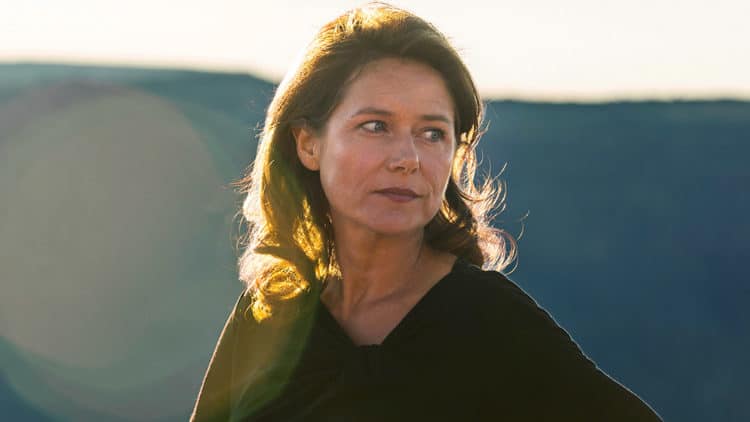 Breaking into the American entertainment world can sometimes be difficult for European actors. However, Sidse Babett Knudsen has managed to find a way. Knudsen was born in Denmark where she began her acting career in experimental theater. She eventually moved on to roles in Danish film and TV productions. In 2016, she was cast as Theresa Cullen on HBO's Westworld. Even though she only appeared in the first season of the show, the role was enough to get American viewers familiar with her face and her talent. If you're a fan of her work and are interested in learning more, you'll definitely want to keep reading. Here are 10 things you didn't know about Sidse Babett Knudsen.
1. Her Father Was A Photographer
Sidse most likely gets her love for the arts from her father, Ebbe Knudsen who was a photographer. He had a stable career and shot a mixture of portraits and journalistic photos. Sidse described the feeling she gets when looking at her fathers work in an interview with I News, "When I see his photos now, I recognise something that I'm looking for, which is in the contrast and in the humanity and in the humour. The duality of stuff"
2. She Considers Herself A Film Person
In the recent years of her career, Sidse has found a good amount of success as a TV actress. Still, no matter how much small screen work she does, Sidse will always consider herself a "film person". Even though she has a preference for film, she definitely doesn't plan on turning down any TV opportunities.
3. She's Lived In Tanzania
Sidse spent two years of her childhood living in Tanzania with her parents who had moved there to volunteer. She describes living in Tanzania as an eye opening experience because the culture was vastly different from Denmark's.
4. She Was Supposed To Be An Au Pair
Sidse moved to Paris when she was just 18-years-old. Originally, she'd made the move so that she could take a job as an au pair. However, things ended up working out differently. Sidse decided to audition for theater school and got accepted. She lived in France for five years and worked as an actress.
5. She Thought She Was Too Old To Make It In Hollywood
There's no denying the fact that youth definitely has its advantages in the entertainment industry. The younger you are when you start your career, the more likely you are to be successful. So when Sidse Babett Knudsen's career hadn't peaked by it's 30s, she almost gave up. Fortunately, her big break came in 2012, and she's been on a roll every since.
6. She Has A Son
Sidse Babett Knudsen is notoriously quiet about her private life. During interviews she prefers to stay focused on what's going on in her personal life. But we do know that she has a son named Louis who was born in 2005. Sidse has never been married and her dating life hasn't been publicized so it's difficult to know who Louis' father is.
7. She Would Love To Work As A Director
After spending her entire career in front of the camera, Sidse hopes to one day see what life is like behind the camera. She doesn't know what kinds of projects she would like to work on yet, but is very interested in directing and would love to give it a shot at some point.
8. She Loves Florence, Italy
Thanks to her career, Sidse has been able to travel and work in some beautiful places. One of her favorite places to shoot is the beautiful city of Florence in Italy where the film Inferno was shot. Sidse discussed her experience filming the movie and said, " I loved that we were shooting in Florence. That was so amazing. I love Florence. It's beautiful. It's got wonderful places…"
9. She Only Takes Certain Types Of Roles
Sidse is very passionate about the types of roles she's willing to take. She believes that it's important to women to portray meaningful characters and not just submissive wives. In her interview with I News, she said, "I do think I have a minimum of responsibility… when I've been the Prime Minister, I cannot play the Prime Minister's wife, who says, 'Your son misses you, you should be more at home!' I can't do that. I can't be that cliché. It would be treacherous to everything."
10. She Doesn't Watch Much TV
Even though Sidse spends a lot of time on the TV screen, she doesn't spend a lot of time watching one. She has admitted that she's not very big on watching TV shows. If she is going to watch something, though, it'll be episodes of Downton Abbey on DVD.
Tell us what's wrong with this post? How could we improve it? :)
Let us improve this post!