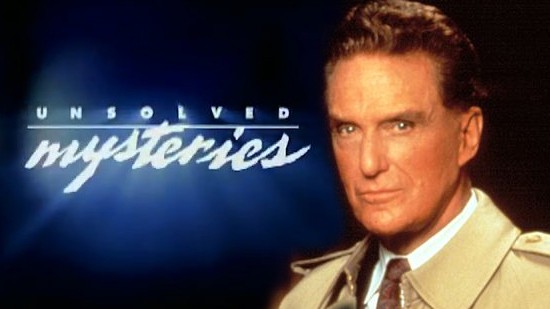 It's easy to believe that a lot of people can remember settling in for a new episode of Unsolved Mysteries featuring Robert Stack as the host. The show ran from 1987 to 2002 after being billed as a series of specials that were hosted by Raymond Burr, Karl Malden, and Stack. It wasn't until 1988 that it became a fully-fledged TV series though, with Stack as the only host. It ran for nine seasons on NBC until the show moved to CBS for the 10th season. They tried to add Virginia Madsen as a co-host but that went nowhere quickly and the ratings continued to slip. CBS cancelled the show in 1999 as a result. It was then revived by Lifetime in 2000 and Stack was brought back yet again for another 103 episodes. It ended however in 2002 when Stack, whose health had already been declining, passed away.
After about six years spent in limbo the show was picked up again by Spike TV in 2007 and started airing in 2008. The new version was hosted by Dennis Farina but it was mainly recaps of older segments. Farina managed to host 175 episodes before the series was over again in 2010, this time never to come back to TV it would seem. At this point Lifetime still airs the reruns of Farina during his tenure on the show. As of now Cosgrove-Meurer Productions still has an active website for the show that features popular stories and accounts as well as ongoing cold cases. There's a link on the site just in case anyone that's interested and has information pertaining to a crime might want to help solve them. In 2017 a YouTube page was opened where viewers can submit their own mysteries. If they're accepted then Unsolved Mysteries will post a video of the mystery. At this current moment Cosgrove and Meurer, the creators of the show, are looking into reviving the series for TV or Netflix.
In the meantime, there are always other shows you could check out if you're missing Unsolved Mysteries.
5. America's Most Wanted
Hosted by John Walsh this show apparently featured the worst of the worst when it came to the criminal element. Walsh would detail just what the criminals had done, if they'd been caught or were on the run, and would detail the reenactments of their crimes. Countless families would sit down to listen to Walsh every evening the show was on and some perhaps thought it was just another show meant to entertain since it would seem that the police couldn't possibly take this show seriously. But quite honestly, despite being a show it was also something that did a lot of good for a lot of people, but also managed to get a lot of people profiled despite the fact that they were found innocent later on.
4. History's Mysteries
Reruns of this show are still shown on the History channel and the subjects are rather interesting since the show tackled many unexplained phenomena that people have been theorizing about for a great deal of time. From conspiracies to cover-ups to unknown marvels of construction the show dealt with a great many historical musings that have never been fully explained save by those that believe that they can offer a rational yet still fantastical explanation for everything. The whole premise is that if you weren't there then it's hard to know what really went on back in the days when such mysteries were formed.
3. The Hunt with John Walsh
https://youtu.be/0Wxv4UqCcBY
This show didn't differ too much from America's Most Wanted in many ways. The only real difference is that several of the cases that were introduced on this show saw some form of conclusion when the killers and convicts that were being charged were either found dead, were shot by police, or were found and then incarcerated. Otherwise it was in fact just another version of Walsh's former show with a different title.
2. Disappeared
The show is pretty much how it sounds. Family members, friends, people that are known to others have been seen to disappear suddenly without explanation and with no word on where they might have been going. There is always some rational explanation for this but the truth is that there are times when people just up and leave and don't feel like telling anyone goodbye. It's a very hard thing to fathom, especially for those that have families and lives to attend to, but this show was all about detailing the lives of those that disappeared to try and discover just why they would leave, if in fact they did.
1. Ancient Aliens
Mankind has always been fascinated by mysteries of worlds beyond our own an this show fed into that belief and that desire quite nicely. It's been heavily criticized for spreading pseudo-science and pseudo-history but it's still an entertaining show since it opens up a world of possibilities when trying to explain why our world is the way it is and how human beings continue to contemplate life beyond our world.
Until Unsolved Mysteries come back there's a wide array of shows you can watch.