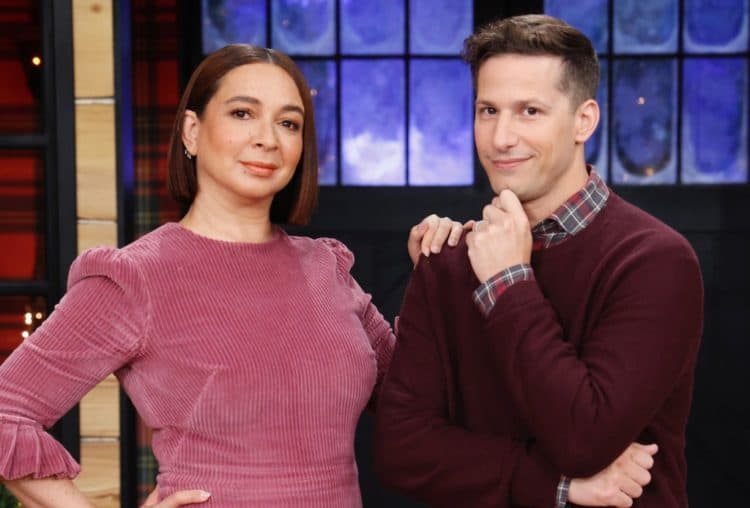 Cooking competition shows have become major hits over the years, so it's easy to see why networks keep creating them. However, just when you thought there couldn't possibly be any more cooking show ideas, NBC comes through with a new show that will appeal to just about anyone who has a sweet tooth. The new series, Baking It, is co-hosted by Maya Rudolph and Andy Samberg and it's one that you definitely don't want to miss. While it's true that the competition can get a little intense, the show also has a light-hearted quality that makes it fun to watch and appropriate for viewers of all ages. Here are 10 things you didn't know about Baking It.
1. The Show Is A Spin-Off of Making It
If you couldn't tell by the name, Baking It is a spin-off of the craft competition series called Making It which is hosted by Amy Poehler and Nick Offerman. Although the names are very similar, there are some obvious differences between the shows that give them their own identities.
2. Contestants Are Put Through A Series Of Challenges
Each episode of Baking It is broken down into several challenges that will test different areas of the contestants' skills. The bakers will be forced to be creative under pressure and some of them will struggle to rise to the occasion when working under time constraints.
3. It's Unclear If There Will Be A Second Season
Baking It seems to be having a very successful first season, but there hasn't been any word on whether or not there are plans to do a second season. There is a chance that Baking It was just meant to be a limited series, but lots of people are hoping that it gets brought back.
4. There Is A Cash Prize At Stake
Let's be real, the prize is always the best part of any competition. Knowing that there's something worth winning at the end is what drives lots of people to go as hard as possible. The contestants in Baking It are competing to win a $50,000 cash prize which is a life-changing amount of money for most people.
5. The Judges Are Grandmas
Most cooking shows hire judges who have professional experience in the food industry, but Baking It isn't like most cooking shows. The judges on this series are literal grandmothers who love food and never shy away from giving honest feedback about the baked goods they try.
6. Amy Poehler Is An Executive Producer For The Show
Not only is Amy Poehler one of the hosts of Making It, but she's also one of the executive producers of Faking It. Her affiliation with the show is actually what brought Maya and Andy on board. She personally reached out to Maya to ask if she would be interested in hosting the show.
7. The Show Has A Lot Of Singing
Baking It may be a show about cooking, but Maya and Andy have also incorporated some music. During an interview with Mashable, Pip Wells who is one of the show's executive producers, said, "There was so much singing that hit the cutting room floor — some stuff that we couldn't clear that was amazing, that would have cost a fortune".
8. Maya Was The First Host Brought On Board
When Maya was asked to be the host of the show, the plan was always to bring another person in to help with the job. After trying to think of who would be a good fit, Maya and Amy both decided that Andy Samberg was the perfect person. While talking to People, Andy said, "I just followed the rule I followed in every SNL after party which is you don't say no to Amy and Maya. They got me into all kinds of stuff." It's probably safe to say that he's happy he let them talk him into this.
9. Viewers Will See Lots Of Creative Dishes
Let's be honest, on the surface baking is kind of boring. However, Baking It takes an approach that is both fun and exciting. The creations you see on the show will push the limits of what you thought was possible and the challenges are designed to get the contestants to think outside of the box.
10. The Show Is Full Of Laughs
Not only will Baking It appeal to your appetite, but it will also appeal to your sense of humor. Maya Rudolph and Andy Samberg are hilarious and their on-screen chemistry is unmatched. The good news is that the laughs aren't just for the adults in your house. Kids can enjoy Baking It, too.
Tell us what's wrong with this post? How could we improve it? :)
Let us improve this post!