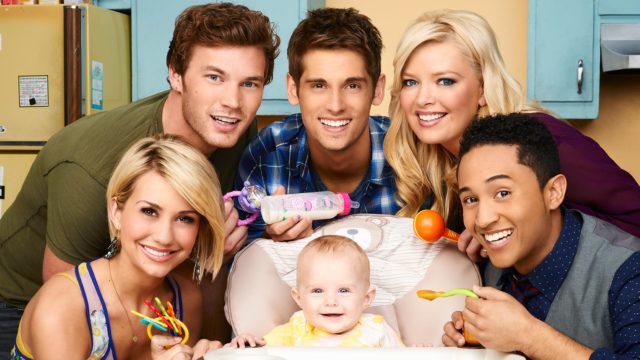 With the surprise news that Baby Daddy was cancelled at the end of Season 6, fans of the show are bewildered. The final episode became the series finale quite unexpectedly. The show has been aired for six seasons and a total of 100 episodes. Faithful followers of the series know that the ending was "a make-shift series finale" as writer Andy Swift for TVLine so aptly put it.
The facts are that the cable network Freeform, owned by Disney, dropped Baby Daddy even though unofficially it had been picked up for a seventh season. Dan Berendsen, who created the comedy, was said to have written the final 100th episode, a series landmark, with certain knowledge that the show was coming to an end. He wanted Ben and Emma to be together, and they were seen in an adorable routine. Ben sings to Emma as they rehearse for her Mother-Daughter talent show. It ended the way Berendsen said he would have wanted it to be. Berendsen's hope was that Ben and Emma would be together, and the tender routine was an excellent moment.
What happened behind the scenes to cause the end? Simple finances. Disney used funds earmarked for Baby Daddy and were diverted to land the new Black-ish spinoff featuring the Johnsons; the family which are the stars of Black-ish.
What has kept Baby Daddy front and center for its six seasons is simple, too. The series has been filled with laughs, hijinks, shenanigans, and baby-raising curfuffles. It's been that way since free-living bachelor Ben, portrayed by Jean-Luc-Bilodeau finds a baby left on his doorstep, so he decides to take it in and give it a home.
Ben, who bartends in New York City, and lives the life style that goes with that profession, has had plenty of help with the baby. His roommate Tucker Dobbs, portrayed by Tahj Mowry, loves to make people laugh. Ben's brother Danny, portrayed by Derek Theler, is a professional hockey player and has recently moved in with Ben and Tucker. Complicating everything is the realization that the baby girl was left by Ben's ex-girlfriend, and Ben didn't know that he had a child of his own to raise. Ben's mother Bonnie, portrayed by Melissa Peterman and Riley, Ben's best female friend, add their own opinions and helpful solutions. Riley is played by Chelsea Kane. Chaos has been a constant companion of the characters as they have dealt with all hilarious things related to raising baby.
Many fans of the show have faithfully watched it since it began. Social media posts are already filled with fans begging that someone, somehow, renew the show. They are disappointed in the decision, and already are missing what they won't have a chance to see. There are unfinished story lines, and lots of curiosity about what would have happened to the characters who are right in the middle of unresolved problems. Viewers want the stories to come to satisfactory endings. They care about the characters and their story lines. Some viewers have even threatened to stop watching Freeform completely if the decision to cancel Baby Daddy is not reversed.
Many viewers have enjoyed the humor in the series for years. Their take on the show is that the cast is charismatic, endearing, with great comedic timing. They view the comedy style as realistic, though slightly stupid…just like real life. Many of them are more than sick of realty TV shows. They've turned to Baby Daddy, choosing the sitcom format because it makes them feel happier. They've enjoyed Baby Daddy because it gave them the chance to belly laugh again.
They also adored the cast and the stories because they "had heart". For most, the show has been a sweet diversion filled with laughter and stories which keep them waiting to see what will happen next. It's been good, wholesome viewing. The light-hearted comedy with the role reversal has helped fans forget about their troubles and laugh their hearts out. That's why the fans have been devoted to Baby Daddy, and why it has lasted for six seasons.