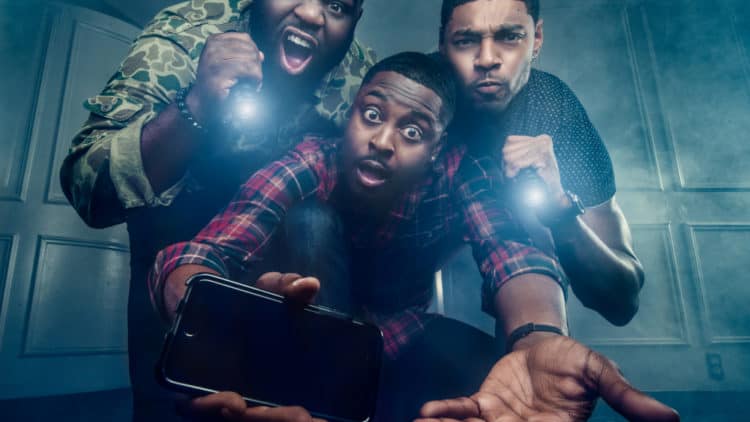 Travel Channel ordered a series of the paranormal series, Ghost Brothers: Haunted Houseguests which premiered on August 16, 2019. While the three might not be blood brothers, they are long-life best buddies who answer to pleas from different families experiencing mystical activities in their homes. We are talking about Marcus Harvey, Dalen Spratt, and Juwan Mass; a trio that travels across the country in response to calls for help. The three lodge at houses of eight different families every weekend to uncover any transcendental claims.
The series which is produced by Tremendous! Entertainment is a spin-off from the original, first shown on Destination America on April 15, 2016. The eight-episode series shows the team of three led by Dalen Spratt admitting that each has experienced paranormal activities in their upbringing. It is because of their experiences that they help people going through the same. According to Variety, Ghost Brothers: Haunted Houseguests is an unscripted series that brings comedy and humor to ghost hunting. So, here a few reasons why you should watch the series.
It stands out from the rest
During Dalen, Juan and Marcus' time in Destiny America, the trio was mostly investigating forsaken places or house where ghosts are known for inhabiting. This new show is not a reboot of their Destiny American show. It is a distinctive show which deals with humans and emotions, therefore, necessitating a different level of expertise. The three deal with people who are afraid to share their stories. Thus, they are tasked with connecting with families. Best done by Marcus Harvey who is the only father among the three and most religious member of the trio. Marcus has an eerie knack to commiserate and relate with frightened gloomy families. Whether it's a scared child, a distressed couple or a shaken spouse, Marcus finds his way into their shoes and provides natural humor that eases the mood.
Their connection with families and eagerness to help
We all love a story with a happy ending, and the series proves how far the trio is willing to go to lend a helping hand. In the first episode of the series, Spratt and his team travel to Vassar, Michigan, to investigate a historic mansion nicknamed 'Wedding Cake House.' The owner of this manor house, a disabled marine veteran Conrad Dowe, and his new bride Jessica find out that they are not alone in the house shortly after they moved in. For many years now, the household, including their younger one Xavier, have seen a female spirit who Jessica has tagged 'the protector' and a dark shadowy figure they have dubbed 'bad man.' 'The protector' and her counterpart, however, seem to be doing the opposite of protecting as one supernatural event got Conrad's wife in a hospital with fatal injuries. The family pleas with the Ghost Brothers to visit their residence and help them find out what is unsound with their home and try making it safer for them to live. The brothers interact with the family and see how they can help them out of the situation.
In another episode of the film, the three Ghost Brothers travel to McMinnville, Tennessee, in response to a couples' request. Due to financial reasons, the couple is left with no choice but to move back to the house. They confess to seeing hostile shadowy figures which they are afraid might haunt their daughter. The whole Tennessee family has acknowledged to having encountered supernatural occurrences in the house. The daughter said she saw spirits psyche in the cellar, while the mother confessed to seeing a dark figure in the main bedroom. The father also stated that he had felt a touch of someone grabbing his finger. To their advantage, Marcus Harvey is from Tennessee, and he acknowledges that he immediately felt a bond with the family, thus making it easier for the group to probe the occurrence.
Authenticity from personal experiences and due diligence
No one know where the shoe pinches except the wearer. The three friends have all had paranormal experiences, which makes the show authentic. After conducting adequate research on the next places to hit in their ghost hunting mission, the group decides to go to Washington. It is here that they camp in a well-known villa called Kalama house. The house is said to be manifested by not only ghosts but also an evil doctor. A family of eight that lives there tells tales on how they witnessed coffee mugs flying over the room. They also share incidents of their pet dog staring at the basement stairs for hours and sounds of falling coins. While these events may sound easy to handle Dalen Spratt, one in charge of organizing investigations, discloses that they are not.
He tells a story of how he had his first ghost encounter at his grandmothers' home. Dalen recalls how the cabinets would unlock themselves daily at precisely 5 pm. He says that his mother had eight siblings and they all professed to see the cabinets open by themselves. In another incident, the three brothers journey to New Hampshire. They set foot here after lots of appeals about the need for them to examine a renowned home and tavern that has been hosting spirits of people who are fleeing from subjection and slavery beneath the Underground Railroad.
The TV show is hilarious
According to Amsterdam News, Juwan Mass, said that they feel the pressure of being the first African American guys to have a show that films supernatural activities. The one-time Eagle Scout said they add humor to the show and make it less tense. Unlike the other all-time paranormal shows that are crowded in the market, the series has fun in it. In some instances, the cast cracks jokes and make fun of dangerous situations.
According to Parle Magazine, Marcus says in an interview that they do not wish to provoke anything. Instead, they investigate haunted places to find a better understanding of a topic most people shy away from due to fear. If you are a curious person with a yearning to comprehend unexplainable events, Ghost Brothers: Haunted Houseguests is the show you should be watching right now.
Tell us what's wrong with this post? How could we improve it? :)
Let us improve this post!