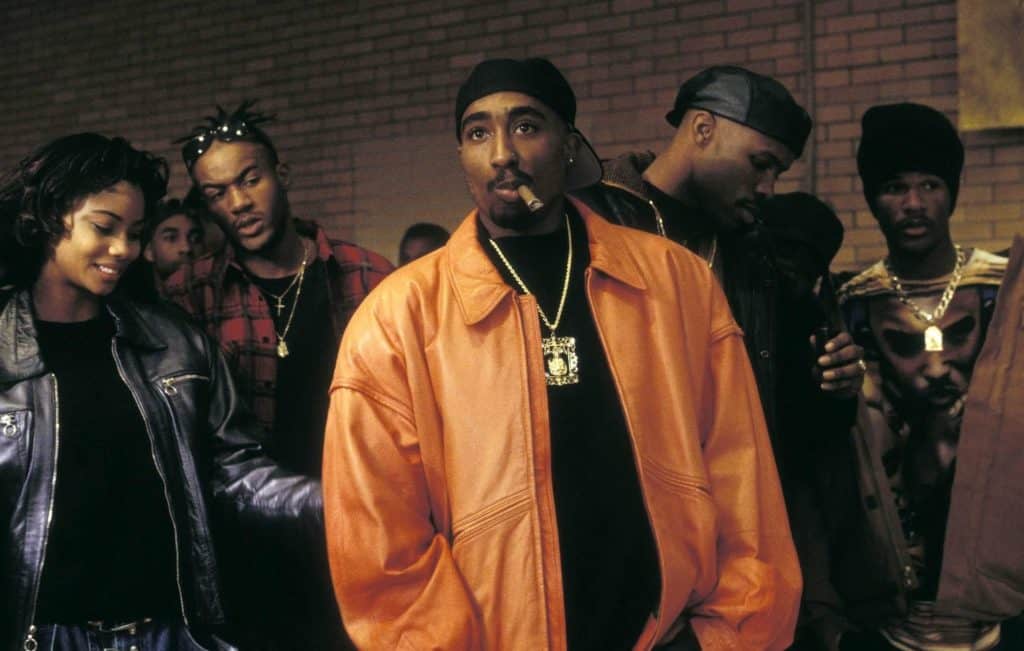 Back in 1994, a movie was made that probably wasn't the best overall representation of the game of basketball since it went beyond the game, but it was still extremely entertaining and is still one of the many movies that people enjoy watching today given that it featured a few of the more well-respected celebrities of the time period, including Tupac Shakur and Bernie Mac. The story centers around Kyle Watson, a college-bound high school basketball star with a lot of attitude and a great deal of talent. The story also focuses heavily on Thomas Shepard, a former high school star who, following the death of his best friend, saw his basketball aspirations go down the tube. When Shep returns to his hometown after being absent for many years he finds that his young brother Birdie, played by Shakur, is now a major player in the neighborhood and isn't too thrilled at his return, especially after Shep states that he wants nothing to do with Birdie. In the movie, it's kind of tough to take Birdie seriously since she appears to be a street hood with a loyal gang of soldiers that do his bidding.
But when Shep takes notice of Kyle, and more importantly, starts taking note of Kyle's mother, things heat up pretty quickly as Kyle is being courted by Birdie to be a part of his team for an inner-city basketball tournament, and is being given the kind of gifts and attention that would land a high school kid in trouble and possibly ruin his chances. Despite his talent and ability, however, Kyle has a serious attitude problem since he often can't see when people are trying to help him, and sees any criticism of his game or his character as a personal attack that he doesn't deserve. In other words, Kyle is a bit too full of himself when it comes to his game, but Shep makes it clear early on that he's not about to take Kyle's attitude, even if he's only a security guard at the high school.
Rebooting this movie wouldn't be too tough, but it's more a question of should it be rebooted rather than if it could be since, despite the fact that a lot of people might have to be reminded of it, there are enough folks that can recall this movie that might want to say that no, it shouldn't be. Almost anything that has to do with Tupac has been treasured by fans since he came on the scene, and that sentiment has only grown over the years since he was murdered. Many people are still of the mind that Tupac's words and his attempt to get people to listen through his lyrics and performances are important on a level that is ground-breaking and worth mentioning now and again since, well, people tend to take entertainers a lot more seriously than those that have no backing behind them. It's very true that Tupac told things the way he saw them, but it's also true that he lived the life that he desired when it came to money and fame. The debate as to whether Tupac was a person to be listened to or just another performer is one that a lot of people would gladly get into, but this is about the movie, not Tupac's impact on society.
There have been more than a few basketball movies that have shown the importance of everything that exists beyond the court, and have also depicted the struggle to be the best on the court as well. This movie had a fairly good balance between both since the game sequences were a lot of fun to watch, as were the life lessons that were being doled out as Kyle and Shep's individual stories continued to play out. Birdie didn't change much from start to finish, especially since his character was comfortable where he was and didn't feel the need to do anything differently. The biggest issue with rebooting this movie would come from coming up with another antagonist since the fact that a lot of people still love Tupac so much might be kind of a stumbling block. Trying to come up with another actor to play Birdie, or perhaps come up with another character, would be a challenge no doubt.
As for the rest of the movie, it does feel as though it would be simple enough to make it work, though the updates might change things a bit, and as it's happened with other movies, it might be that the pandemic might be used as well. There's no way to tell right now what would happen, save to say that the core of the story would be possible to keep if someone had the ambition to make this happen. If it ever does happen, you can bet that a lot of fans of the movie will have something to say.
Tell us what's wrong with this post? How could we improve it? :)
Let us improve this post!