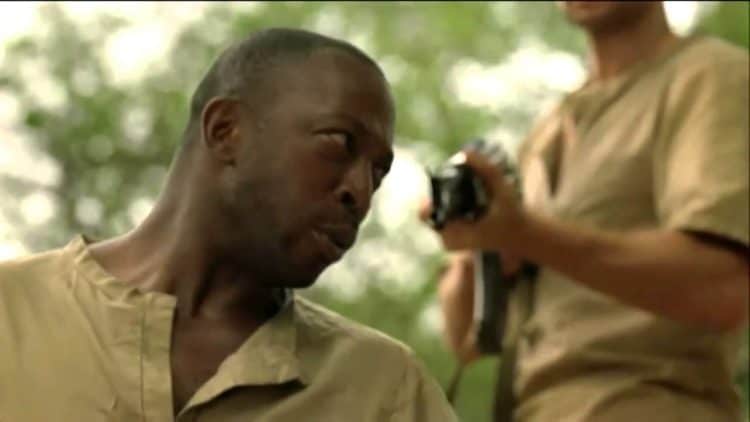 At this point in his career, Shaun Parkes face has been seen on screens all over the world. Since making his on screen debut nearly 30 years ago, Shaun has had roles in several well-known TV shows and films. He has gotten the chance to work with some of the most well-known names in the entertainment industry including Cate Blanchett. Some of his acting credits include Lost in Space and Silent Witness. He also has a role in the upcoming British mini-series, Small Axe, which will highlight the story of the West Indian community in London from the late 60s to the early 80s. Continue reading for 10 things you didn't know about Shaun Parkes.
1. He Used To Work At Pizza Hut
Shaun didn't come from a wealthy family. When he was a teenager he had to get a job in order to have some spending money. He ended up getting hired at a local Pizza Hut. Working at a pizza place may not be the most glamorous job on earth, but we all have to start somewhere, right?
2. He Always Knew He Wanted To Act
From an early age, it was clear that Shaun had a knack for keeping people entertained. According to his bio on IMDB, his loved ones quickly recognized that he had the ability to make people "laugh and feel at ease". When Shaun was 16-years-old, he enrolled at Seltec College to study drama.
3. He Used To Hate Wearing Jeans
Most people would consider jeans their go-to pants option when they're looking for something to wear. Shaun isn't one of those people though. In fact, he hated wearing jeans until he was 18. Even though he didn't like them, he told Daily Mail that he went out of his way to wear them until the prettiest girl in school saw his pants one day and made fun of him.
4. He Isn't Active On Social Media
Shaun has built a large fan base over the years, but for some reason, he has chosen not to focus his time on building a social media presence. He doesn't appear to have an Instagram account at all, and while he does have a Twitter, he only has 424 followers and hasn't posted anything since 2017.
5. He Used To Lift Weights
Shaun has a fairly thin frame and that has been the case for all of his career. But during his interview with Daily Mail, he revealed that he actually used to be much bigger. He used to enjoy lifting weights and had gotten pretty bulky, but decided to stop because he felt that being bulky wasn't the best look for the roles he wanted.
6. He Studied At The Royal Academy of Dramatic Arts
After beginning his drama studies at Seltec College, Shaun went on to be accepted The Royal Academy of Dramatic Arts (RADA) which is one of the best-known drama schools in the United Kingdom. RADA boasts a long list of alumni including James Norton, Clive Owen, and Alan Rickman.
7. He Tore His Achilles During An Audition
Shaun Parkes has had pretty bad luck with his achilles tendons. Several years ago, he tore one of the tendons while playing a casual soccer game. Not long after that, he tore the other one while jumping around during his audition for a role in the movie Mean Machine. On top of being injured during the audition, Shaun didn't get the part.
8. He Likes Playing Characters Who Go Against The Grain
Every actor has a preference when it comes to the kind of roles they play. Some people prefer to play the good guys while others lean towards the dark side. When is comes to Shaun Parkes, he likes opportunities that allow him to try something new and go against he grain.
9. He's A Soccer Fan
As a true (and proud Londoner), Shaun is a soccer fan. Not only does he like to play for fun, but he also likes to watch professional teams. It's unclear exactly which team Shaun is the biggest fan of, but in 2016 he did tweet that he was watching a Tottenham Hotspur's game.
10. He Almost Fell In With The Wrong Crowd
Acting has been a great thing for Shaun in more ways than one. At one point in his life, he had started hanging out with the wrong crowd. He says he was in serious need of discipline because wasn't making the best decisions or the best use of his time. Luckily, getting into acting school helped him steer his life in a more positive direction.