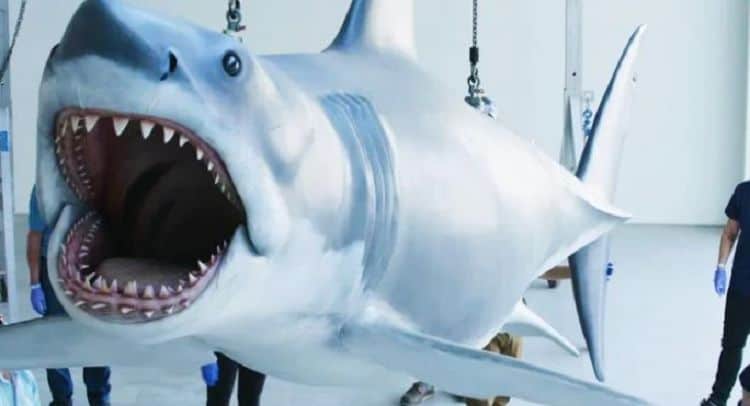 Bruce the mechanical shark is being given a home at the Academy Museum of Motion Pictures in Los Angeles, California, and there's not a lot of better places that he could be displayed since he is a work of art after all and deserves a spot where people can see him in all his glory. Bruce is actually 45 years old if you can believe that, and one of the things that he's known the most for, despite chomping on a few people in the movie Jaws, is the fact that he was notoriously difficult to work with on the movie since he actually went cross-eyed at one point, his teeth were just too white, and his jaws didn't even close properly. Plus, Bruce isn't the original shark from Jaws since he's a replica. The three great white sharks that were made for the movie were destroyed after filming wrapped, and Bruce was made from the mold of those three, so the woes that befell director Steven Spielberg didn't come from Bruce thankfully, as he's just a placeholder, a memory of the difficulties that went into making the movie and something to remember the iconic beast by. When all is said and done though it's fair to say that fans will be highly appreciative of the fact that this incredible beast was brought back for their enjoyment and will be hanging in this museum for all to see. The doors are bound to open sometime in 2021, and it's easy to think that there will be plenty to view when that happens.
One of Spielberg's woes came from the fact that they were actually filming in the water, where there are so many variables to account for that it was bound to be a hassle no matter what, and a mechanical shark was going to be one of their biggest challenges. Keep in mind that it's been known that mechanical items that weigh too much don't get along well in the water since they have a habit of sinking and, if they have electrical components, they require more care and precaution since otherwise they're bound to be ruined that much quicker. The original shark likely weighed just as much as Bruce if not a little more or less, meaning that the crew was dealing with a mechanical shark that weighed somewhere around 1,200 lb. construct that could have easily sunk to the bottom without fail. Obviously, the crew managed to rig something that could help with the shark's movement and that could keep the thing afloat, but the whole issue was that the movement just didn't look natural since if anyone has ever seen a shark gliding through the water they'll know that the original shark looked more like a dumpster with teeth trying to make its way from one point to another, and its mouth was open quite a bit if anyone took the time to notice.
A lot of people were too terrified to really notice, but a lot of them did happen to see this on the second time around since it was hard to miss. But at that point, the movie had started to get a bit old after a while, and the sequels were already tanking in a huge way since the idea of another shark exhibiting the same mannerisms as the killer shark in the first was kind of unlikely given that madness isn't a virus that can pass from one animal to another through the water, or at least people should be grateful it's not. Jaws scared enough people that it became almost a phobia with some folks since any body of water started to look dangerous if they couldn't see to the bottom. Plus, shark fishing went out of control after a while since people were so scared of what might happen if there were too many sharks in one given area that they allowed this to fuel their need to feel safe by over-fishing in such an obvious way. It's easy to look back and shake our heads at the foolishness of people from years before, even though the lack of proper knowledge about sharks made them appear to be little more than blood-hungry maneaters that wouldn't mind snacking on anyone that came within their range.
Thankfully people are a little more knowledgeable today so that Bruce won't end up offending anyone unless an animal activist wants to state that this is an unfair representation of sharks. There's no satisfying everyone, but a lot of people will no doubt stand in awe of this sight since it represents one of the most impressive movies ever made, and is a piece of movie history that a lot of folks will gladly hold up for some time to come. One can imagine that quite a few people will be wanting to see this marvel when the museum opens.