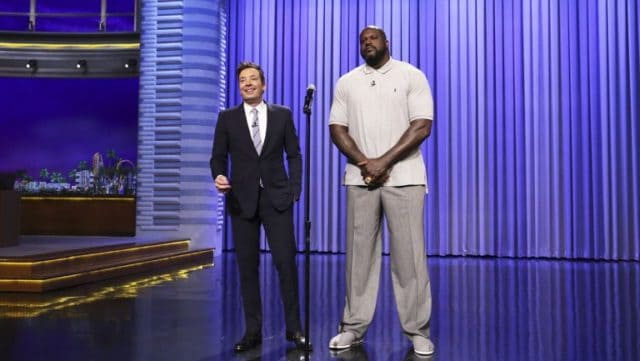 Jimmy Fallon is known for having his own mini versions of popular TV show segments on The Tonight Show. Last night was one of his better skits because none other than Shaquille O'Neal was involved. The hall of fame big man stopped by to participate in a Lip Sync Battle and audiences were highly entertained.
Fallon kicked things off by doing House of Pain's "Jump Around" but Shaq held his own by performing Bobby Brown's "My prerogative." Shaq said that he was "bringing 1988 back" and things moved up a notch when Pitbull appeared out of nowhere to guest star and help Shaq out.
The best part was the ending. The two competitors made nice toward the end of the battle, as O'Neal forced Fallon to join him for a duet of Elton John and Kiki Dee's "Don't Go Breaking My Heart." O'Neal, mouthing Dee's lines, got affectionate with the host, giving him a peck on the cheek and a love pat before lifting him into his arms.
P.S. The Tonight Show has been filming in Orlando this week because of the opening of Fallon's new ride at Universal Studios.
Check out the full clip below: