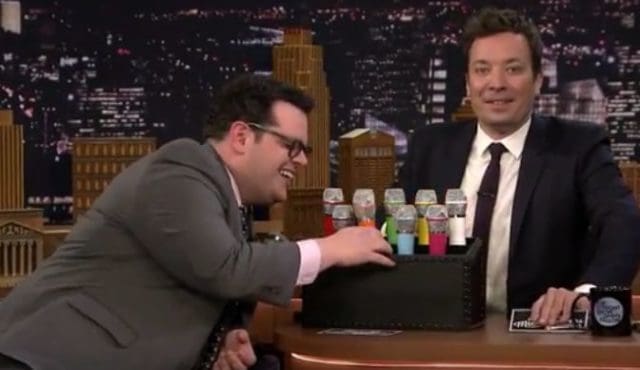 It's a big week for Disney since Beauty and the Beast is opening this weekend in theaters. As such, stars of the film have been making the rounds on social media as well as late night to promote. Last night one of the stars of the film, Josh Gad, stopped by The Tonight Show with Jimmy Fallon. In order to promote the film, Fallon of course had Gad participate in one of his funny games. This one is called "Box of Microphones."
In this segment, Jimmy and Josh Gad play a game where they take turns singing pop songs at random using microphones with special vocal effects. The highlight was probably Gad's rendition of "Build a Snowman" from the movie Frozen in which Gad played Olaf. In this particular song the microphone must have been turned to "chipmunk" because Gad's voice was super high and he couldn't stop laughing as he was singing.
However, another highlight came when Fallon and Gad decided to sing "Beauty and the Beast" auto-tune style. Josh Gad's Beauty and the Beast character has been the subject of controversy because he's the first openly gay character in the history of Disney. It's even prompted some theaters abroad to cancel all screenings of Beauty and the Beast. Personally I think it's a total non issue as do most people but it'll be interesting to see if any American theaters cancel screenings.
Check out Gad and Fallon below:
https://www.youtube.com/watch?v=zkcqEooAsss