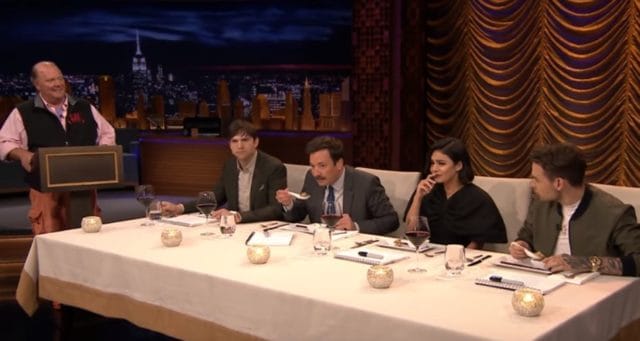 In what is quickly becoming a fan favorite on The Tonight Show, things just keep getting better with Jimmy Fallon and his guests during "Secret Ingredient." For those who don't know what Secret Ingredient is, Fallon and his guests will sit at a dinner table and eat a bunch of foods. The kicker is that these foods contain a "secret ingredient" that tends to be pretty gross and the guests have to try to figure out what it is (as well as try not to puke).
The NBC personality invited Ashton Kutcher, Vanessa Hudgens and Liam Payne to play a little "Secret Ingredient" on Wednesday, which was coordinated by super chef and diehard Crocs supporter Mario Batali. The star of "That '70s Show" and now Netflix's "The Ranch" somehow won the game, despite not at all understanding how it is played.
But in the end, as many people know, everyone was a loser. Just ask Fallon and Kutcher who nearly puked while trying a certain delicacy.