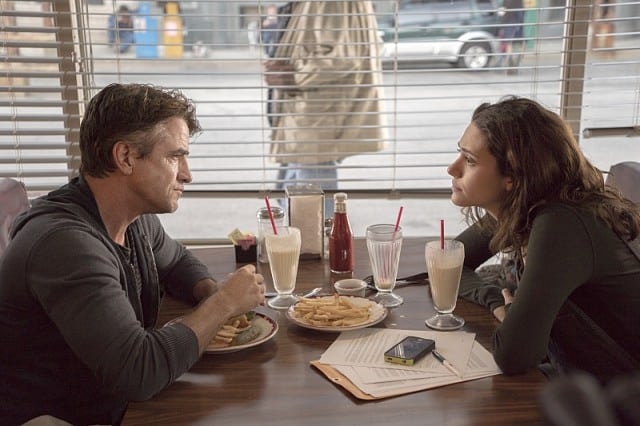 At this moment, I am ready to declare that "NSFW" is my favorite episode from Shameless Season 6. It gave me chills. There is no doubt that "NSFW" is the emotional climax of the season, if not the entire show. Fan favorites did a lot of growing up tonight, and the show took a darker turn, that could be really compelling if the writers choose to follow it.
Let's start with the small stuff first. Frank has actually established a stable fatherly position in Debbie's life. It's strange, but he's there all of the time. He's also overly sentimental, and in "NSFW" Willian H. Macy did a wonderful job at making me believe Frank is on a new life path. We'll see how long it lasts. He's still convincing Debbie the only way to have a home is to sleep with Erica, the mother with cancer. In the end, Debbie takes his advice and makes a small pass at Erica. This should be interesting, if not completely awkward.
Ian goes on a date! Well, almost a real date. It gets cut short after Caleb is called in on an emergency with the fire department. Ian tags along and witnesses a serious domestic abuse case, and is even able to help out a little. Caleb later shows Ian what it's like to date someone, instead of just sleeping around. If you told me last season that Ian would get himself on a new path with a great new boyfriend, I wouldn't believe you. If Ian makes it through the season without having at least a minor shake up with his bipolar disorder, I will be floored. It's not cute to tout a mental disorder for a season, so I'd really like to see more of his progress with it.

Lip has his disciplinary hearing about his relationship with Helene, and can you say cold shoulder? Honestly, I am Team Helene. She is protecting herself from a mistake Lip made. Both of them are to blame, but the fact that she hasn't spoken to him since the picture leaked is a good call on her part. The board is convinced that Helene took advantage of Lip, and he spends his entire hearing trying to explain that their relationship was consensual.
They are not convinced. Helene insists on a probationary absence, in addition to cutting off all contact, and seeking therapy. Lip finally gets a response from Helene at the very end when she tells him "Don't make this uglier than you already have." Ouch! I wonder how Lip will choose to cope with this situation. It has to hurt, but he's being completely unrealistic to think that Helene was actually in love with him. Poor thing!

Fiona also deals with her fair share of awful things. She has her abortion, and again it's placed in this awkward middle of the episode. I will let it slide for her emotional break down later in the episode. She jumps through several hoops to buy the house back after the new family rescinds their offer. She discovers that she needs Gus to cosign on the mortgage and it's difficult to get him in the same room as her. When he finally shows up, he pours a coffee on the document and asks "Where's the paper that gets me what I want." Fi deserves it, but it's so cold.

Sean keeps asking her why getting the house back is so important when she's had so many bad memories in it, and she doesn't have a good enough reason. Sean notes that to her siblings, she will always be the person who raised them, and she responds "What if I don't want to be? What if I just want to be their sister?" Fiona is starting to have a life separate from her siblings, but I wonder how long that will last. Gallaghers don't really leave the South Side, I mean even Ian came back. Fiona's mixed feelings about just wanting to be a sister comes into play later when Carl needs more of a mother figure in his life.

Throughout "NSFW" Nick struggles with the loss of his stolen bike. He is determined to find out who took it, and Carl repeatedly tries to get him to let it go. Nothing makes Nick happy. They purchase a car and on their way to Debbie's party Nick spots his bike under a small kid. Carl tells him to let it go, and Nick seems to have a moment of clarity where he realizes it's just not worth it. They arrive at the party and Nick bails almost immediately, jumping into the car and driving away. Carl tries to chase after him, first he runs, and then he even grabs a skateboard (while throwing money at its owner). When he finally gets to the house we hear desperate screaming. Easily the most haunting scene Shameless has even attempted. Nick sits on the front steps of the boys house, with a bloody hammer next to him, while the mother screams "my son" over and over. Carl, after seeing what Nick did and vomitting, asks "But why?" The look on Carl's face gave me chills. Nick says that he already called the police and that Carl should get far away. So Carl runs and watches the police take him into custody from a distance.

Later, Carl goes to Sean's looking for Fiona, and asks if he can stay the night. He overhears Fiona's emotional break down about Gus, the house, and Debbie. The next day he digs up all of the money he has and hands it to Fiona, telling her to buy back the house. The difference between what Nick does and a lot of other dark moments in Shameless is that there isn't any underlying humor. I recall when Mandy left with her abusive boyfriend there was a dark tone, but the Gallagher boys resigned to letting her make her own decisions and she just went her own way. This murder is going to affect Carl to his core. I was wondering what would make Carl give up this gangster act, and we've definitely just found it. Shameless just took a step in the direction of really haunting content, and as disturbing as it can be, it might be a great direction for the show. I cannot wait to see how Fiona reacts to this horrible crime next week.

"NSFW" was a fantastic episode, and here are some other smaller things I enjoyed from the episode:
Amanda leaving campus because the feminist group was targeting her for tearing down another woman (Helene) was fantastic irony.

Making the Alibi an exclusive bar for locals only was a great move! Fight gentrification, Kev and V! It's even better to charge $20 per hipster.

Poor Chuckie, he has no idea what is going on. I will say I was so nervous that the woman who came to pick him up was his mother, but it's his grandmother instead. I predict that Frank's escapades with this woman will be much like his 'relationships' of the past, boring and exhausting.

The refugee girl as the bouncer was a fantastic choice, I hope she becomes more developed as a character. She's adorable and deadly, a killer combination.
[Photo credit: Cliff Lipson/Showtime]