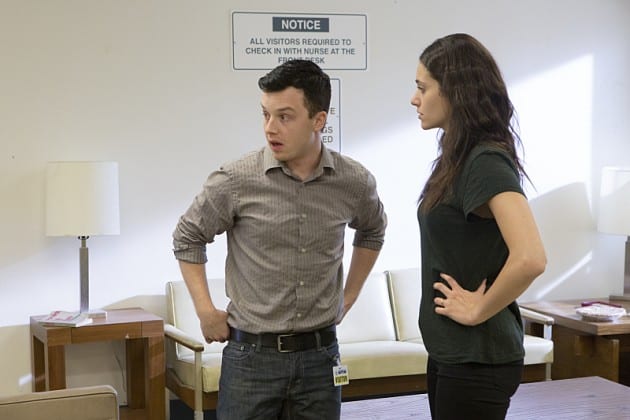 Shameless's previous season was the show's darkest. By a lot. However, Season 5 seemed to be lighter, with less traumatic experiences for the characters to live and the audience to cry about, but just when everyone is starting to let their guard down and expect more shenanigans than heartbreak, the show decides to cut our hearts out of our bodies and feed them to the dogs. In spite of the new turns, though, as William H. Macy said recently in an interview, the series is not for everyone, yet those who follow it, are loyal, and I believe that is accurate to say, having developed an addiction to both the laughter and excruciating pain Shameless has brought to the surface season after season. It is very difficult, if not impossible, to quit tuning into this series, even when it's hard to watch.
"Tell Me" opens with Fiona performing a "fire escape confession" by telling her new husband, Gus, that she has cheated on him with Jimmy, YESTERDAY. Gus, naturally, is upset amd points out that the night before they, too, slept together, before heading inside his apartment alone. Fiona does deserve to be awarded points because of her honesty, yet the matter is she did cheat. It is unclear what makes her she decide to fess up, but it begs the question, is she sabotaging her marriage or just trying to do things differently this time around? Whatever it is, it is fascinating to see how a huge chunk of the audience is willing to overlook the fact that she betrayed Gus, who so far seems dreamy, with Jimmy, just because he is Jimmy. Don't get me wrong, I believe those two belong together, and I am still upset they are not, but that does not mean, Gus, who is an innocent bystander, should be hurt by default.
Without a doubt, the most heart-wrenching arc this season has had so far, though the seeds were planted long ago, is Ian's, who after having a manic episode kidnapping Svetlana and Micky's baby, wakes up in the psych ward. Everything is very white in the place, painfully white, blinding. As a result of the medication he has been given, Ian is still groggy and does not fully realize where he is or how he got there. He learns from his bunkmates that the sedation will wear out eventually and that he will be there for 72 hours. Ian has a helplessness to him, yet such fight in him that is almost a spiritual experience to watch him go through everything he does. Cameron Monaghan is an acting ninja and should be getting more recognition for his craft, which is nothing short of splendid.
In the meantime, Lip, who in my opinion is the "almost kid," has once again been victimized by his family's neglect. His grant forms where mailed to the Gallagher household; therefore, he never got them, didn't fill them in, and now owes $12,000 and change to his school, which he actually pays by signing up for a number of credit cards and getting money in advance, which is credit score suicide. It is unfortunate to see Lip struggle; he does deserve better and is trying hard. The Gallaghers must just be cursed.
On a different front, colorful neighbors and regularly historical couple, V and Kev are in trouble. I will not lie, I am intrigued by the change in the couple's dynamic, since they have been strong from day one; however, the audience could always bank on these two characters bringing the banter and some of the most outrageous and wittiest moments, now that might be gone. V and Kev worked like a charm as a twosome, but now that they became a quartet, they've bursted at the seams. In addition, V is now in charge of The Alibi, while her husband is Mr. Mom. To top it all, Veronica has decided to move out of the house and into the former rub-and-tug. My gut told me from day one that V might be suffering from postpartum depression; I am strongly leaning towards that theory.
To make it short and put it in simple terms, it is "capital A" awkward between Fi and Gus. Neither of them has a clue how to act in close proximity of the other, and as a result, they commit to activities that make zero sense: she tidies up the place and he cooks. They admit this to one another while Gus tries to get to the bottom of things. He asks the million dollar question that no one in the world has ever managed to respond well to: Why did she cheat? While collective "duhs" could be virtually heard, Fiona states what she believes to be her motive: Jimmy and her were unfinished, which they still are. Gus can smell it, so can the audience. For reasons that only he understands, Fiona's new hubby tells her that he wants to meet her former flame. For an even more mind-boggling reason, she agrees. The collective "duh" transforms into a massive facepalm.
Svetlana is worried about Ian being close to her baby, which is expected. As a result, she wants him out of the house, yet Micky disagrees with her and suggests she finds a new place to reside. The woman has the clever idea of making a deal with Kev. She will move in, sleep on the couch, clean, geed the twins, and perform "wife duties." He accepts without understanding the full extent of their agreement. He ends up accidentally cheating on his wife.
Meanwhile, the war between Frank and Sammi continues. What had started with her withholding his medication after Frank failed to keep the promise to buy her a new trailer has now evolved into Sammi having her father's couch moved to the street while Frank was sleeping on it, and later on, her pulling a gun at him and actually shooting. Wounded Frank finally admits he needs her. In all fairness, Sammi and Frank's relationship has always been a codependent one. He seek after her because he needed her (and her organs), and that has been the cementing ground of their bond.
Carrying the lightest notes of the show are Debbie and Carl, who never fail at their task of moving their plots further, engaging the public, and acting both endearing and psychopathic at the same time. In this episode, Debs is trying to get out of the friend zone with Derek, which she finally succeeds at, not by listening to Carl's theories or following advice from a frenemy she threatens to beat up for the second time. No, she does so by being herself and by delivering a very articulate "I am fabulous, what is wrong with you?" speech.
On the other hand, Carl, who will definitely win the "Mini Frank Award," has managed to make a profit out of looking after Chukki by making a deal with Sammi that awarded him nunchucks and a pack of condoms. At the same time, he gains a slave out of Chukki by saving his nephew's skin and making public at school that he will beat up anyone who picks on the young boy. I love Carl, yet I'm scared of him. I really am.
Back at the ward, Micky and Fiona visit Ian, who is still very overwhelmed. Fiona and Micky champion the situation and do a great job at engaging him and being supportive, but the situation is so excruciating that the scene is hard to watch without the help of chocolate and quality hand holding. Shameless has always been proficient at mastering harsh truths and complex topics; bipolar disorder is a big monster they have been slaying for a while. And as tough of a pill it is to swallow, the writers have been excellent at bringing up the subject, while every actor involved has been a stellar player.
Later at night, Fiona and Gus meet Jimmy at Fi's work place. The returning ex has a smug smile on his face as the newlyweds walk in towards him. As predicted, Gus's first reaction is to punch Jimmy in the nose. When confronted by his wife, he just says he needs to ice his hand since he has a gig the following day and tells her that she and Jimmy are still unfinished. He also makes the point that she deserves better, though by his own admission, he is biased.
Fiona is reflecting about her boy trouble sitting on the curb when Jimmy approaches her, sits beside her, and announces that he is not going to Dubai; he is staying for her. Fiona, in turn, confesses that she still loves him, but that she has changed and needs something else, whatever that means. She asks him to let her let him go. Jimmy, in probably one of the two selfless acts he's decided to perform, takes off. In the process, he takes the audience's beating hearts with him.
As "Tell Me" conclusdes, other characters have learned their lessons: Lip gets a mailbox and cuts yet another tie with his family, Ian is trying to absorb the cruel truth that he exhibits bipolar symptoms, and Sammi and Frank enjoy their codependency. Dichen Lachman's Angela apologizes to Fi for spying on her and explains that the Dubai gig was cancelled and that "Jack," aka Jimmy, is no longer her business partner. Here I must say, Dichen Lachman is an actress that has shown much range in her career (I miss Dollhouse!) and was underused in Shameless.
This was yet another fulfilling episode of Shameless, a show that has never lost steam and has had the audience willingly jump on this crazy train of a show from the get-go. High and lows are always on the menu, yet we care so much for the characters that we stay on. That said, I think I speak for most of the audience when I ask, why, why, WHY bring Jimmy back and then take him away from us again? That is CRUEL. I am seriously hoping he returns to Shameless at some point and STAYS. I am not holding my breath, though.
Highlights:
– Svetlana. This character coming to the forefront after being in the background for so long is refreshing. Isidora Goreshter kills every scene she is part of.
– Gus. Steve Kazee's character has been cast in "Mission Impossible: Fiona Edition." He is competing with Jimmy while trying to deal with his wife, who is not easy, and her family history, which is a full on disaster. Even though most people's hearts (yours truly included) are still beating for Jimmy and Fiona, Gus has gotten major points. He is a good guy with an edge, which could be the right combination Fiona needs.
[Photo via Showtime]