Sal, Smitty, Paul, Peggy and Harry are auditioning an Ann Margaret lookalike. After Harry leeringly asks her to do the twist again and she complies, then leaves, Peggy reminds him he's not a part of the decision making process. Pete and Ken come in and break the bad news they'll be working all weekend because Bacardi needs ideas on Monday. Except Pete, Ken and Harry won't be there, since they'll be at Jane and Roger's Derby Day Party.
Joan and some girls are heading out to lunch when she runs into the new Mrs. Sterling. She and Joan make veiled snipes at each other while Jane wears what looks like a marshmallow on her head. Since I hate Jane, I will temporarily approve of Joan's smoking since she gets to blow smoke in her face.
Peggy tells her new secretary Olive not to include Harry in anymore casting calls. Olive seems more competent than the recently demoted Lola.
Betty's excited about Roger and Jane's party. She bought a dress! She also likes her booze, which she swipes from Don, even though she's preggers.
Sally reads The Decline and Fall of the Roman Empire to Grandpa Gene. She's quite the little reader, and only gets tripped up on the word "licentiousness". Don pops in to send Sally off to bed. Grandpa Gene says they'll continue their reading tomorrow, adding, "All hell's gonna break loose."
Paul, Smitty, and Peggy are "working". Working means drinking rum and Cokes, and playing golf with a fraternity paddle and an orange. After Smitty confesses drinking makes him sleepy and he prefers weed, Smitty and Paul start to wax poetic on the joys of Mary Jane, with Paul claiming pot saw him through his senior thesis at Princeton. Peggy gets the first of her many great lines of the episode, saying, "Paul helps me sleep." Paul sends her off to get a blender, since he's not able to since he's eating an orange. Apparently Princeton didn't teach him to multitask.
Peggy runs into secretary Olive in the kitchen. Olive's working because Peggy's working! Peggy says she can go home, but Olive is Johnny on the Spot and won't hear of it.
Smitty gets Paul to call his friend, aka dealer, and score some weed.
Betty orders Sally to zip her in her beautiful white lace dress. Seriously, 90% of people don't look this good ever, and she does when she's 8 months pregnant. If I didn't love her, I'd be pissed. Betty tells Sally not to bother Grandpa Gene, so of course Sally runs off to find Grandpa Gene. He's in the loo, but she notices his money clip and steals a fiver.
Joan and her rapist husband are getting ready for a dinner party at their apartment. She comes up with an excellent compromise on the seating arrangements, which he is too much of a rapist idiot to appreciate, but she demands a kiss for her smarts. She deserves a lot more.
Don appreciates Betty's new party dress, but she complains about being in her "condition." Gene rushes in, followed by Carla, shouting how he's been robbed. Betty tells Don to give him $5, and Gene spits he doesn't want his money, saying, "You people think money is the answer to every problem." "No, just this particular problem," Don retorts. Point to Don! Don takes that as his cue to exit with Betty, and Carla herds the kids to the yard.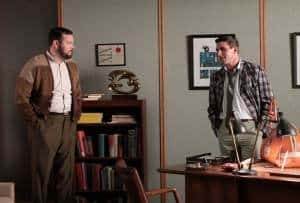 Paul's dealer friend Jeff shows up. They went to Princeton together, and Jeffrey complains how Paul never calls. Aww, poor Jeff. They score some weed, and Smitty grabs Paul's sweater to block the smell from wafting under the door. "It's mohair!" Paul protests. It's fun to roll your eyes at Paul. Anyway, Jeff is happy to be hanging out with Paul, and isn't going anywhere anytime soon.
Betty and Don arrive at the Sterling party. To say it's swanky is an understatement. Grand country club style, all the way. Pete and Trudy, Harry and Jennifer, and Ken Cosgrove make their hellos. Trudy whisks Betty off to take the tour, while Pete fills Don in on the heavy hitters in attendance. "Don't hand out your card," Don orders.
Carla is having everyone search for Grandpa Gene's money. Carla keeps waiting for Grandpa Gene to pull the race card, but he doesn't. He calls her Viola, though. She corrects him, he apologizes and asks if she knows Viola. "We don't all know each other, Mr. Hofstadt," she replies. Tell him, Carla!
Peggy wakes up from a nap, and asks Olive what the boys are up to. Olive warns her off, but Peggy heads in. Paul claims he needs it for inspiration. Jeff hits on Peggy, asking her name. "I'm Peggy Olson, and I want to smoke some marijuana." Some have hailed it the line of the series. I feel that's premature, but it's defintely Top Ten of all time. *bows before Peggy* Paul and Smitty sit in amazement as Peggy sits down and takes a toke.
The strains of "My Old Kentucky Home" play as we cut to the Sterling Derby Party. And here's the enduring image of the episode – Roger in blackface singing. He says how much Jane just loved it in her personal preview, giving her a big smooch and some blackface of her own. In the audience, Don asks Betty if they can leave. Betty's enjoying herself though, so Don heads off in search of a drink.
He heads inside the country club, and meets Connie, a guest at a wedding being held there. They're both country club outsiders, and bond while Don makes Old Fashioneds. He's handy with a muddler. Otherwise, I don't really get the point of this scene. Oh, we also learn that Don is from Pennsylvania by way of Illinois.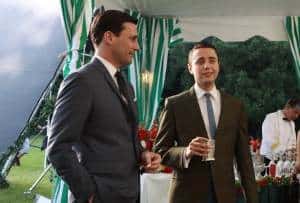 The Stoner Kids of Sterling Cooper are kicking around Bacardi ideas, by which I mean giggling and staring at the ceiling. Jeffrey mocks Paul, who tries to kick him out. Jeffrey gets back in his face, saying he was kicked out of the Tiger Tones at Princeton, which gets Paul to sing Ragtime Gal. Jeffrey joins in, and it's gayer than Sal with the bellboy. Peggy steals the whole scene with her perfectly timed, "I am so high," her third but far from final excellent line of the night.
Betty waits for Trudy to come out of the ladies' room while some creepy old guy hits on her and feels her pregnant belly. Betty looks titillated and repulsed at the same time, and is saved by Trudy.
Joan and Greg the Rapist's dinner party is in full swing. The wives of the other doctors come to help/gossip in the kitchen. Joan is warned by the matron of the group not to get pregnant, and told the fact Greg can get a woman like her makes her optimistic for his future no matter what.
Grandpa Gene is pouting about his money, and won't eat Carla's dinner. Sally overhears and feels guilty, and throws the money on the floor of the kitchen, then acts like she suddenly discovered it. Everyone knows exactly what happened, but Sally isn't called out on the carpet.
Back at the Sterling party. Don, Betty, Pete and Trudy all socialize, and Harry and Jennifer try to make conversation but fail fairly miserably. Roger and Jane come by with of all people, the creepy pregnancy belly toucher. He's Henry Francis, who works in the governor's office. He just came from Happy Rockefeller's nuptials.
The band strikes up a Charleston, and Pete and Trudy cut quite the rug. It's nice to see them liking each other. The other dancers realize they're outdone and exit the dancefloor. Jennifer looks annoyed to be upstaged.
Paul's lying on the floor reciting poetry, lord help us. Smitty sums it up – "We get it – you're educated." They talk a little about rum and inspiration strikes Peggy. She stands up, and states emphatically as a stoned girl can, "You both can leave. I'm in a very good place right now." I think the writers heart Peggy tonight.
She leaves, and finds Olive still at her secretary's desk. Olive reprimands her, but Peggy lays it out for Olive. "The thing is – I have a job. I have my own office, with my name on the door, and I have a secretary – that's you. And I'm not scared of anything. But you're scared. Oh my god, you're scared! Don't worry about me. I am going to get to do everything you want for me. I'm going to be fine, Olive. I really am." Olive (and I) believe her, and Olive is finally ready to go home. Peggy just needs a glass of water and the dictaphone and Olive is free to go.
Joan and Greg's party. Joan is racking up more compliments, and it turns out Greg's not quite the doctor wonder he's made himself out to be. Once again Joan is a credit to him after he convinces her to play her snazzy red accordian and sing in French to impress their guests, who are suitably wowed.
Betty is filling her plate, when a very drunk Jane Sterling trips all over herself. She manages to notice Betty's pregnant, and says she knew she and Don would get back together! Betty looks mad enough to spit nails, and Don wisely says he'll take care of her and Betty stomps off. Jane wonders why Don doesn't like her. Roger wanders over and wonders what's going on. He orders up a glass of milk for his young, drunk wife, and confronts Don about Don giving him the cold shoulder. He blames it on his conspicuous happiness, but Don corrects him – no one thinks Roger's happy, they think he's a fool. Roger is ticked, and says the great thing about country clubs is you can invite who comes and keep the riff raff out.
The Draper home. Sally tiptoes hesitantly in to say goodnight to Grandpa Gene, who gruffly orders her in his room. Turns out it's just to continue their reading, and Grandpa Gene is an old softie who knows Sally learned her lesson and doesn't need additional punishment. Aww!
Don watches Roger and Jane slow dance before heading off to find Betty. She's far from the party but glows in the moonlight in her lace dress. Silently, he walks over to her and they passionately embrace as a piano plays us into the credits.