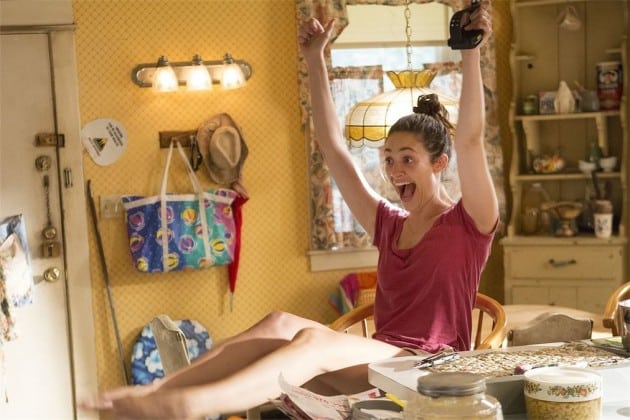 Shameless is back, and I'm reacting like the mother hen the Gallagher's need so badly. Every season of Shameless confuses me with the excellent the acting and realistic scenarios. I often have to pull myself out of a Shameless trance where I start to believe the Gallaghers are a real Chicago family. Maybe that's the gritty charm about the show that keeps people coming back to watch it: the American poor are underrepresented on television and Shameless captures them in a way that's entertaining and heartbreaking.
Episode two of Shameless' fifth season puts the show back on track. In past seasons, the first episodes have been scattered, trying to catch up with everyone in the cast to remind viewers what has happened. The show picks up right where season four left off; it doesn't time jump like many shows. "I'm the Liver" has the pacing Shameless fans remember.
There is one clear plotline dedicated to Fiona, which I'll cover further on; it deserves a decent amount of discussion. The rest of the episode revolves around Father's Day, a touchy subject for nearly everyone in the group.
Kevin and V, two of my favorite characters, seem to be in a long-term conflict. I'm interested to see how caring for the twins will resolve this season. V wanted to be a mother for so long, and now the twins are here but she is less than thrilled. I'm excited to see this portrayal of motherhood on television. V is not like Fiona's mother, a drug abuser and neglectful of her children; she's just very tired and lucky that Kev wants to be so involved in his children's lives. Svetlana, a character I came to love at the end of season four, made her season five debut meaningful. Kev seeks her out for motherly advice, and I am so thrilled that she was eager to help him. Svetlana gets a bad rap from the other characters; they judge her for how she came to America and her unorthodox situation in the Milkovitch household, but I think she's an asset to the show. Svetlana is a good mother, and most of what she does is for the well-being of her son. At the end of the episode, Svetlana helps Kev with the twins and convinces him to shave his head. V doesn't take any of this well, and I think the next few episodes will reveal what V and Kev's relationship can withstand.
Debbie and Carl never cease to surprise me. Now that Shameless is on its fifth season, we have essentially watched the three youngest Gallaghers grow up, and it's surreal. Debbie and Carl were once notorious for stealing babies and setting things on fire. Now they're competing on who will lose their virginity first. Only the Gallaghers could come up with such a strange competition between siblings. This episode focuses on Debbie's end of the competition, as she attempts to flirt with an unsuspecting boy at the pool and, in the end, seeks Svetlana for help. Svetlana also cuts Debbie's hair and does her makeup, leading everyone suggests she looks "like a hooker."
I thought this interaction was nice. Debbie doesn't have many female role models in her life. Sheila is too trustworthy of Frank, whom Debbie really needs to stay away from; Fi is currently on probation; V is a mother who does not want to be around for her kids, a mother figure with which Debbie is all too familiar. It's easy to forget how young Debbie is, as Fi remarks to a man trying to dance with Debbie at the bar "Fourteen will get you twenty!" (a great line on its own). Shameless dances over that line of portraying its young characters as much older than they really are, but I think the show has proven this is out of necessity for their own survival and not an attempt to be edgy.
Frank, oh Frank, how I love to hate him. I was very disappointed when he lived last season (this show does horrible things to my sense of morality). Sheila and Frank are officially married, and Frank is taking it pretty well, but that is due to Sammy's overbearing presence. Sammy distracts Sheila enough to keep her from annoying Frank like we've seen her do in the past. Frank has some interesting insight into the gentrification of their Chicago neighborhood. Gentrification will certainly be a major plot point this season,, and Frank is correct: if the realtors succeed in buying out homes in the neighborhood, soon enough, other people will not be able to afford their own houses. I predict that the neighborhood will attempt some self-sabotage to scare the gentrifiers away.
In the short-term plot of this episode, the father of Frank's organ donor invites him to a last Father's Day dinner. This is where the title of the episode comes from, and I found myself laughing when it occurred to me, as everyone is wearing nametags that say "I am the Heart" or "I am the Liver." By far, this was one of the strangest events that has happened on Shameless, and I was relieved when the mother of the organ donor seemed just as uncomfortable with the dinner. Like clockwork, Sammy and Chucky show up to make the awkward dinner even worse, and I wasn't happy about it. I can tell the Sammy versus Sheila plotline will continue for a while this season, and I'd like it to be over right now. Both women are looking to Frank for permission to hate the other woman, and I am so over it. The sooner they resolve this, the better.
This episode touched on a few important and controversial topics in society, one of them was protests at soldiers' funerals. Ian is not doing well, and before the season is over, I'd like to see him go to the doctor about his possible bipolar disease on his own. Ian is an easy character to love, but last season made me anxious for him and his health. It was great to see Mickey finally come out and solidify his relationship with Ian, but it is obvious that Ian is still dealing with mental health issues that need assistance. That being said, his outburst at the funeral is understandable but scary. I was so glad that Mickey had a better plan than just walking into a church and hurting protesters. The plan was certainly unorthodox, but hey, we finally saw Mandy! It was good to see the gang back together in the Milkovich house causing trouble.
Mandy is blonde and cute, but she is still with her abusive boyfriend. I hope that Shameless can handle the delicate topic of abusive partners well and that we can see Mandy finally happy. Like most characters in Shameless, Mandy has committed some horrible crimes in her day (running over Karen, who I loved dearly), but it's so hard to hate her when she's such a good friend to Ian and a good sister to Mickey. Mandy is the underdog I love to root for in this show; hopefully, she'll make some positive changes in this fifth season.
Okay, now to Fiona. Last season Fiona took a scary turn, somewhat out of character for her, but her day trip to the middle of nowhere and breaking probation definitely turned the girl we all know and love upside down, moving the show forward in a different but necessary direction. As she says to Ian about mental illness,"One of us are bound to get it." This also applies to their father's alcoholism, and Fiona may be the Gallagher who has to come to terms with it.
First, Fi's two love interests (her boss Sean, and the foreign rock star Davis) look way too similar! The only way I could tell them apart was when Sean was in the AA meetings. Even still, I couldn't be sure if there was a third love interest because they both looked so similar. Regardless, this episode focuses on her relationship with her boss. Fiona finally gets off probation and takes off the ankle monitor herself, a risky and rebellious move. Fiona confronts a bad customer outside of the diner and Sean attacks him until the man apologizes for not tipping. It seems that Fi and Sean may be romantically involved at some point, until he draws the line at giving her family free pie and makes her pay for it or "next time it's stealing." Fiona has issues with boundaries, clearly shown in the Narcotics Anonymous meetings. These scenes had me squirming. I wanted to yell at her to sit still and listen to what people were saying in the meeting. Fiona thinks the meetings are just a requirement, not a valuable element to recovery (she also thinks she doesn't need to recover from anything).
Sean addresses all of my concerns in his final talk with Fiona. The Shameless writers really did Sean's recovery justice when he explains how the meetings work for him. He says how "those meetings save my life every day," and he warns Fiona to stay away because she's a "chaos junkie" and he's a "junkie junkie." He pulls it all together when he tells her that it's not her fault that "chaos follows [her] around"; he just cares about staying sober and being around for his son more than he wants Fiona. I truly hope he can stick to this and doesn't give into Fiona because Fi has a very important lesson to learn: that she's more like Frank than she realizes. Sean is a responsible person, and Fiona needs more of them in her life.
The ending sequence of Fiona's plot is an excellent example of how chaos follows her around. She and Debbie go to see Davis' band, and when a man continues to dance with Debbie, Fiona punches him. She starts a brawl in the middle of the dance floor, and Debbie and Fi run away laughing. This is the first time we get a glimpse of what Fiona was like at Debbie's age, picking fights, running away from men twice her size, and laughing about it. The look on Fiona's face suggests that maybe she realizes exactly what sort of chaos follows her around and how it's dangerous. At least I hope Fi can realize this before Debbie grows up just like her.
[Photo via Showtime]