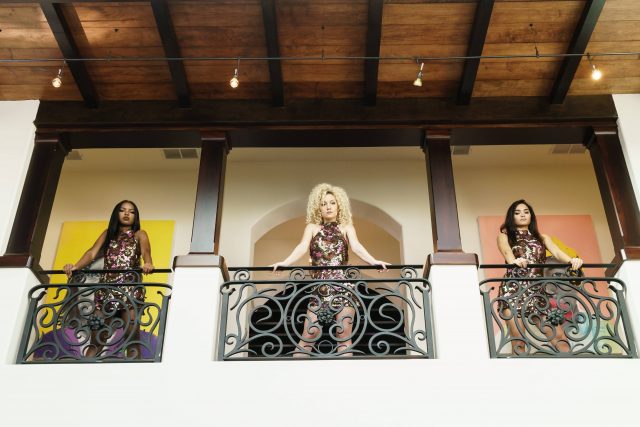 If you thought the drama on Empire was crazy, hang onto your Jimmy Choo's! This spring on FOX will bring a new level of chaos when the new musical drama Star premieres. Also from Empire creator Lee Daniels, Star shifts its focus from the already established fame to those seeking it. Three young girls have the raw talent, charisma, and grit to become the next singing sensation at the top of the charts. The problem is they all have different intentions for their rush to fame and fortune. Add in a fame-hungry manager and a fiercely protective godmother who already have an established bad history with each other, and we better be prepared for the some high hits and low blows, literally.
Meet Star Davis, a girl with big dreams who is living off sheer will in the pilot. The only thing Star wants more than to be a singer with a girl she met on Instagram, is to find her sister Simone. Once Star fights to get out of foster care early, she finds Simone underneath her child molester foster father. Star isn't just fearless when it comes to her career, she's fearless in general. She has no qualms about putting several knife wounds in her sister's molester, never looking back. Together they find Alexandra Crane, the daughter of hit musician Roland Crane (Lenny Kravitz). Alexandra has been starving creatively under her father's insistence that she sing backup for him. Alexandra doesn't tell the girls she comes from musical royalty, instead just jumping in the car for the ride. Little Miss Privilege is willing to risk her wardrobe if it means carving out her own musical identity. So the trio heads to Atlanta to check out the music scene and pay a visit to Miss Carlotta (Queen Latifah), Simone and Star's godmother.
Before the girls were born, their mother and Miss Carlotta were their own girl group with a song on the charts. Now Miss Carlotta sings in the church and runs a beauty salon. She lets the girls stay with her in exchange for working in the shop, but the girls came to sing. Star and Alexandra are particularly motivated to get their names out there. Miss Carlotta's transgender daughter likes the girls' fire, so she arranges an impromptu meet with a manager. While Simone eats fries and Alexandra connects with Miss Carlotta's community champion neighbor Derek, Star puts on a performance at the strip club. There she catches the attention of Manager Jahil Rivera (Benjamin Bratt), who arranges for the girls to sing at his NFL godson's birthday party.
The girls are talented, there's no question of that. It's just that the combination of their different intentions could end them before they even get started. Alexandra is running away from her fame without any idea of the future she's running to, Simone loves the idea of singing in the church but knuckles under pressure from her sister, and Star is willing to charge full steam ahead no matter what the consequences. What Star doesn't know is that Jahil has a history with her mother and Carlotta. If it's the last thing Carlotta does, she is going to keep Jahil away from the girls, even if it means doing so at the end of a pistol. Jahil ignores Carlotta's demands in favor of the fortune he knows the girls will bring him. With Simone already drinking to get through performances, Jahil and Carlotta have different stakes in making sure history doesn't repeat itself.
Star, Simone, and Alexandra can become the next Destiny's Child if they so want. Any success they achieve won't keep Star and Simone out of prison if Simone's foster dad finds them. It would be easy to dismiss an attempted murder charge as a soapy twist, but the show keeps the crime grounded in all too real child abuse in the foster care system. When you grow up fighting for your life, the hunger for survival can turn into a whole other type of hunger.
Will you tune in when Star premieres this Spring? Sound off in the comments on whether Lee Daniel's next creation is a success.
Star Season 1 Episode 1 Review: "Pilot"
Summary
Three girls with three slightly different dreams of stardom make FOX's new drama Star a recipe for success.