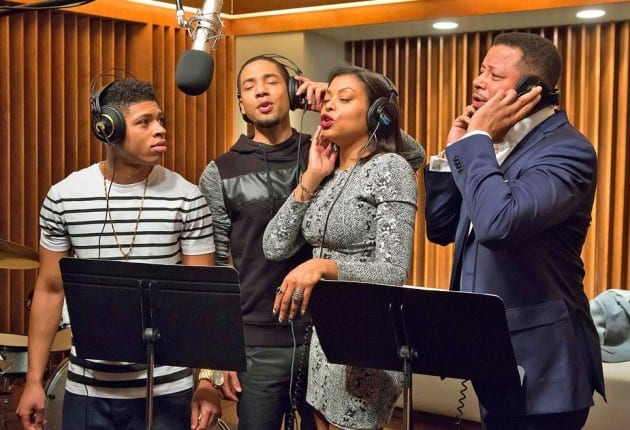 With the 2014-15 TV season coming to a close, TVOvermind is taking a closer look and reviewing the most recent seasons of some of network TV's biggest shows. We last examined The CW's "Arrow." Next up: FOX's "Empire."
Like any crazy TV fanatic, I have a list of shows to catch up on every summer because there's literally not enough time to watch everything during the traditional September-May network season. Empire was my first priority this year because of the incredible buzz surrounding it during its first season on FOX this winter. Let me just say, if you are like me and wanted to check it out but just couldn't find the time to add another series to your life, make time for Empire. You won't regret it.
The ratings climbed higher with each episode, and I imagine next season they will continue to rise. The Lyon family is just so addicting and unbelievably interesting. There was so much soapy drama, but it never felt cheesy. Lucious Lyon (Terrence Howard) is the patriarch of the Lyon family as well as the CEO of Empire Records. The pilot begins with him receiving a devastating diagnosis of ALS, which drives him to really take another look at his three sons to mold one of them to be his successor. Andre, Jamal, and Hakeem couldn't be more different from each other, which makes their stories that much more enjoyable.
Over the course of the season, Andre's (Trai Byers) mental health unravels as his bipolar diagnosis becomes more apparent to his family. It first seemed that his wife and college sweetheart Rhonda was a one-dimensional character that only served the purpose of encouraging her husband to cause trouble between his brothers so that he would get the company. It surprised me then that even Rhonda stood up for herself against Lucious by the end. Next season will be even better with these two as they now have a murder on their hands to cover up as well as a baby on the way into their already very unconventional marriage.
Jamal (Jussie Smollett) immediately stood out as my favorite character, partly because his songs are the best, but his character did see the most change. He started out as Lucious' least favorite son and ended up being the "chosen one." Through flashbacks, we saw how he was abused by Lucious for dressing up in high heels as a little kid. Luckily, he always has his mother, Cookie, on his side. Now as an adult he's finally getting into the music business, much to his father's dismay. Cookie champions him, and ultimately, he ends up being heir to the throne of the family business. Out of the three Lyon sons, Jamal seemed the most logical choice. He's overcome a lot by publicly outing himself against his father's wishes as well as finding out that he may or may not have fathered a child with the wife he was forced to marry at age 18. His long-term live-in boyfriend Michael left him when the fame started getting in the way of their relationship, which was a shame to see happen.
Jamal's most interesting relationship to watch is between him and his little brother, Hakeem (Bryshere Gray). At times during Season 1, they were pitted against each other due to other family members mischievous scheming, but they usually always came out stronger brothers and friends. In so many ways Hakeem looks up to Jamal, and as far as role models in the Lyon family goes, I'd say he's the right choice. Hakeem still has a lot of growing up to do. He clearly has a thing for older women when he's just barely a legal adult himself. His music is way more edgy than Jamal's, but when they collaborate, it is truly genius. I can only hope Hakeem realizes they would all be better off sticking together rather than turning against each other.
Lastly, Cookie Lyon absolutely won for MVP (or should I say MVC) of the season. Taraji P. Henson brings Cookie to life in such a perfect way that I would argue she became the best new character introduced on television this entire 2014-15 season. Cookie's attitude and humor always liven up a scene, whether it be intentional or not. It's truly a testament to the writers as well that they so fully created this character that is so above and beyond anyone else. If Henson doesn't get recognized by the Emmys this year, it would be a crime.
On top of those wonderfully fleshed out characters in the Lyon family and beyond, the music of Empire is phenomenal. During and after each episode I binge watched, I would immediately look up all the songs on Spotify. The music aspect of the show really adds another dimension to the Empire universe. Much like Glee, Nashville, and even Smash, the original songs are a special treat for fans, allowing them to enjoy one of their favorite shows even when they're not watching it. Established artists such as Courtney Love, Jennifer Hudson and Mary J. Blige guest starred and contributed to the soundtrack, in addition to the extremely talented cast. I can only imagine there will be plenty more big names in the future.
Assuming you've already watched it, what did you love most about Empire this season? If you haven't seen it yet, have I convinced you to catch up over the summer?
[Photo via FOX]
Tell us what's wrong with this post? How could we improve it? :)
Let us improve this post!