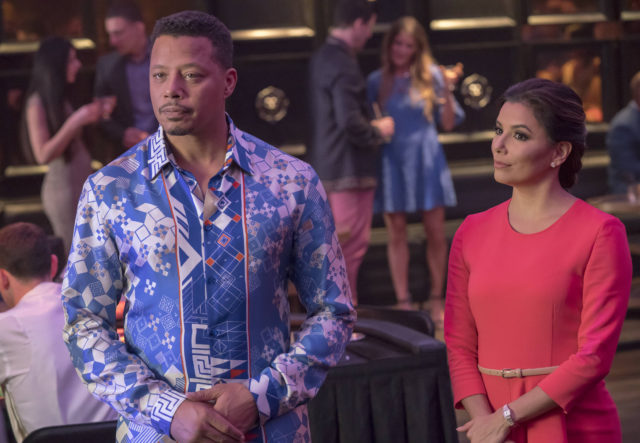 The streets are real, the penthouse is nice, but we all know where the party really is: Vegas baby! Empire is closing its third season with a small change in venue. For those who aren't aware, this isn't just about expanding the Lyons' reach. It's about the possibility that Vegas could spin off into its own drama. The area is definitely ripe with possibilities, as the Lyon family turned the city into their own playground. When in Vegas!
Cookie's wanted to kill Lucious before, but it's always been out of something he's done in his own interest. Following Giuliana's lead like a puppy dog is disgusting. He goes so far as to listen to her about firing Thirsty and pushing Jamal's album release. The very last straw is restricting Cookie from Laviticus Las Vegas. As Cookie puts it "Welcome to the Resistance". She has a tough time about it when no one can come together long enough to see the bigger picture. For Mother's Day Cookie should have just gotten free reign to slap her children upside the head all the live long day. Hakeem is really the only person with a valid excuse.
I'm loving the ragtag team Cookie puts together to steal Giuliana's ledger! Cookie's sisters are distractions, her brother-in-law Kevin is the high roller bait, Thirsty is security, and a variety of Hakeem's friends along with Portia and Becky are the lookouts. I love that Becky was so into developing her safe-cracking skills, but the girl clearly has talent using her God given assets when she must. Cookie's team gets the job done in the most insane, hilarious, wonderful fashion! If only Charlotte Frost cared about petty embezzlement. The good news is that after all of that drama, Andre has his own deal with Mrs. Frost. She'll take bribes all day, so long as there's no violence in her city. It's going to be fun using this against Giuliana.
The only thing Lucious is consistent about is finding Bella. It's the one fight Lucious can't win without some extraordinary measures, so he tracks down Tariq. Tariq may hate Lucious with everything inside himself, but even he believes this was taken too far. Bella is both of their blood, so you better believe they won't stand for her being away from home a second longer. I suppose I've heard of stranger bonding rituals than beating a crooked social worker to a pulp. They really do come together in a beautiful way. But before Tariq can tell Lucious where he found Bella, Mama Lyon stabs him! We knew she was crazy, but that was also just plain stupid! Who knows how they are going to find Bella now.
This episode had too many wonderful one-liners. In order, remember this week's Favorite Quotes:
-"And I thought you were black. But I have no idea whether you're Muslim, or Christian, or anything else. Because I don't make assumptions on your religion based on race or ethnicity."-Charlotte keeping it real about the complexities of American diversity.
-"Okay Kevin, we get it that you like black!"- Cookie understands way more than she wanted to about why her sister is married to a white man.
-"I am the safe! I am the safe!"-Becky, this is the reason we love you.
-"Damn. Our sister's a hoe." "Thank God!"-Cookie and Candice about Carol's means and methods.
-"You and your Sisterhood of the Traveling Attitude"-Thirsty comes up with the perfect description for Cookie and her sisters.
Tune in next week for the Season finale of Empire on FOX.
Save
Empire Season 3 Episode 17 Review: "Toil and Trouble Part 1"
Summary
The Lyon family invades Vegas on this week's Empire.