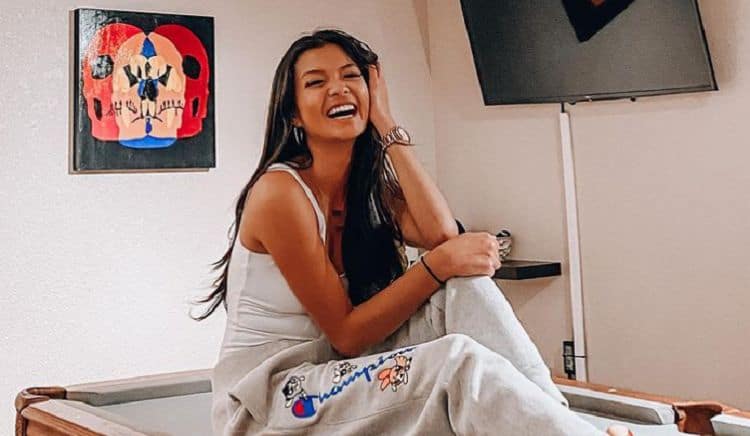 Stepping into a house full of women to compete for the attention of one man sounds very intimidating to many, however, for Serena Chew it sounded like the perfect opportunity to find love. As one of the contestants on season 25 of The Bachelor, Serena is ready to settle down and she's hoping that Matt James will be the perfect person for her. At the end of the first episode Serena was able to breathe a sigh of relief after receiving a rose from Matt. Even though there's still a very long journey ahead on the road to winning Matt's heart, Serena is off to a great start. Keep reading for 10 things you didn't know about Serena Chew from season 25 of The Bachelor.
1. She Doesn't Like Being The Center Of Attention On Her Birthday
For lots of people, their birthday is the one day of the year where they don't feel guilty making everything about them. Apparently, however, Serena likes to be a little more key on her birthday. According to Bachelor Nation, she really doesn't like "birthday attention". If she and Matt end up together that's definitely something he should keep in mind.
2. She Is A Flight Attendant
Most people don't have nearly as much time or money as they'd like to be able to travel frequently. Serena, on the other hand, gets to travel almost every day – and she gets paid to do it. She has been working as a flight attendant for American Airlines since the summer of 2019.
3. She Studied Public Health
Despite being a flight attendant, Serena actually went to school to study something very different. She has a bachelor's degree in public health from San Jose State University. Based on her LinkedIn profile, it doesn't appear that she's ever worked in the public health field.
4. She Doesn't Let Negative Comments Bring Her Down
Even though we're only one episode into The Bachelor, viewers already have lots to say. As you can imagine, the things they say aren't always the nicest. Serena has found herself on the receiving end of some unkind comments, but she's made it clear that she isn't going to let them get under her skin.
5. She Is A Fashionista
You can tell a lot about a person by what they choose to put in their Instagram bio. Serena's reads: "No such thing as been too overdressed." Needless to say, Serena loves to get dressed up and her idea of the perfect date involves putting on some nice attire. We'll definitely want to keep an eye on Serena's outfits during the season. It's highly unlikely she'll ever leave us disappointed.
6. She Loves A Good Adventure
Even when she isn't traveling for work, Serena is always willing to go on an adventure. She isn't afraid to step outside of her comfort zone and do the unexpected. This spontaneous attitude will likely make her a fun person to be in a relationship with so hopefully Matt is also down to have a good time.
7. The Bachelor Is Her First Time Doing TV
Being on reality TV shows has become a legitimate job for some people. Once they get their foot in the door they find ways to hop around to different shows. Serena doesn't seem to have any interest in doing that, though. The Bachelor is her first time doing a reality show and there's no indication that she plans to make a career out of being in front of the camera.
8. She Isn't Afraid To Speak Her Mind
Serena is the type of person who stands behind the things she believes in. Her Twitter activity makes it very clear that she isn't afraid to share her opinion. After countless Trump supporters stormed the United States capitol, Serena retweeted several tweets that expressed disgust and disappointment in the mob's behavior.
9. She Enjoys Interacting With Bachelor Fans
Serena may be new to the social media world, but she's already getting a lot of attention from The Bachelor fans. She enjoys getting the chance to interact with people who watch the show and she has engaged with lots of viewers on Twitter. The good news is that if you mention her on Twitter, there's a chance you'll get a response.
10. She Loves Helping Others
Serena has always been the type of person who enjoys doing what she can for others. Her LinkedIn profile shows that she's gotten a good bit of volunteer experience over the years. Most recently, she was a fundraising volunteer coordinator for an organization called Nihonmachi Street Fair Inc.